Australian Portland Cement No.5

Vulcan Iron Works No. 2540 of 1916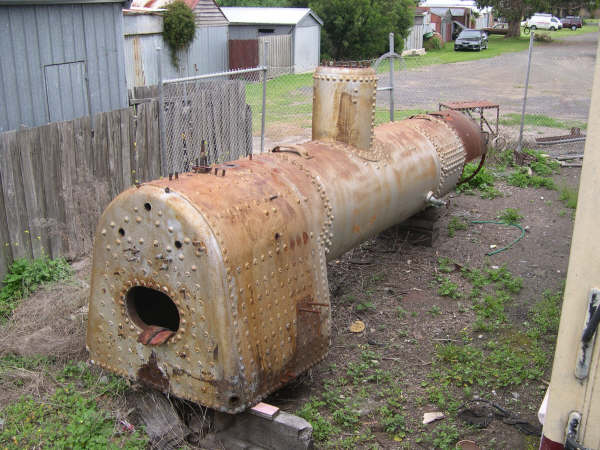 This photograph is kindly provided by Chris Schultz and shows the boiler of No.5 in storage at Queenscliff during November 2004.
No.5 is one of four identical locomotives built by the Vulcan Iron Works of Wilkes-Barre, Pennsylvania and imported for construction work at the Henderson Naval Base, WA. It last worked in industrial service at the Australian Portland Cement works at Fyansford, near Geelong, together with sister No.4. (The other two of the original four locomotives ended their days with the Commonwealth Railways as NB29 & NB30 at Quorn, South Australia.)
No.5 was originally plinthed in a park at Ringwood, Melbourne. In approximately 1982 it was retrieved by the Bellarine Railway and moved to Wantirna and dismantled in preparation for restoration. (I remember spotting the dismantled components of No.5 in a field in Melbourne's eastern suburbs in 1986.) The dismantled components of No.5 later moved to Spotswood workshops for restoration, however some parts were subsequently stolen, and an axle was was oxy-cut by a thief who attempted to steal the driving wheels for use as boat moorings.
The components of No.5 have more recently been in storage at the Ballarat East Depot. By July 2004 the frame and all other components had been progressively relocated from Ballarat to the Bellarine Railway, where there is some prospect that No. 5 may one day be restored to run alongside sister No.4 if resources permit.
As at January 2011, No.5 remained dismantled at Queenscliff awaiting heavy rebuild. The wheels had recently been sent to a Melbourne workshop for re-profiling and supply of a new axle. (a) Given the challenges faced by No.5 over the years, its future restoration and operation would certainly be a great achievement by the Bellarine Railway! (b)
References
| | |
| --- | --- |
| a | Information provided by D. Price via email dated 27 January 2011 |
| b | Personal comment or observation. |
Page updated: 3 April 2011