Vertical Boiler

Markham & Co, built 1890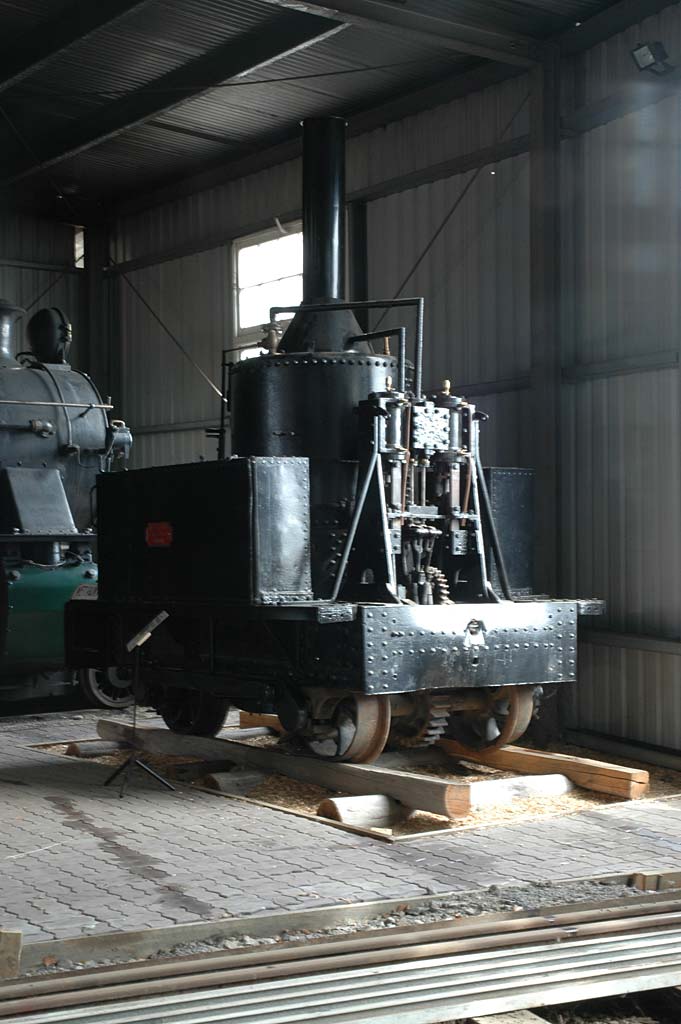 This photo of the Vertical Boiler locomotive was taken 1 April 2006 and contributed by Stuart Dix.
The two vertical cylinders can be clearly seen, together with the drive cog on the leading axle.
The profile of the wheel is well suited to the timber rails commonly used on sawmill railways.
This interesting locomotive is one of only 24 engines built by Markham & Co, Chesterfield, England. (a) It was delivered in 1890 and served a variety of timber industry owners around Tasmania. Its final timber mill was at Tyenna in the Derwent Valley, and last worked in stationary use to power a water pump. By 1946 the locomotive was abandoned in the bush near Tyenna.
Fortunately this interesting relic was retrieved from the bush by the Tasmanian Transport Museum (TTM) in 1983. (a) My visit to the TTM on 30 April 2003 found the locomotive under static restoration, however at that stage it was somewhat incomplete as many components were removed for refurbishment. The restoration has since completed and the locomotive is now displayed at the TTM on a short section on wooden rails typical of those used at many timber mill railways. (d)
Vertical boiler locomotives were sometimes also known as 'Coffee Pots'. Today this engine is the only vertical boiler locomotive preserved in Australia (excepting railway cranes etc) and it makes an interesting addition to the collection of the Tasmanian Transport Museum at Glenorchy, Hobart. (d)
A good history of this locomotive is provided in the exhibit guide book "Locomotives of the Tasmanian Transport Museum". (a) The webmaster considers the TTM a fine museum with a variety of well restored railway, tramway and road exhibits, and thoroughly recommends a visit!
A further history of this locomotive is also provided in Light Railways No. 175. (b)
Given that Markham & Co only built 24 locomotives, it is interesting to note that a second Markham locomotive is preserved in the United Kingdom, being a 0-4-0ST of 1894 named 'Gladys'. (c)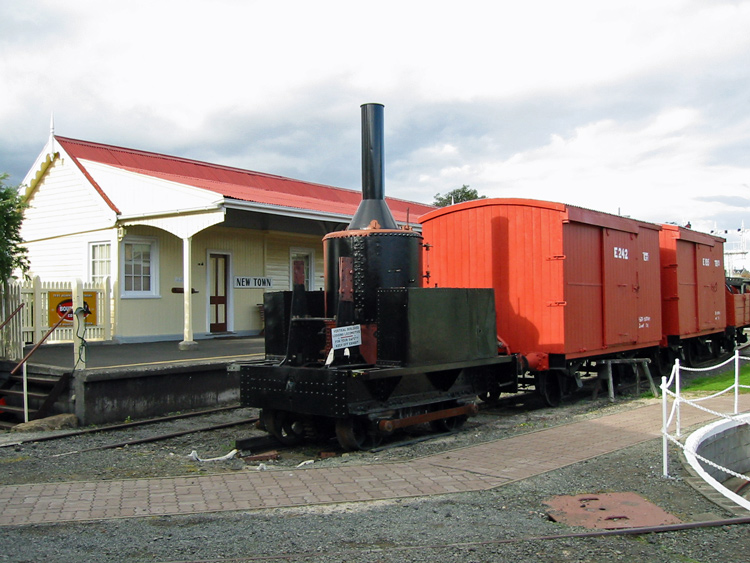 This earlier scanned photo shows the Vertical Boiler under static restoration on 30 April 2003.
At this stage the cylinders, crank wheel and miscellaneous pipework were elsewhere for refurbishment.
References
| | |
| --- | --- |
| a | Dix, A., Beck, D., and Dix M. 'Locomotives of the Tasmanian Transport Museum Glenorchy Tasmania', published by the Tasmanian Transport Museum Society, October 1991. |
| b | 'Light Railways - Australia's Magazine of Industrial & Narrow Gauge Railways', Number 175, February 2004. Published by Light Railway Research Society of Australia Inc., pp.3 |
| c | Casserley, H. C. 'Preserved Locomotives' (Fifth Edition), published 1980 by Ian Allan Ltd, Shepperton, Surrey, page 180. |
| d | Webmaster's observation or comment. |
Page updated: 4 December 2010
| | | | | | | | | | | |
| --- | --- | --- | --- | --- | --- | --- | --- | --- | --- | --- |
| Government Railways: | | | | | | | | | | |
| Private & Industrial Railways: | | | | | | | | | | |