V 1220

The Railway Museum, Bassendean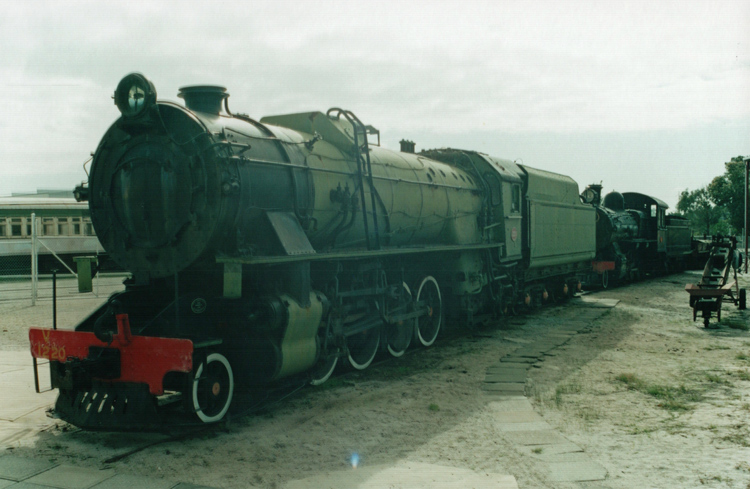 This scanned photo shows V1220 displayed at the ARHS Railway Museum at Bassendean on 9 May 2002.
The V-class locomotives were built by Robert Stephenson & Hawthorns Ltd under subcontract to Beyer-Peacock & Co, who were unable to fill the WAGR order for 24 V-class 2-8-2 main-line freight engines within the required delivery timeframe. V 1220 was built in 1955 as Robert Stephenson & Hawthorn Ltd builder's number 7789, and also carries Beyer Peacock & Co builder's number 7745.
The V-class proved to be very capable and successful locomotives and lasted to the very end of WAGR steam traction. The majority of the class were withdrawn in June 1971, although V 1208 / 1218 / 1219 and 1220 lasted until August 1972. Photos from that period show long lines of withdrawn S, W and V-class locomotives awaiting scrapping at Midland Workshops.
V 1220 was saved in December 1972 for the Australian Railway Historical Society's museum at Bassendean (now know as The Railway Museum, Bassendean). My visit to this fine museum on 9 May 2002 found V 1220 displayed in WAGR green livery in open-weather display. I also spotted a V-class smokebox in use as a BBQ wood shelter!
References
a

A. Gunzburg 'A history of WAGR Steam Locomotives',

published by ARHS (Western Australian Division) 1984. pp138 - 140.
Page updated: 14 September 2014