V 1213

Pemberton Tramway Co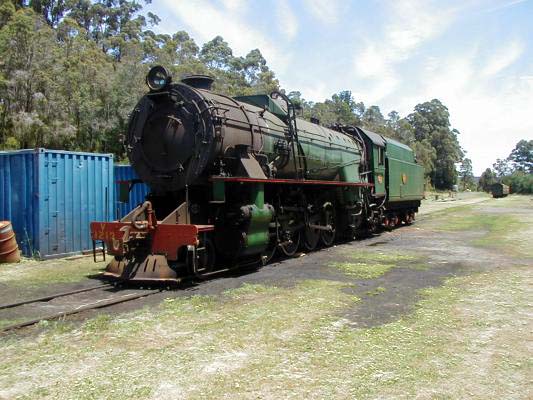 This photograph is kindly provided by Stuart Jackson and shows V1213 sitting in the Pemberton yard on 13 November 2001.
The WAGR V-class locomotives were built by Robert Stephenson & Hawthorns Ltd under subcontract to Beyer-Peacock & Co, who were unable to fill the order for 24 V-class 2-8-2 main-line freight engines within the required delivery timeframe. V 1213 was built in 1955 as Robert Stephenson & Hawthorn Ltd builder's number 7782. V 1213 also carried Beyer Peacock & Co builder's number 7738.
The V-class proved to be very capable and successful locomotives and lasted to the very end of WAGR steam traction. The majority of the class (including V 1213) were withdrawn in June 1971, although V 1208 / 1218 / 1219 and 1220 lasted until August 1972. Photos from that period show long lines of withdrawn S, W and V-class locomotives awaiting scrapping at Midland Workshops.
V 1213 was sold to the Hotham Valley Tourist Railway, Pinjarra in April 1981. I believe V 1213 was one of the final four V-class locomotives in storage at Midland workshops at this stage, together with V 1209 and two others which were scrapped around 1982.
V 1213 was purchased privately in 1989 and was restored to operation for use on occasional mainline tours. It is now based at Pemberton by the Pemberton Tramway Co, whose website includes this a comprehensive history for this locomotive on their V 1213 page.
References
a

A. Gunzburg 'A history of WAGR steam locomotives',

published by ARHS (Western Australian Division) 1984.
Page updated: 25 October 2014