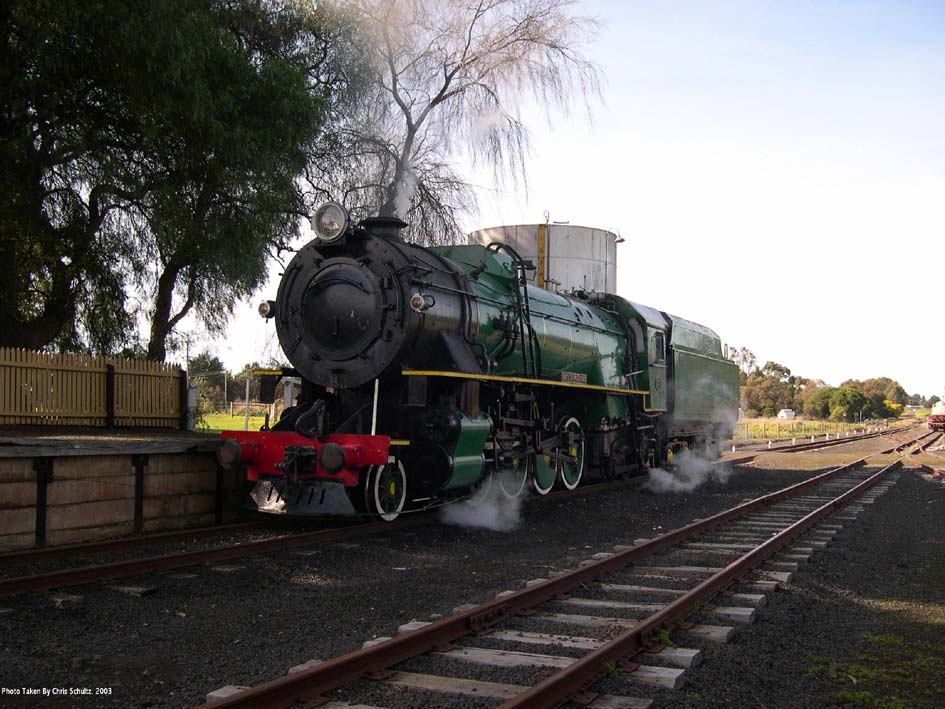 This photograph is kindly provided by Chris Schultz and shows V1209 at Drysdale station on the BPR during 2003.
The WAGR V-class locomotives were built by Robert Stephenson & Hawthorns Ltd under subcontract to Beyer-Peacock & Co, who were unable to fill the order for 24 V-class 2-8-2 main-line freight engines within the required delivery timeframe. V 1209 was the ninth example of the V-class and was built in 1955 as Robert Stephenson & Hawthorn Ltd builder's number 7778. V 1209 also carried Beyer Peacock & Co builder's number 7735. (a)
The V-class proved to be very capable and successful locomotives and lasted to the very end of WAGR steam traction. (c) The majority of the class (including V 1209) were withdrawn in June 1971, although V 1208 / 1218 / 1219 and 1220 lasted until August 1972. (a) Photos from that period show long lines of withdrawn S, W and V-class locomotives awaiting scrapping at Midland Workshops. (c)
V 1209 was stored by the WAGR during the 1970's but fortunately was rescued for preservation by the Bellarine Railway and transferred to Victoria in 1982. (Regrettably, two other V-class locos which had become the final steam locos in storage at Midland Workshops were scrapped by the WAGR in about 1982.) (c)
V 1209 was restored to operation at the Bellarine Railway were it carries the attractive WAGR green livery and the name 'Gary G McDonald'. I recall the fundraising campaign for V 1209's acquisition and refurbishment carried the slogan "Put the V in Victoria." (c)
V 1209 was reported as out of service by March 2007. By January 2011, V 1209 was stored undercover at the Bellarine Railway's new restoration and storage facility at Lakers Siding. Apparently it is awaiting firebox and mechanical repairs before return to service.
References
| | |
| --- | --- |
| a | A. Gunzburg 'A history of WAGR Steam Locomotives', published by ARHS (Western Australian Division) 1984. pp138 - 140. |
| b | Information provided by D. Price via email dated 27 January 2011. |
| c | Personal comment or observation. |
Page updated: 20 April 2011