V 9

The oldest steam loco in South Australia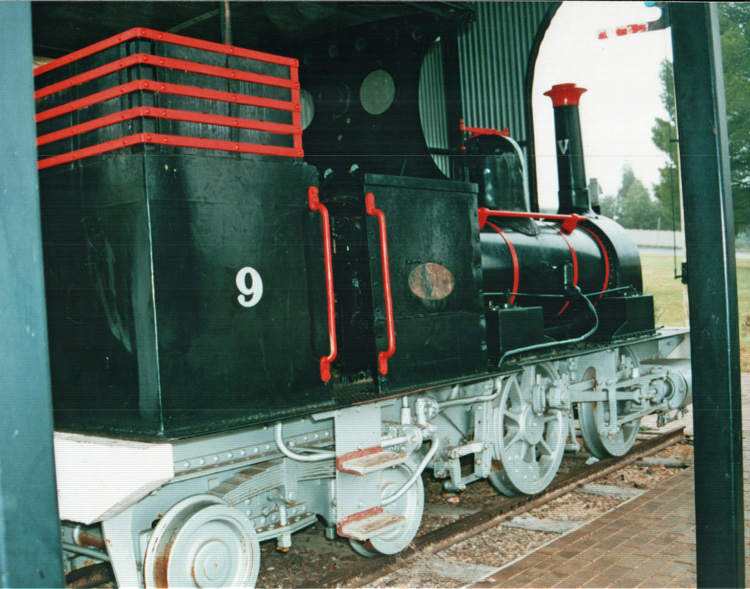 This scanned photo of 21 July 2001 shows V 9 plinthed at Naracoorte.
An oval ring on the cabside shows where the builder's plate had recently been...
This locomotive was built by Beyer Peacock & Co, Manchester (builder's number 1597 of 1877) a for the South Australian Railways, being the first of four V-class locomotives imported in 1877 to operate the Kingston-Naracoorte line. These locomotives proved unsuited for line work but were successful as shunters and a further four were built locally by James Martin & Co, Gawler in 1893.
V 9 finished its service career as the shunter at Peterborough roundhouse, where it was known as the Rat. It was the last of the V-class in SAR service when retired in 1955 and was plinthed in a Naracoorte park in that year. (Wx 18 was also plinthed alongside V 9 at that stage.) Today V 9 remains plinthed at Naracoorte and is now displayed under a shelter that provides good protection against the elements, but makes photography rather hard! V 9 is also the oldest preserved South Australian steam locomotive. c
The V-class are quite similar to the Forney 0-4-4T locomotives which were once common on the elevated city railways of the USA, and may be an English version of this general design. c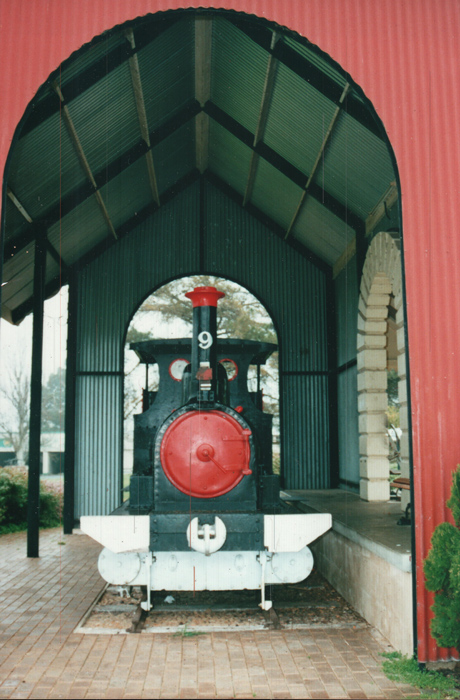 A second view of V 9 at Naracoorte. 21 July 2001.
This view is from the John Hurst collection and shows V 9 at Naracoorte in 1978.
The builder's plate can be seen attached to the cabside.
(Wx 18's 4-wheel tender can also just be seen behind V 9.)
References
a

L. Oberg, 'Locomotives of Australia', published by J. W. Books Pty Ltd, Brookvale NSW. 1982 reprint (pp.260)

b

Fluck R. E., Sampson R., & Bird K. J. 'Steam locomotives and Railcars of the South Australian Railways',

published by The Mile End Railway Museum (SA) Inc, 1986. pp113.

c
Webmaster's observation or comment
Page updated: 11 April 2014