T 94

ARHS Williamstown Museum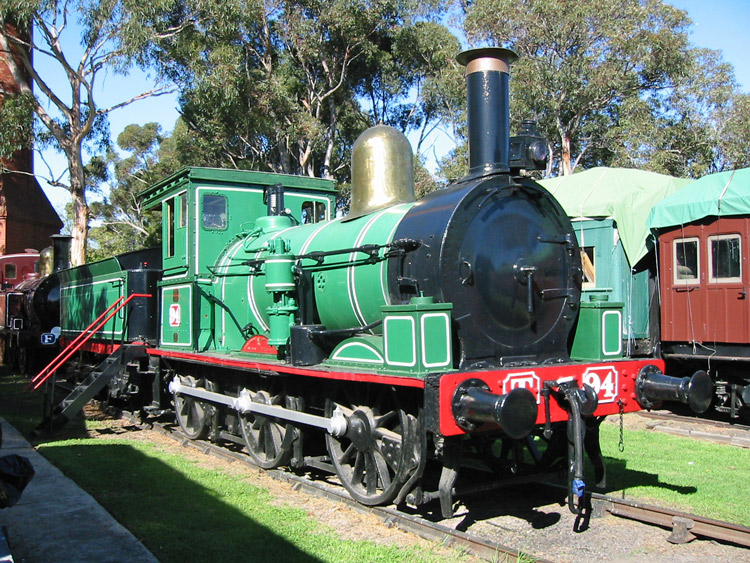 T 94 displayed at the ARHS Museum at North Williamstown. 10 May 2003
The Victorian Railways T-class locomotives were a classic British inside-cylinder 0-6-0 designed for mixed traffic duties. The pattern locomotive was supplied by Beyer Peacock & Co, Manchester in 1873, followed by a further 18 examples manufactured locally by the Phoenix Foundry Co, Ballarat. Another 4 Beyer Peacock built examples joined the fleet in 1923 when the private Deniliquin and Moama Railway Co was taken over by the Victorian Railways.

The T-class proved very successful on goods and mixed traffic duties and gravitated to light lines towards the end of their careers. T 92 and T 94 survived until 1951 as shunters at the Newport Power Station, where they proved well suited to the sharp curves at this location.

Fortunately T 94 was set aside for preservation and is now displayed among the locomotive exhibits at the Australian Railway Historical Society (ARHS) museum at North Williamstown. As preserved, T 94 is paired with an interesting old Baldwin-built semi-bogie tender originally supplied with the W-class locomotives in 1875, rather than the original rigid-framed 6-wheel tender. This Baldwin tender would have assisted with negotiating the tight curves at Newport Power Station.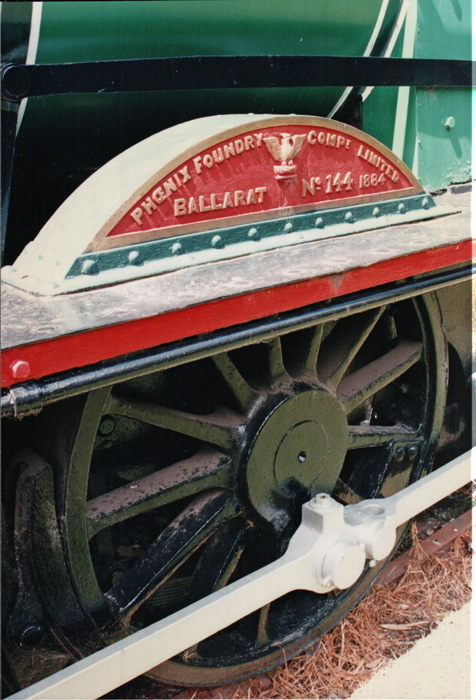 Phoenix Foundry builder's plate attached to & 94's centre wheel splasher.
The flanges were removed from this centre wheel to assist with negotiating the tight curves at Newport Power Station.
References
a

ARHS (Victorian Division) 'North Williamstown Railway Museum', Third Edition 1968,

revised 1977, reprinted 1980.

b
Builder's plate details
Page updated: 27 March 2014