T 199

Statically restored at Steamtown Peterborough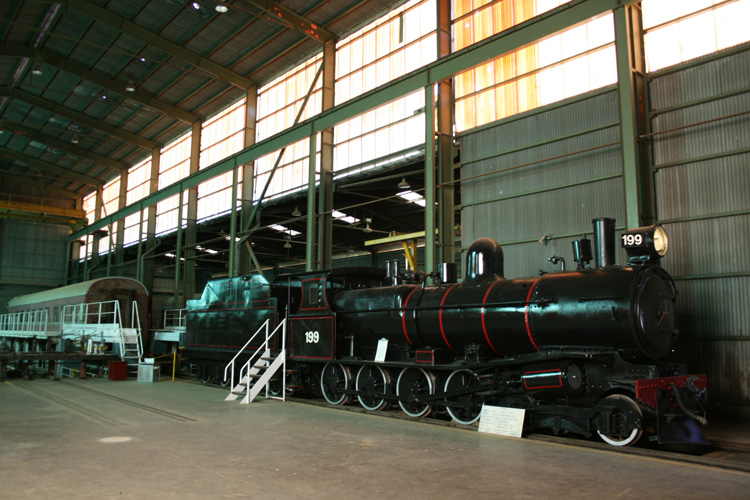 This view was contributed by Maikha Ly and shows restored T199 displayed at Steamtown Peterborough on 5 October 2010.
The headlight has been wired to help bring the exhibit to life.
T199 was built by James Walker of Gawler, South Australia in 1912 (builder's number 201) as one of the South Australian Railways highly successful T-class narrow gauge locomotives, which ultimately numbered 78 examples. The T-class 4-8-0 locomotives superceded the earlier Y-class 2-6-0 as the prime motive power of the SAR narrow-gauge lines until the arrival of the 400-class Beyer-Garratts in the 1950's.
A group of T-class and 400-class locomotives were retained at Peterborough to provide motive power immediately prior to gauge conversion of the Broken Hill route from narrow to standard gauge in 1970; these steam locomotives ran main-line services while the diesel fleet was converted to standard gauge. T199 is likely to have been one of these engines.
While many T and 400-class locomotives were withdrawn and scrapped at Peterborough, T199 was saved and initially plinthed in a Peterborough park. It was later acquired by the Steamtown Peterborough organisation (if I recall correctly this was during the early 1980's) and transferred into their Peterborough roundhouse base.
I first met this locomotive in September 1998 at which stage it was displayed in the Peterborough roundhouse in unrestored condition. There were clear signs of the locomotive having been plinthed in a park, however secure dry storage in the roundhouse had prevented further deterioration. The boiler clothing and lagging had been removed, possibly to allow the boiler to be assessed for repair. My second visit in June 2007 found T199 in much the same condition.
T199 has since been statically restored and is now a prime exhibit in the Steamtown Heritage Rail Centre. Here it makes an excellent and fitting exhibit as many T-class locomotives were shedded at Peterborough Roundhouse during the steam years.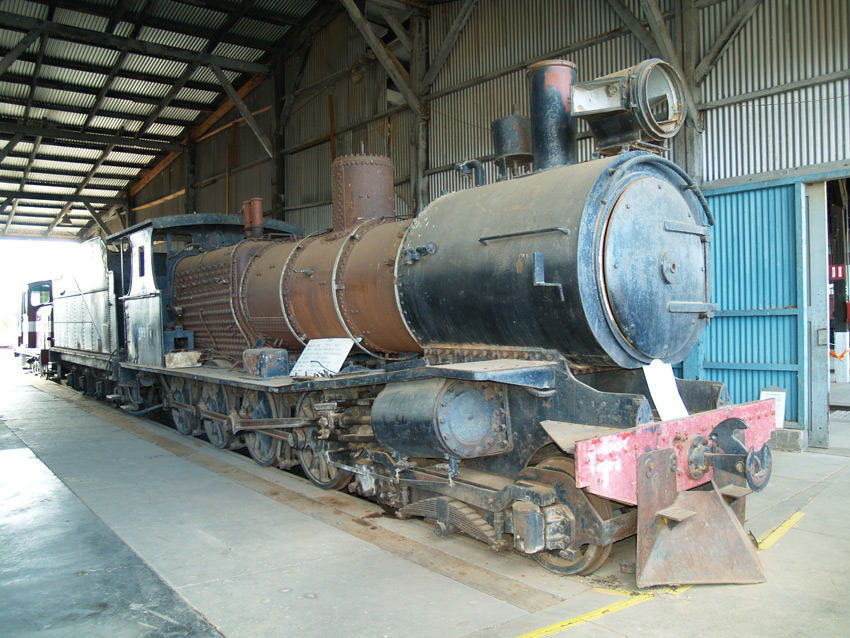 T199 is shown here displayed in the Peterborough Roundhouse (without boiler clothing) on 8 June 2007.
The only discernable difference from the 1998 photo below is that the cow-catcher has been refitted at the front buffer.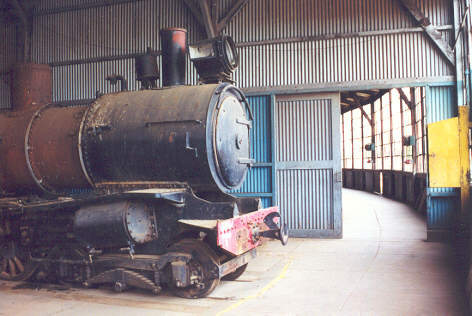 Here is an earlier scanned photo showing T199 in the roundhouse during September 1998.
References
a

Fluck R. E., Sampson R., & Bird K. J. 'Steam locomotives and Railcars of the South Australian Railways',

published by The Mile End Railway Museum (SA) Inc, 1986.

b

Webmaster's observation or comment
Page updated: 2 October 2013