Sandfly

South Australian Railways No.107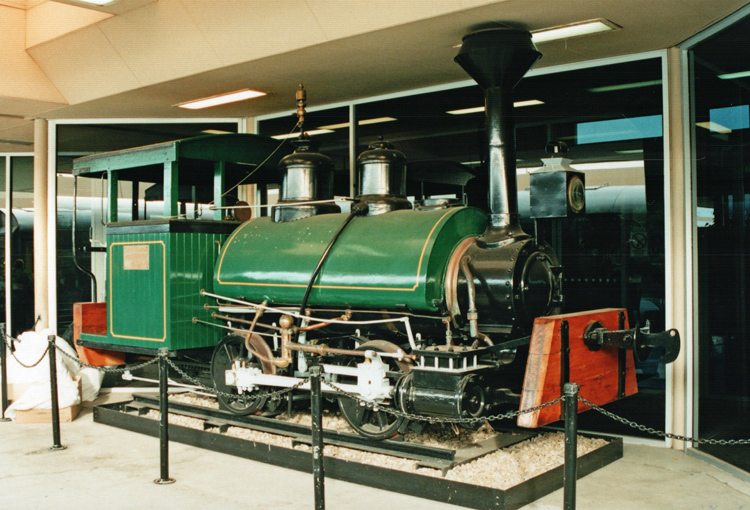 Sandfly was displayed on the platform at Keswick station, Adelaide from 1984 to 2004.
It is seen here on 19 July 2002.
"Sandfly" was built by Baldwin Locomotive Works, Pennsylvania in 1886 as their builder's number 7860 a and appears to be a standard design of 0-4-0ST locomotive for shunting and construction work. d It came to Australia as a contractor's locomotive used by C & E Millar during construction of the North Australia Railway south from Darwin.
In 1889 Sandfly was sold to the South Australian Railways (SAR), receiving the road number 107 and used as Port Darwin (Palmerston) jetty shunter. Ownership of Sandfly was transferred to the newly-created Commonwealth Railways on 1 January 1911, along with other SAR assets assigned to the North Australia Railway.
Sandfly was withdrawn from service in Darwin in 1950. Fortunately it was retained for preservation and displayed at the Port Augusta railway station between 1960 and 1982.
Sandfly received a static restoration prior to being placed on display on the platform at Keswick station, Adelaide in 1984. b
On 2 August 2004, Sandfly returned to Darwin on the rear of the Ghan passenger train for display at the new Berrimah passenger terminal. c
References
a

L. Oberg, 'Locomotives of Australia', published by J. W. Books Pty Ltd, Brookvale NSW. 1982 reprint (pp.260)

b

Fluck R. E., Sampson R., & Bird K. J. 'Steam locomotives and Railcars of the South Australian Railways',

published by The Mile End Railway Museum (SA) Inc, 1986.

c

Information provided by Scott Hillan via email dated 7 August 2004.

d

Webmaster's observation or comment.
Page updated: 10 April 2014