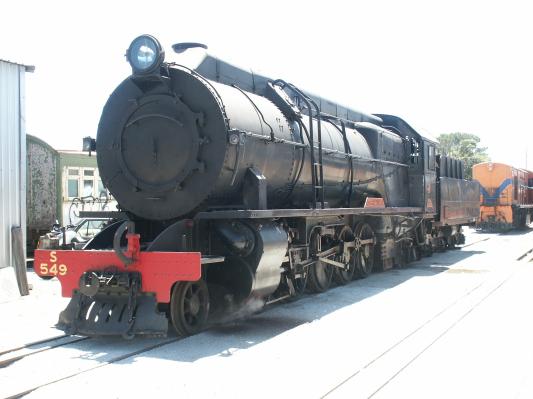 This photograph was provided by Stuart Jackson and shows S 549 in steam at Bassendean on 17 November 2002 during 'Railfest 2002'.
The boiler cowling has been reinstated along the full length of the boiler, as originally built in 1947.
S 549 was built by the West Australian Government Railways at their Midland Workshops in 1947, being the second-last of the ten members the S-class freight locomotives of the 4-8-2 "Mountain" wheel arrangement. Appropriately, the S-class carried the names of Western Australian mountains and S 549 received the name "Greenmount" in WAGR service. a
S 549 "Greenmount" was withdrawn by the WAGR in June 1971 a, together with the majority of the class. Photos from that period show long lines of withdrawn S, W and V-class locomotives awaiting scrapping at Midland Workshops.
Fortunately S 549 was saved for the collection of the Australian Railway Historical Society (WA Division) in December 1972 and placed on display at The Railway Museum, Bassendean. In 1985 restoration work began which culminated in the relaunch of S 549 as an operational exhibit in 1995. b
My visit to Bassendean of May 2002 found S 549 displayed in wartime black livery and displayed with one of the low-side S-class tenders. (Later photos show S 549 has since been repainted to WAGR green livery.) An interesting feature of its operational restoration was the reinstatement of the boiler cowling to its original full length back to the cab.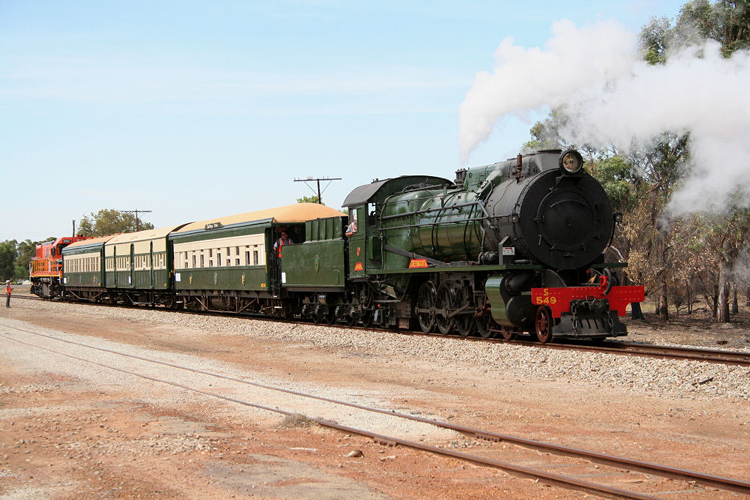 Phil Melling contributed this view of S 549 "Greenmount" on railtour duty at Dowerin on 10 December 2006.
It can be seen that the boiler cowling has again been truncated.
References
a

A. Gunzburg 'A history of WAGR steam locomotives',

published by ARHS (Western Australian Division) 1984. pp117 - 120.

b

Gray. W. K., 'Guide to Rail Transport Museum, Bassendean, Western Australia',

Australian Railway Historical Society W. A. Division, First Edition November 1999.
Page updated: 25 October 2014