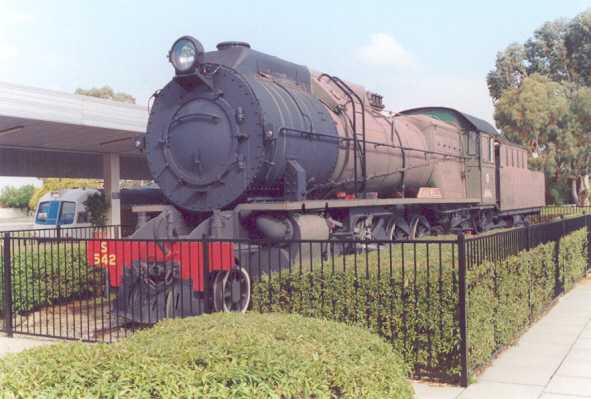 This scanned photo dates from 9 May 2002 and shows S542 plinthed at East Perth Railway Terminal.
In the background 'The Prospector' rail motor can be seen arriving from Kalgoorlie.
S 542 built by the West Australian Government Railways at their Midland Workshops in 1943, being the second of ten members the S-class freight locomotives of the 4-8-2 "Mountain" wheel arrangement. The S-class were the first locomotive type to be designed and built in Western Australia. The S-class carried the names of Western Australian mountains and S 542 received the name "Bakewell" in WAGR service. Its construction had been delayed by wartime material shortages, and interestingly was constructed at about the same time as the ASG Garratts. (a)
The S-class locomotives received a number of modifications to the steam inlet, regulator and superheater design (among other changes) early in their lives, in order to improve operability. One of the more visible consequences of these modifications was the shortening of the boiler-top cowling from full length to only half of the boiler length. A number of the original low-sided tenders were also rebuilt to a high-sided design, which increased water capacity at the expense of coal capacity.
Adrian Gunzberg provides a full history of the S-class and the various design modification in his authorative book "A History of WAGR Steam Locomotives". This book includes a fine colour photo of S 542 in steam on the front cover!
S 542 "Bakewell" was withdrawn by the WAGR in June 1971 (a), together with the majority of the class, and placed in storage at Midland Workshops. Photos from that period show long lines of withdrawn S, W and V-class locomotives awaiting scrapping at Midland workshops. (c) Fortunately S 542 was saved and plinthed at East Perth Railway Terminal in 1976. It is now paired a low-side S-class tender which had originally been fitted to sister S 547. (a) (S 542's high-side tender is now paired with S 547 at the Bellarine Railway.) (c)
Ownership of this locomotive was transferred to the ARHS in 1995. (b)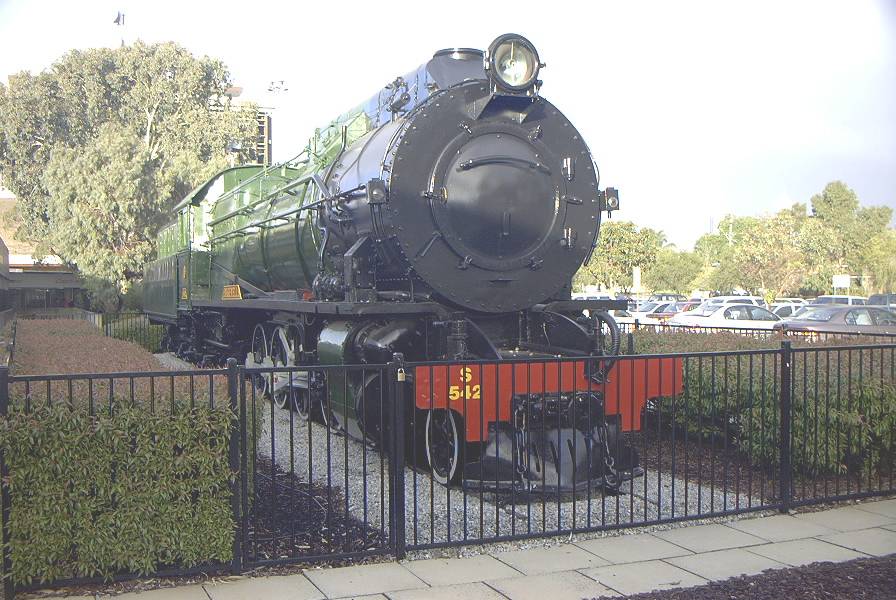 Here are two further photos from August 2005, kindly provided by Chris Thompson and showing S542 after a recent repaint.
The "Bakewell" nameplates can be seen mounted to the running board.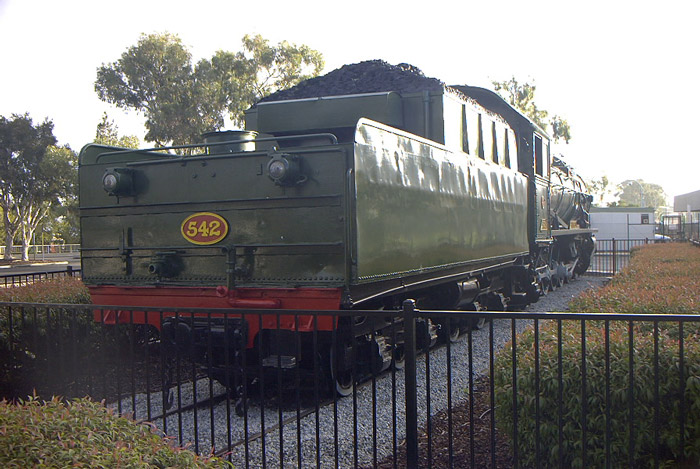 This rear view highlights the design of the low-side tender.
References
| | |
| --- | --- |
| a | A. Gunzburg 'A history of WAGR steam locomotives', published by ARHS (Western Australian Division) 1984. pp117 - 120. |
| b | Gray. W. K., 'Guide to Rail Transport Museum, Bassendean, Western Australia', Australian Railway Historical Society W. A. Division, First Edition November 1999. |
| c | Personal comment or observation. |
Page updated: 13 April 2011