Rx 93

One of the original R-class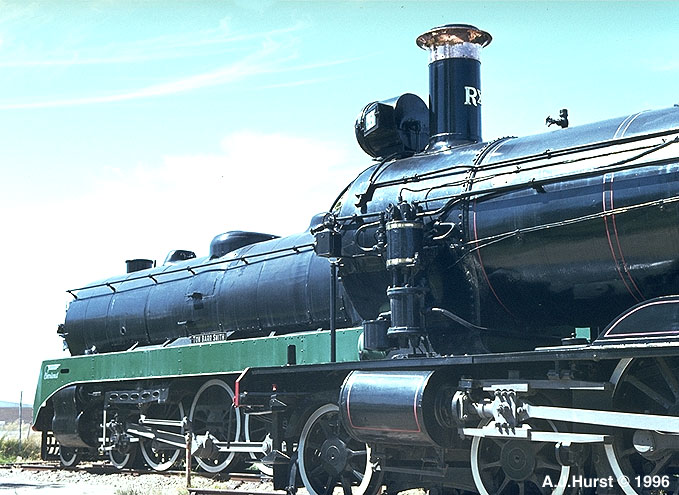 This scanned slide view is courtesy of John Hurst and shows Rx93 and 504 at the former Mile End Railway Museum in Adelaide.
This locomotive was built by Dubs & Co, Scotland (builder's number 2142 of 1886) as the third of the original six members of the R-class 4-6-0 locomotives for the South Australian Railways. a The adoption of a 4-6-0 design stemmed from the need for more powerful locomotives to tackle the grades of the Mount Lofty Range and would have been a significant innovation in 1886; indeed the South Australian Railways R-class came 8 years before the famous Highland Railway "Jones Goods" class of 1894 which introduced the 4-6-0 wheel arrangement in the British Isles. b
R 93 was rebuilt to Rx specification in 1910 by via adoption of a larger Belpaire boiler. A number of the class also received superheaters. The Rx-class ultimately grew to 84 examples comprising the 30 original R-class locos rebuilt to Rx specification, together with a further 54 built new, becoming the South Australian Railway's most numerous class of broad-gauge steam locomotive. a
The Rx-class were assigned to both passenger and freight turns until the arrival of larger locomotives in the 1920's, after which they settled in to branch line, suburban and shunting roles. In this capacity they lasted to the end of regular SAR steam operations. a
Rx 93 was the last of the original six Dubs-built R-class locos when condemned by the SAR on 28 October 1966. Interestingly this writing-off the books occurred one month after Rx 93 entered the collection of the newly-formed Mile End Railway Museum! b Today this historic locomotive is the oldest of the preserved Rx class locomotives and the only surviving Rx to have originally been built as R-class. Rx 93 carries a fine copper-top chimney rather than the basic stovepipe chimney carried by several of its preserved sisters, and is paired with a larger bogie tender but would have been had a 6-wheel tender when first supplied by Dubs & Co.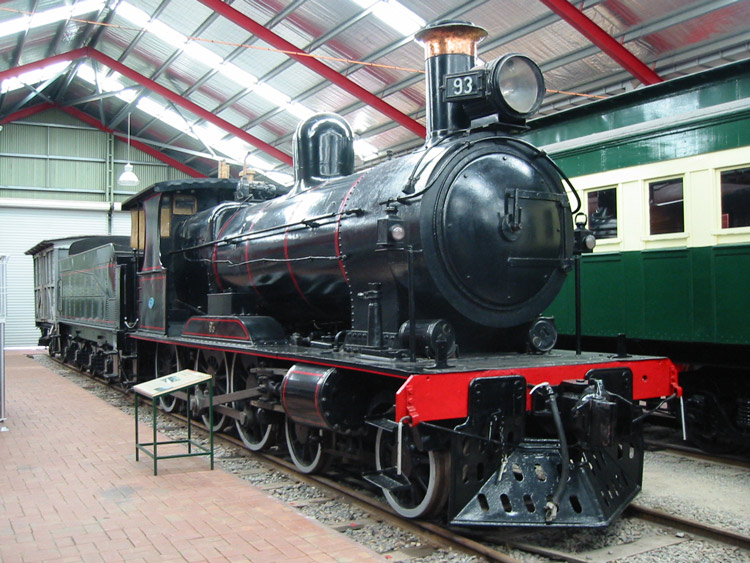 Rx93 is now displayed in lined black livery within the National Railway Museum, Port Adelaide, as seen is this digital photo of 24 September 2005.
References
a

Fluck R. E., Sampson R., & Bird K. J. 'Steam locomotives and Railcars of the South Australian Railways',

published by The Mile End Railway Museum (SA) Inc, 1986. pp.68 - 73

b

Webmaster's personal observation or comment.
Page updated: 11 October 2014