Rx 224

Under repair in the SteamRanger workshop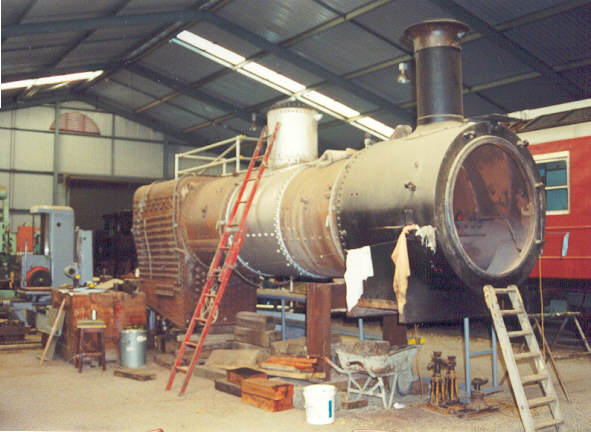 This scanned photo shows the boiler of Rx 224 under overhaul at Mount Barker on 20 July 2002.
Rx 224 carries a saturated steam boiler and a handsome copper-capped chimney.
Rx 224 was built by the Walkers Limited of Maryborough as their builder's number 252 of 1915, a joining the South Australian Railway's highly successful Rx-class of 4-6-0 mixed-traffic locomotives.
The Rx-class were developed from the earlier R-class 4-6-0 design of 1886 via adoption of a larger Belpaire boiler. A number of the class also received superheaters. The Rx-class ultimately grew to 84 examples comprising the 30 original R-class locos rebuilt to Rx specification, together with a further 54 built new, becoming the South Australian Railway's most numerous class of broad-gauge steam locomotive. The Rx-class were assigned to both passenger and freight turns until the arrival of larger locomotives in the 1920's, after which they settled in to branch line, suburban and shunting roles. In this capacity they lasted to the end of regular SAR steam operations. a
Rx 224 escaped the fate of most of its sisters when it was retained as a railtour engine for the Australian Railway Historical Society (South Australia). Together with superheated sister Rx 207, the two performed railtour duties around the contracting broad-gauge network in South Australia. In time Rx 224 came into the care of Steamranger and was housed at their Dry Creek depot during the 1980's. Following gauge standardisation of the route to Melbourne, the Steamranger fleet moved to a new depot at Mount Barker for operation on the now isolated broad-gauge branch to Victor Harbour. b
Rx 224 currently requires a heavy overhaul, which is progressing as funding permits in the Steamranger workshops at Mt Barker.
The Steamranger Website enthusiast pages also contains a good history of Rx 224.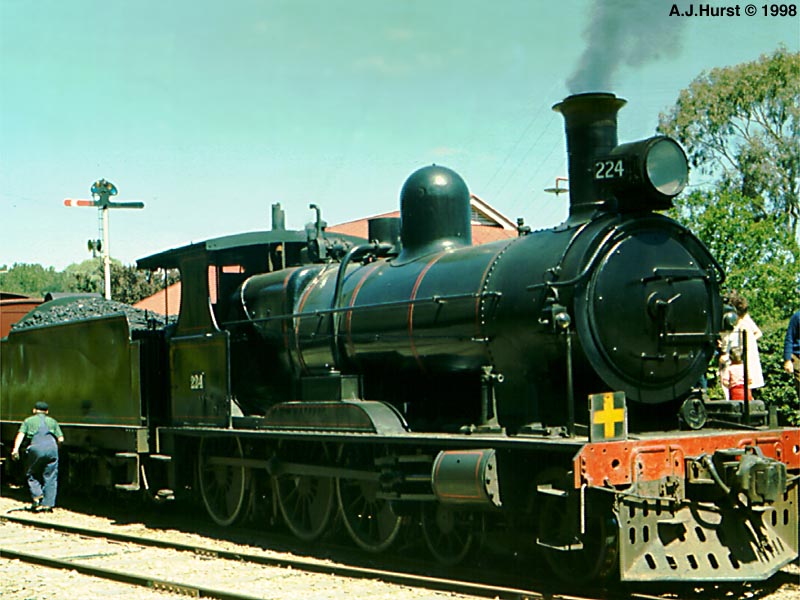 This 1973 slide view is from the collection of John Hurst.
John's caption reads "Rx224 stands at Riverton. Note the double-armed train order signals."
John has a series of photos of Rx 224 and 207 during their SA railtour careers at his site:
http://www.csse.monash.edu.au/~ajh/trains/sa/Rxclass/index.xml
References
| | |
| --- | --- |
| a | Fluck R. E., Sampson R., & Bird K. J. 'Steam locomotives and Railcars of the South Australian Railways', published by The Mile End Railway Museum (SA) Inc, 1986. pp.68 - 73 |
| b | Webmaster's personal observation or comment. |
Page updated: 10 December 2011