Rx 160

Displayed at Murray Bridge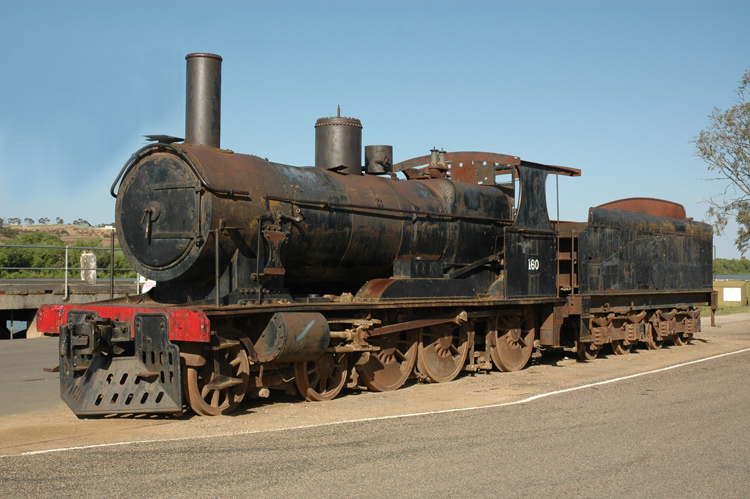 Ian Williams has kindly contributed this view of Rx 160 displayed at Murray Bridge on 8 October 2006.
Rx 160 was built by the South Australian Railways at their Islington Workshops as builder's number 29 of 1913, a joining the highly successful Rx-class of 4-6-0 locomotives.
The Rx-class were developed from the earlier R-class 4-6-0 design of 1886 via adoption of a larger, superheated boiler. A number of the class also received superheaters. The Rx-class ultimately grew to 84 examples comprising the 30 original R-class locos rebuilt to Rx specification, together with a further 54 built new, becoming the South Australian Railway's most numerous class of broad-gauge steam locomotive. The Rx-class were assigned to both passenger and freight turns until the arrival of larger locomotives in the 1920's, after which they settled in to branch line, suburban and shunting roles. In this capacity they lasted to the end of regular SAR steam operations. a
Rx 160 was among the final members of the class remaining on the SAR books when condemned on 21 August 1969. a Fortunately it was saved for preservation and, together with several freight wagons, was placed on display alongside the Murray River at the old Murray Bridge wharf area. b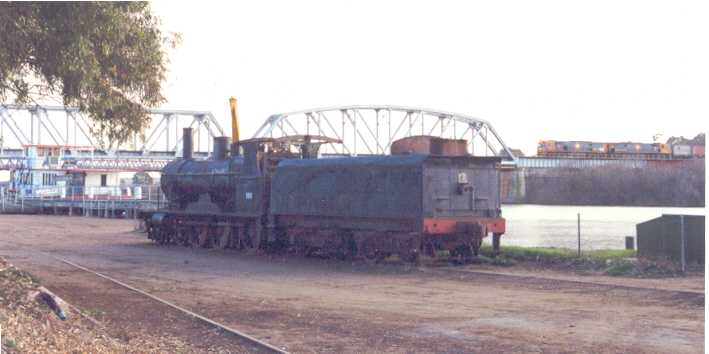 This old scanned photo of 20 July 2002 shows Rx 160 looking towards the eponymous Murray (railway) Bridge.
An interstate container train rumbles past on the standard-gauge line, while a paddle steamer rests by the wharf.
The original lattice railway bridge can be glimpsed in the far background; this now serves as a road bridge.
References
| | |
| --- | --- |
| a | Fluck R. E., Sampson R., & Bird K. J. 'Steam locomotives and Railcars of the South Australian Railways', published by The Mile End Railway Museum (SA) Inc, 1986. pp.68 - 73 |
| b | Webmaster's personal observation or comment. |
| | |
| | |
Page updated: 17 September 2011