R 704

ARHS Museum, North Williamstown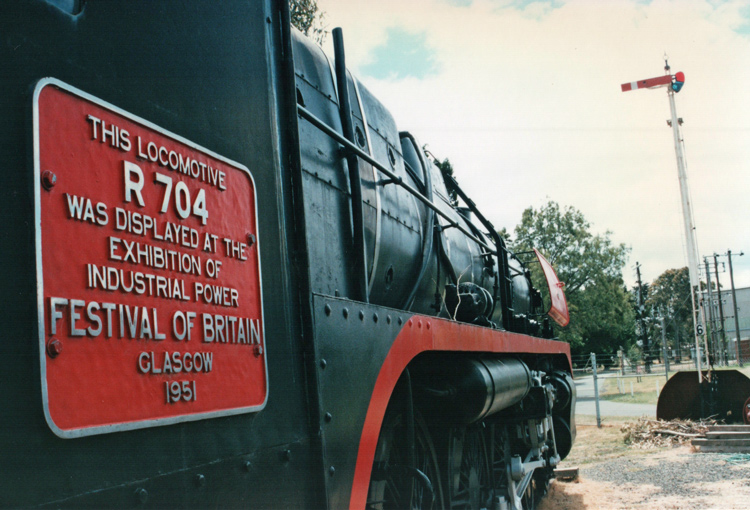 R 704 displayed at the ARHS Railway Museum at North Williamstown on 10 May 2003.
R 704 was built by North British Locomotive Co of Glasgow (builder's number 26994 of 1951) as one of 70 members of the Victorian Railway's R-class 4-6-4 "Hudson" main line passenger locomotives. R 704 is notable for being displayed at the Exhibition of Industrial Power for the Festival of Britain in Glasgow, 1951, prior to its delivery to the Victorian Railways and carries a large commemorative number plate on the cabside in recognition of this honour.
R 704 is displayed among the exhibits at the Australian Railway Historical Society (ARHS) Railway Museum at North Williamstown.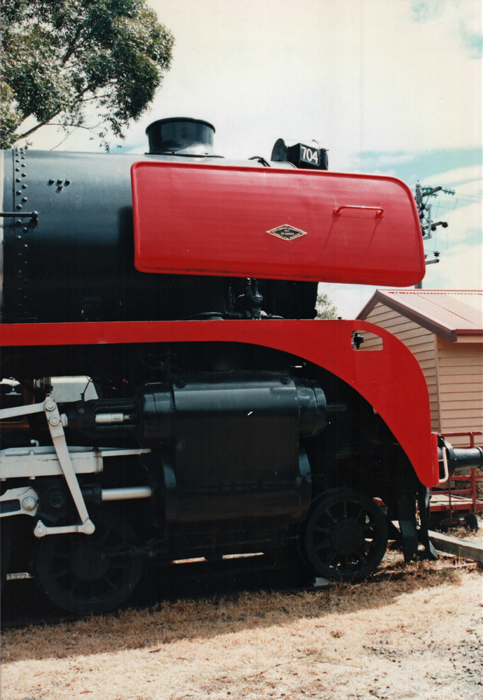 A scanned photo view of R 704's front end. 10 May 2003.

T

he North British "diamond" builder's plate can be seen mounted on the smoke deflectors.

References
a

"A brief history of Preserved Rolling Stock of Victoria" by Norm Bray, Peter J Vincent and Daryl M Gregory.

Published by Brief History Books, PO Box 437, Sunbury, Vic 3429.

b

ARHS (Victorian Division) 'North Williamstown Railway Museum', Third Edition 1968,

revised 1977, reprinted 1980.

c

"Locomotives of Australia - 1985 to 2010" (Fifth Edition), by Leon Oberg,

published 2010 by Rosenberg Publishing Pty Ltd.
Page updated: 22 July 2014