R 700

Under restoration by Steamrail Victoria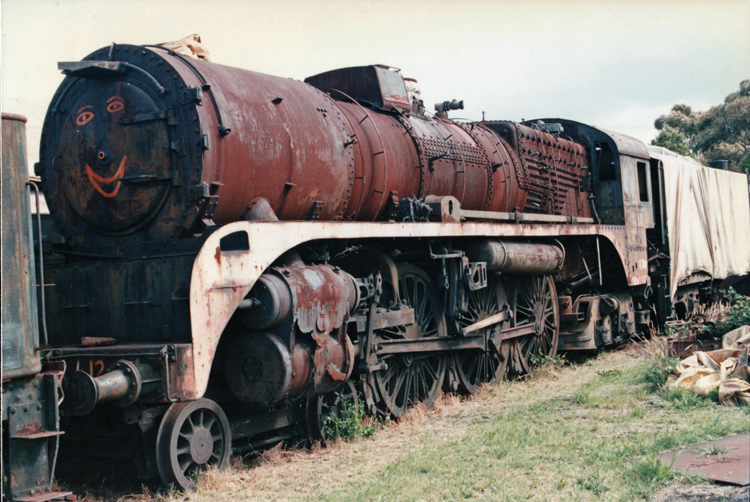 A scanned photo view of R 700 stored at Newport Workshops on 30 November 1996.

The boiler lagging had been removed to slow corrosion of the boiler barrel and firebox.

A

n amusing smiley face graces the smokebox door!

R 700 was built by North British Locomotive Co. of Glasgow as the first of the Victorian Railway's R-class 4-6-4 "Hudson" main line passenger locomotives. North British Locomotive Co. delivered seventy R-class engines which proved successful following a few teething troubles, however they were destined for short working lives due to dieselisation. While most were withdrawn and scrapped in the 1960's, a few were retained in storage as contingency to provide extra motive power for large seasonal wheat harvests or other requirements.

Preserved locomotive R 700 carries North British Locomotive Co. builder's number 26990 of 1951 and entered service with the Victorian Railways in July 1951. It was withdrawn from service in June 1964. R 700, R 707 and R 753 were stored at Newport Workshops for many years, with R 700 eventually passing into the control of Steamrail Victoria.

In 2000 this locomotive was towed to Ballarat East Depot for intended restoration to operation by West Coast Railway. Dismantling work was began and the driving wheels were swapped with those from R 766. Following the demise of West Coast Railway the restoration of R 700 continued slowly at Ballarat East Depot under the control of Steamrail Victoria.

By 2012, R 700 had been substantially reassembled and it was transferred by rail back to Newport Workshops where further restoration by Steamrail Victoria is proceeding. (Restoration work may accelerate once A2 986 is completed.)

R 700 is now paired with the tender formerly attached to R 766.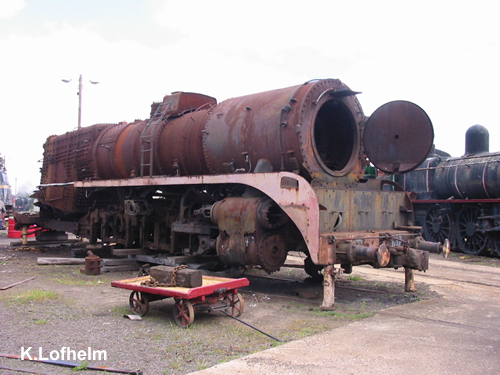 This mid-2004 photo shows R 700 dismantled for repair at Ballarat East Depot.
References
a

"A brief history of Preserved Rolling Stock of Victoria" by Norm Bray, Peter J Vincent and Daryl M Gregory.

Published by Brief History Books, PO Box 437, Sunbury, Vic 3429.

b

ARHS (Victorian Division) 'North Williamstown Railway Museum', Third Edition 1968,

revised 1977, reprinted 1980.

c

"Locomotives of Australia - 1985 to 2010" (Fifth Edition), by Leon Oberg,

published 2010 by Rosenberg Publishing Pty Ltd.
Page updated: 14 September 2014