Abt Pinion drive

Interesting relic from the extinct Queensland Abt locomotives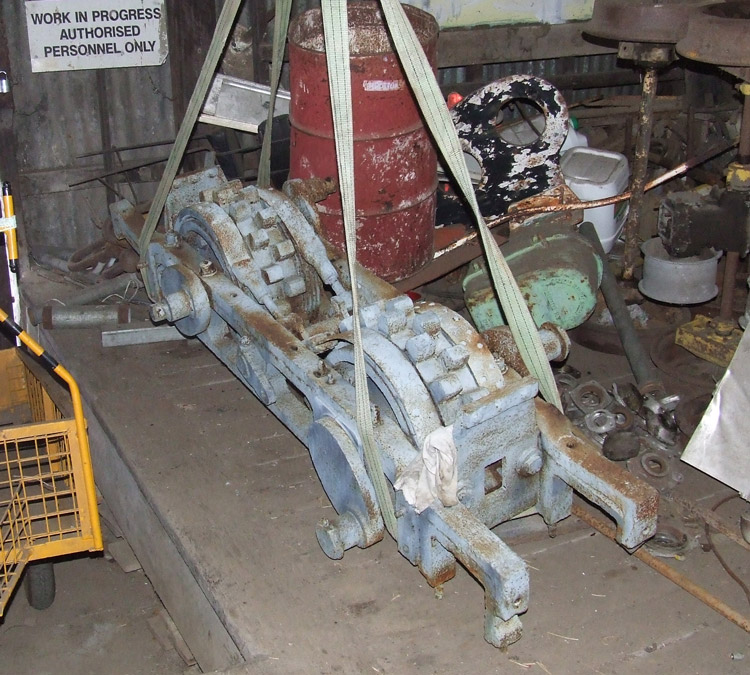 This photo shows the Abt sub-frame in the storage shed at Mount Morgan Railway Museum on 26 July 2010.
The two Abt pinion wheels are clearly visible, together with drive cranks.
This fascinating relic is the pinion drive from an Abt-patent rack tank locomotive, and was apparently found buried in Rockhampton railway yards during excavation works. It is currently stored awaiting restoration at the Mount Morgan Railway Museum. b
The Queensland Government Railways operated a 4.5 mile section of Abt-rack railway from Moonmera to Moongan (just outside Mount Morgan) using a gradient of 1 in 16.5 to bring their railway line up the escarpment to the rich mining town of Mount Morgan. The initial motive power comprised two 0-4-2RT locomotives of the 4D11 1/2 Abt class, and these were followed by six larger 0-6-0RT locomotives of the 6D13 1/2 Abt class locomotives. (Good histories of these machines appear in "Locomotives in the Tropics Vol.1" by John Armstrong, so I won't repeat all the details here.) These engines were shedded at Mount Morgan, but would visit Rockhampton for overhaul. a
This surviving portion of these locomotives is the Abt sub-frame showing the pinion drive and braking mechanisms. The Abt locomotives were 4-cylinder machines with the Abt sub-frame mounted between the main locomotive frames, and driven by two cylinders mounted under the smokebox saddle. b
The Abt-railway route was diverted in 1952 by a regular adhesion railway, which took a longer path to wind up the valley side. Today both railway routes are defunct with all track lifted, however they can be traced via Google Earth. The site of the Mount Morgan locomotive sheds can also be identified; this must once have been a busy shed full of Abt tank locos and larger main-line companions. b
If I recall correctly, a short section of Abt rack is also preserved in a street display at Mount Morgan town centre. Perhaps this surviving pinion mechanism could be combined with the surviving rack to create a complete display of the Abt-patent rack & pinion mechanism. b
Those wanting to experience the sights and sounds of an operating Abt-rack something of the Mount Morgan rack railway should visit the West Coast Wilderness Railway in Tasmania! Indeed the smaller 4D11 1/2 Abt class locomotives were very similar in appearance to the My Lyell machines now operating on the West Coast Wilderness Railway. b
My thanks to Chris Thompson for providing the photos on this page.
This side view also shows the Abt braking mechanism, with brake shoes held on the pinion drum via straps tensioned from a central pull crank.
Photo date is 26 July 2010.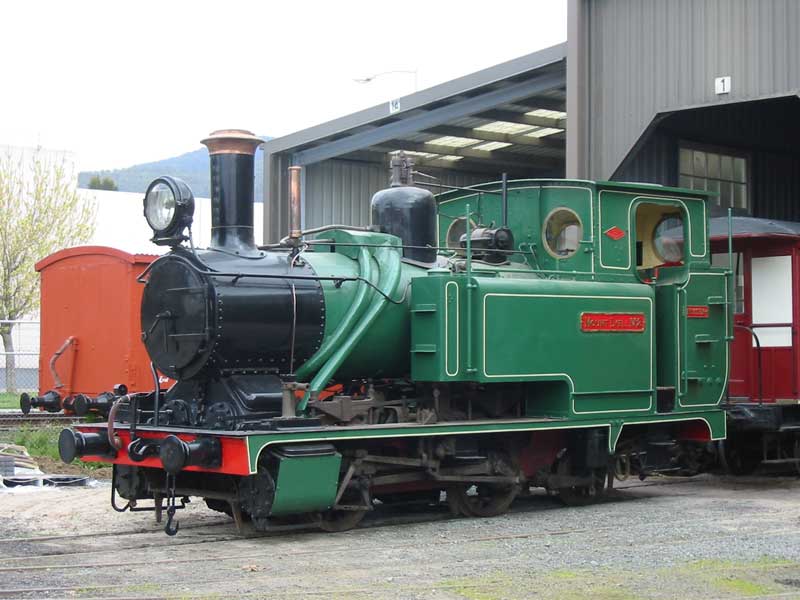 This view shows Mount Lyell No. 2 Abt at the Tasmanian Transport Museum, Glenorchy, Hobart. This photo is kindly provided by Stuart Dix.
The smaller QGR 4D11 1/2 Abt class locomotives were very similar in appearance to these Mount Lyell Abt locomotives.
The 4 locomotive cylinders can be seen; 2 outer cylinders for regular adhesion drive, and two inner cylinders under the smokebox saddle to drive the Abt pinion drums.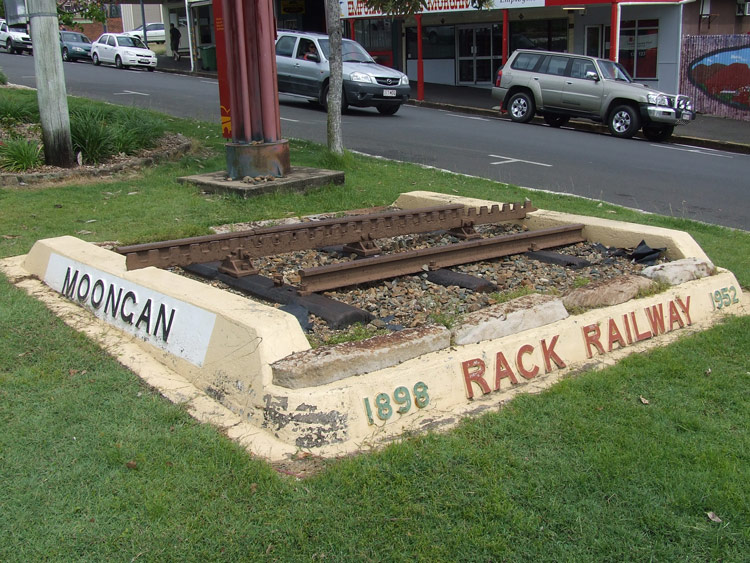 This display in Mount Morgan commemorates the Abt rack railway which operated from 1898 to 1952.
A small section of Abt rack rail is featured, as seen in this view of 18 November 2011.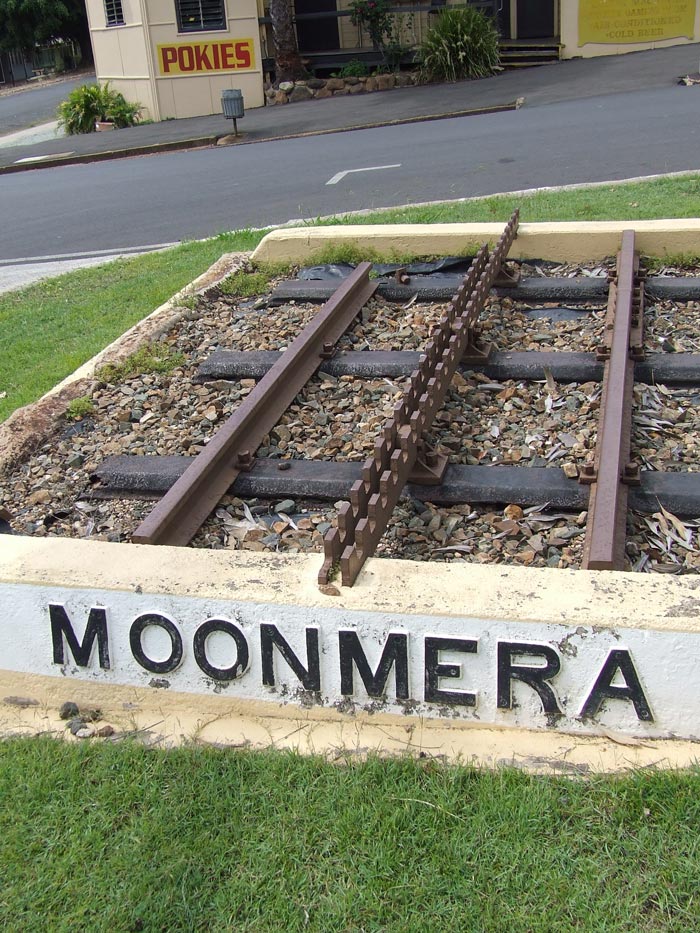 A second view of the Abt rack railway memorial in Mount Morgan. 18 November 2011.
References
a

Armstrong, J. 'Locomotives in the Tropics - Volume 1 (Queensland Railways 1864 - 1910), published by the ARHS Queensland Division, 1985.

Page 66 and Page 77.

b
Personal comment or observation.
Page updated: 4 January 2012