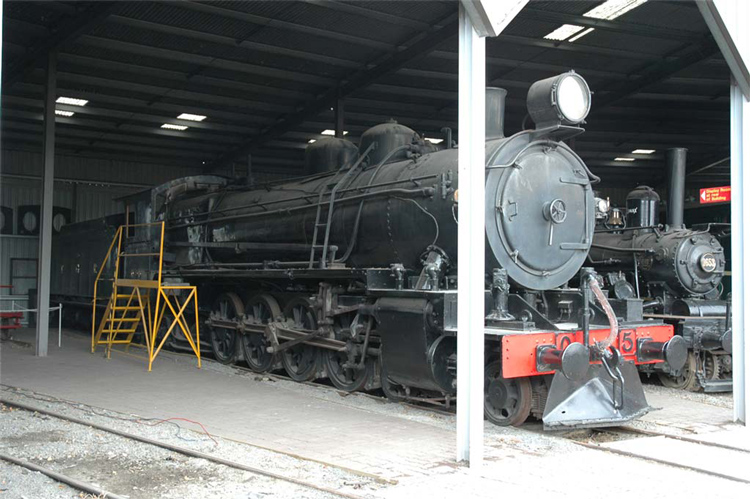 T

his photo was contributed by Stuart Dix and

shows Q5 at the Tasmanian Transport Museum on

6

November 200

4.

The 19 members of the Q-class goods locomotives were designed by the Tasmanian Government Railways and built in batches by Perry Engineering in South Australia, Walkers Limited of Maryborough, Queensland and Clyde Engineering of NSW between 1922 and 1945. The the final two Clyde locomotives were assembled by the Tasmanian Government Railways due to wartime construction delays at Clyde Engineering. Q5 was one of the Perry Engineering-built locomotives, completed in 1922 as builder's number 241. (b)

Q5 was retired by the Tasmanian Government Railways in 1962. Fortunately Q5 was purchased for preservation by the Tasmanian Transport Museum in 1965, thus escaping the mass scrapping of all other class members in 1965. (b)

A sister design of locomotive were the four R-class 4-6-2 passenger engines, which were built by Perry Engineering in 1923. R3 & R4 wore classic 1930's 'upturned bathtub' streamlining for a time, similar to the Victorian Railways S-class. Regrettably, the R-class locomotives were extinct by 1959. (d)

The Q & R classes also had a second sister class designed at the same time with some interchangeability of parts; this would have been the 4-6-4T S class, but none were ever ordered. (c)

Q5 is today displayed in unlined black livery at the Tasmanian Transport Museum at Glenorchy, Hobart as one of their prime exhibits and representing a significant step in Australian steam locomotive design and construction. (d)

A complete history of the TGR Q-class and this locomotive is provided in the exhibit guide book "Locomotives of the Tasmanian Transport Museum". (a) Your webmaster considers the TTM a fine museum with a variety of well restored railway, tramway and road exhibits, and thoroughly recommends a visit!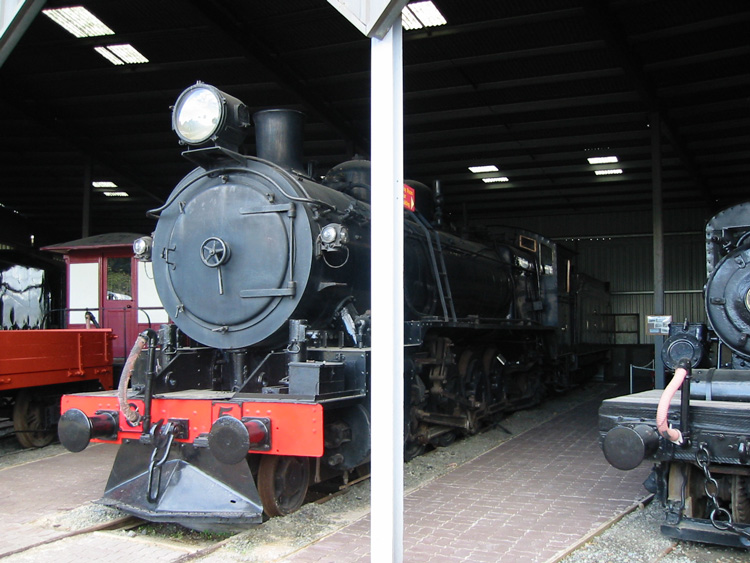 This second view of Q5 dates from 30 April 2003.
References
| | |
| --- | --- |
| a | Dix, A., Beck, D., and Dix M. 'Locomotives of the Tasmanian Transport Museum Glenorchy Tasmania', published by the Tasmanian Transport Museum Society, October 1991. |
| b | Cooper, G & Goss, G 'Tasmanian Railways 1871 - 1996, 125 Years - A Pictorial History' published by C G publishing Company. |
| c | Information provided by Melanie Dennis via email dated 14 July 2004. |
| d | Personal comment or observation. |
Page updated: 5 March 2011