Newbold

Also known as NSWGR 1024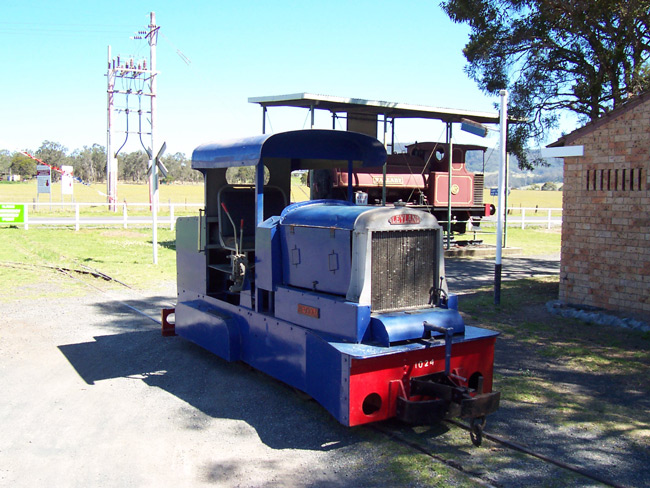 This photo is kindly provided by Jason Gundlach and shows Newbold in operation at the ILRMS on 9 October 2004.
The Leyland badge is prominent on the radiator and the NSWGR 1024 appears on the front frame.
Hawthorn Leslie 0-4-0ST "Wallaby" can be seen in the background.
This small petrol locomotive actually started life as a 0-4-0WT locomotive constructed by Lokomotivfabrik Krauss & Co in Munich, Germany as their builder's number 2179 of 1889. Small Krauss-built steam locomotives had been popular for mining and construction duties until German-built equipment fell from favour at the outset of World War 1; this particular example was one of six (builder's numbers 2178, 2179, 2180, 2181, 2195 & 2196) imported in 1892 by J. Robb for Victoria Dock construction in Melbourne. It later moved to the construction project for the Happy Valley Reservoir near Adelaide, SA.
This locomotive had a wide variety of owners and work locations during its career. In 1910 it began work for a NSWGR construction contractor on the Gwabegar branch and later the North Coast Railway. In 1913 it came into the ownership of the NSW Public Works Department and in 1917 received the number Lo.43, finally becoming 1024 in the NSWGR's 1924 renumbering scheme. It continued in NSWGR railway construction duties until 1936 and even received a number of overhauls at Eveleigh workshops.
1024 was sold back into industry in 1936 and began work for the Newbold Silica and Firebrick Company, spending time at their quarry railway near Milton and later a plant at Thirroul. It was here that it was converted in 1938 to a 0-4-0 Petrol Mechanical locomotive by fitting a Leyland bus engine. It last worked at the Newbold kaolin quarry at Home Rule, near Gulgong.
The Illawarra Light Railway & Museum website includes a page for Newbold providing a brief history and additional photos of this interesting locomotive.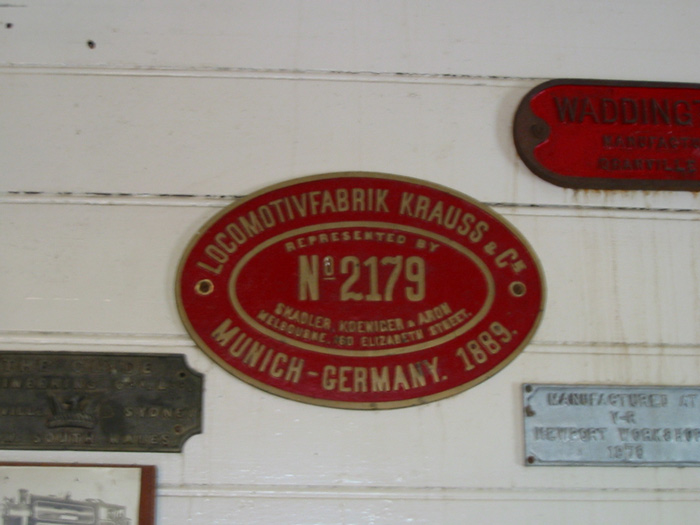 This locomotive's original Krauss builder's plate is displayed amongst the small exhibits at the ILRMS museum, Albion Park.
References
a
K. McCarthy "Guide to the Main Exhibits - Illawarra Light Railway Museum Society", published 1992
b

Light Railways - Australia's Magazine of Industrial & Narrow Gauge Railways', Number 153, June 2000.

Article "Krauss Locomotives in Australia - A close look at their characteristics and an overview of their migrations" by Bruce Macdonald.

Published by Light Railway Research Society of Australia Inc. pp.10-18.

c
Webmaster's observation or comment.
Page updated: 31 July 2013