NM 34

Displayed at the NRM, Port Adelaide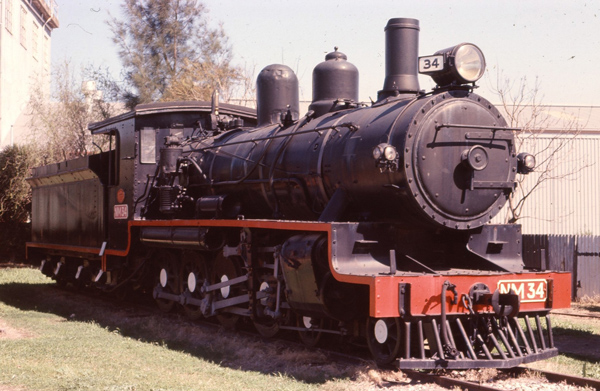 This photo is kindly provided by Geoff Murdoch and shows NM34 displayed at the ARHS Mile End Museum during June 1969.
The Commonwealth Railways displayed a pragmatic and risk-averse approach to steam locomotive design, electing to copy existing designs that had been proven in operation with state government railways. Accordingly the standard-gauge Trans-Australia Railway from Port Augusta to Kalgoorlie was operated by copies of successful NSWGR designs, whilst for the narrow-gauge Central Australia Railway to Alice Springs, the Queensland Government Railways "C17" 4-8-0 design was selected for a series of 22 mixed-traffic locomotives. These locomotives were known as the NM class (N denoting narrow gauge) and were built by Thompsons Foundry of Castlemaine, Victoria. Preserved locomotive NM34 was built by Thompson Foundry in 1927 as their Builder's Number 58.
The NM class were generally based at the Commonwealth Railway's Quorn locomotive depot and capably handled the "Ghan" and other Central Australia Railway trains through the Pichi Richi Pass to Maree and on to Alice Springs. However the Commonwealth Railways were early adopters of diesel locomotives, given the disadvantages of operating steam locomotives in arid areas remote from quality steaming coal supplies, and the majority of the NM class were out of service after 1956. While scrapping started as early as 1958, a small number of NM locomotives were retained as backup for the diesels, especially in times of flood.
NM34 was the last serviceable NM when it made a final run on an enthusiast tour through the Pichi Richi Pass on 8 October 1967. It was subsequently delivered to the Mile End Railway Museum in Adelaide on 30 October 1967 and placed on display near the entrance to this open-air museum. Together with the other Mile End exhibits, it later moved to the newly-established National Railway Museum at Port Dock, Adelaide where it is now proudly displayed together with other Commonwealth Railways exhibits.
For a comprehensive account of the Commonwealth Railway's NM class locomotives, readers are directed to the excellent book "Locomotives and Railcars of the Commonwealth Railways" published by the Port Dock Station Railway Museum.
References
| | |
| --- | --- |
| a | "Locomotives and Railcars of the Commonwealth Railways" published by the Port Dock Station Railway Museum, 1996. |
| b | Personal comment or observation. |
Page updated: 9 May 2013