MA3

Plinthed at Margate Market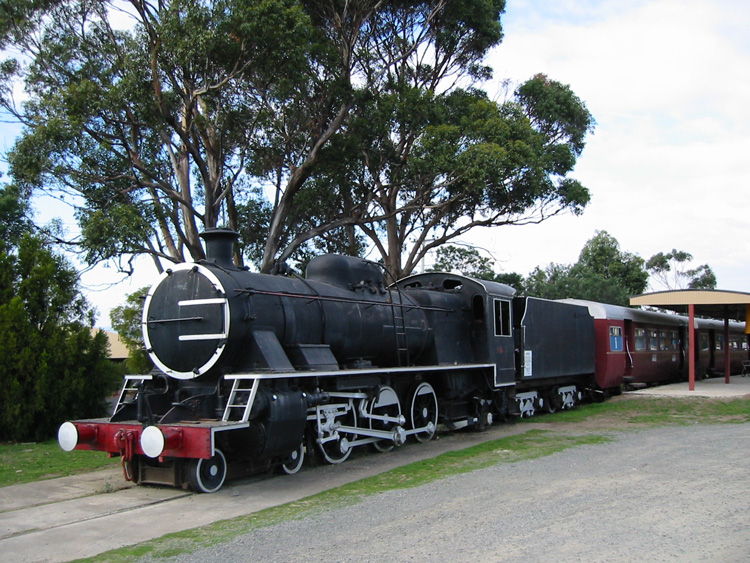 MA3 is plinthed at Margate Market and wearing unlined black livery in this view of 30 April 2003.
MA3 was built by Robert Stephenson & Hawthorns Ltd in 1951 (builder's number 7426) as one of ten members the Tasmanian Government Railways' M-class 4-6-2 locomotives. The M-class locomotives were built to the proven design of the Indian Railways metre-gauge YB class pacifics. a
MA3 was originally numbered M6 prior to the Tasmanian Government Railways rebuilding of four "M" class members to "MA" class to make them better suited to freight work. The modified engines were fitted with smaller diameter ex-Australian Standard Garratt (ASG) driving wheels and ex-B & C-class pony wheels. The weight distribution was also altered to place more weight on the driving wheels. New sandboxes for forward running were added on the footplate beside the smokebox, while the original sandbox in the dome was retained for reverse running. Locomotive MA1 was the trial conversion in 1957, while MA2 - 4 were the production conversions completed between 1957 and 1958.
MA3 is now plinthed outside the Margate market, south of Hobart, which replicates a railway station and features cafes & other market stalls, despite the fact that the railway never reached Margate! The carriages comprise a former 'Tasman Limited' articulated carriage (ACS1), 'SS' suburban cars and a 'DP' railmotor. d
At the time of my visit to Margate on 30 April 2003 I noticed the earlier Post Office Red livery evident underneath the more recent black paint, and that the tender platework was beginning to rot through. The piston rods were also missing. MA3 was otherwise well cared-for and certainly seemed effective in attracting passing motorists to the Margate Markets. e
Rick Cook has provided this view of MA3 at Margate Market in November 1987.
At that stage the loco was resplendent in its original and authentic Post Office Red livery.
Comparison with the 2003 photo above shows that the "3" numberplate has since been removed.
References
| | |
| --- | --- |
| a | Dix, A., Beck, D., and Dix M. 'Locomotives of the Tasmanian Transport Museum Glenorchy Tasmania', published by the Tasmanian Transport Museum Society, October 1991. |
| b | L. Oberg, 'Locomotives of Australia', published by J. W. Books Pty Ltd, Brookvale NSW. 1982 reprint. |
| c | Cooper, G & Goss, G 'Tasmanian Railways 1871 - 1996, 125 Years - A Pictorial History' published by C G publishing Company. |
| d | Information provided by Melanie Dennis via email dated 14 July 2004. |
| e | Webmaster's observation or comment. |
Page updated: 17 June 2013