MA1

Formerly plinthed at Granton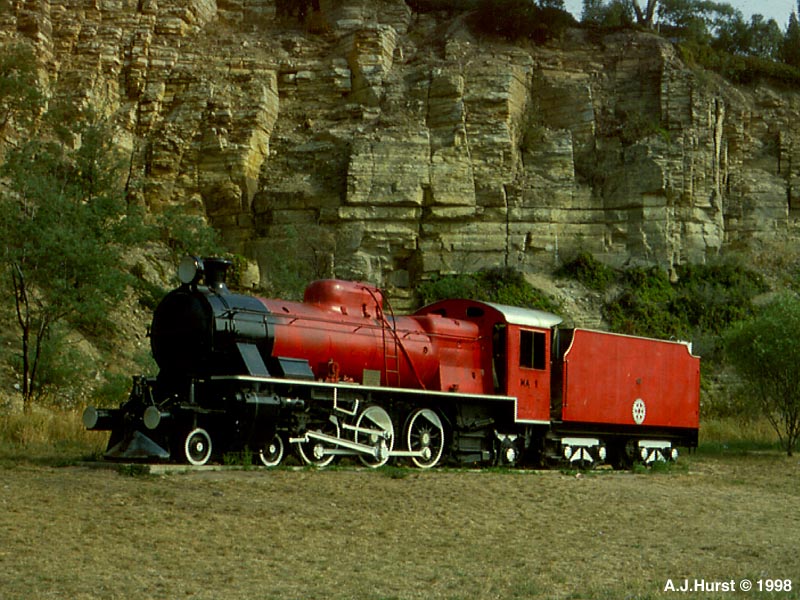 MA1 plinthed in a park at Granton.
This view is from the Tony Hurst's collection and dated February 1979.
MA1 was built by Robert Stephenson & Hawthorns Ltd in 1951 as their builder's number 7428, and originally numbered M8 of the Tasmanian Government Railways' M-class 4-6-2 locomotives. The 10 locomotives of the M-class were built to the proven design of the Indian Railways metre-gauge YB class pacifics.
In 1957 the Tasmanian Government Railways began a program to modify a number of the M-class to make them better suited to freight work. The modified engines were known as the MA-class and were modified by fitting smaller diameter ex-Australian Standard Garratt (ASG) driving wheels and ex-B & C-class pony wheels. The weight distribution was also altered to place more weight on the driving wheels. New sandboxes for forward running were added on the footplate beside the smokebox, while the original sandbox in the dome was retained for reverse running. Locomotive MA1 was the trial conversion in 1957, while MA2 - 4 were the production conversions completed between 1957 and 1958.
MA1 had been plinthed in a park at Granton for many years. It was acquired by the Derwent Valley Railway in mid-2000 and moved to their New Norfolk depot, where it remains in store.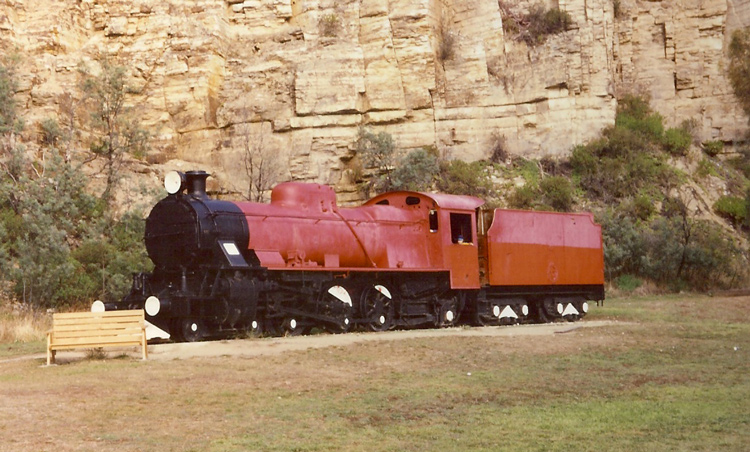 A scanned photo view of MA1 as I found her in May 1993, still whiling away the years in a park at Granton.
MA1 has since moved to the Derwent Valley Railway's New Norfolk depot.
References
a
Cooper, G & Goss, G 'Tasmanian Railways 1871 - 1996, 125 Years - A Pictorial History' published by C G publishing Company.

b

Dix, A., Beck, D., and Dix M. 'Locomotives of the Tasmanian Transport Museum Glenorchy Tasmania',

published by the Tasmanian Transport Museum Society, October 1991.

c
Information provided by Melanie Dennis via email dated 14 July 2004.
d
Webmaster's observation or comment.
Page updated: 15 June 2013