South Johnstone Mill No.5

Jung 1052 of 1906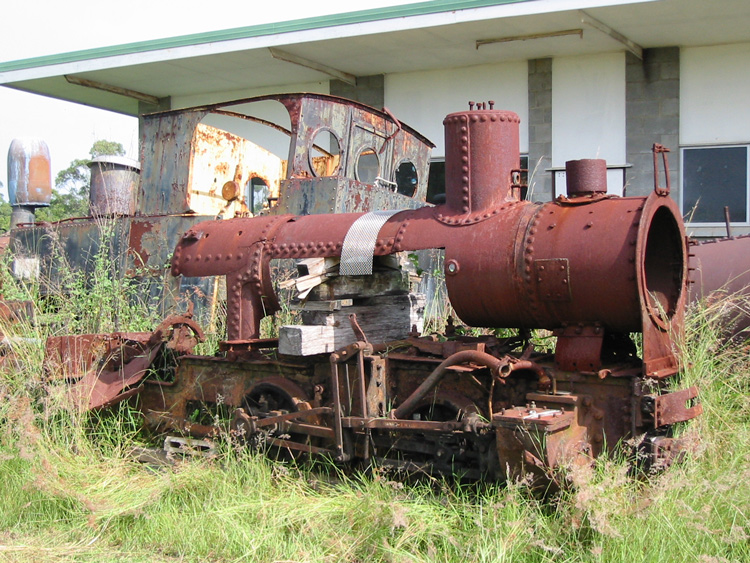 The remnants of South Johnstone No.5 stored at Kallangur on 12 April 2003.
This 0-4-0WT locomotive was constructed by Arnold Jung Lokomotivfabrik in Germany as their builder's number 1052 of 1906. Apparently it had a number of users over its career, finally working at the South Johnstone Mill, Mossman where it was No.5 on the loco roster.
In the 1940's this loco became separated from its boiler, with the complete chassis ultimately dumped and later partially buried at Mossman. After a period of static use, the boiler was cut open to allow the firebox and tubes to be scrapped; presumably these were copper, whereas the less valuable steel firebox outer and boiler shell were left behind.
Many years later the remnants of No.5 were exhumed by a private steam enthusiast and collector, who salvaged the locomotive chassis and remaining boiler components. The boiler remnants were later tack-welded together and placed on the chassis for display. These remnants of South Johnstone Mill No.5 and other steam locos were stored on a private site at Kallangur for many years, prior to being relocated to Narangba in 2007.
Much of the information I have for South Johnstone Mill No.5 was gleaned from discussions with the owner during our meeting of 12 April 2003. He spoke of his hope to one day restore the locomotive, however detailed engineering drawings for the missing components have proven difficult to locate as the Arnold Jung factory & all records were destroyed during World War 2. Apparently an identical locomotive is preserved in operating condition in the United Kingdom (possibly "Jenny" Jung 3175 of 1921) and this was being investigated as a possible template.
References
a

'Information provided by owner Mr. G. Chapman during our meeting of 12 April 2003.

b

'Information provided by John Browning via email dated 26 July 2009.

c

Light Railway Research Society of Australia Inc. Web site (as at 6/1/2015):

'Preserved Australian Sugar Cane Locomotives' list by John Browning
Page updated: 6 January 20
15