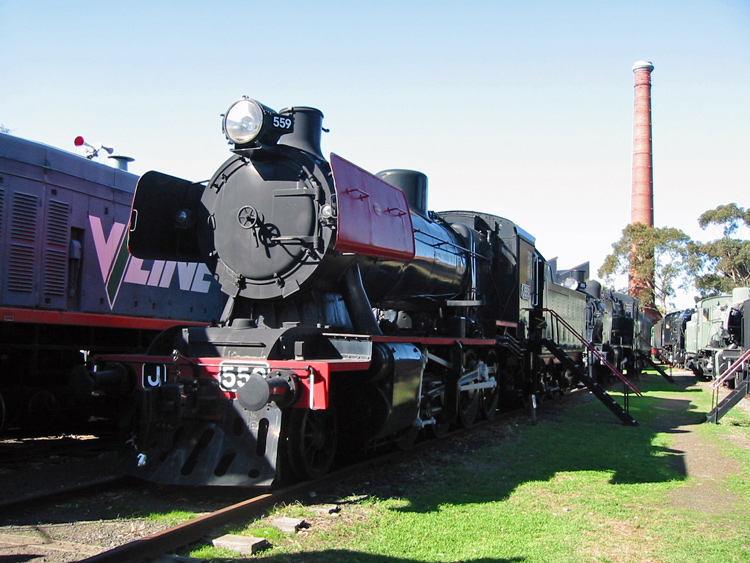 This photo of 10 May 2003 shows J 556 displayed at the ARHS museum at North Williamstown.
(Unfortunately J556 was in strongly backlit at the time of my visit!)
J 556 was one of sixty J-class 2-8-0 locomotives built for the Victorian Railways by Vulcan Foundry of Newton-le-Willows, Lancashire, carrying their builder's number 6152 of 1954. The first 30 locomotives (J 501 - J 529) were built as coal burners and the second 30 (J 530 - J 559) as oil burners with a distinctive circular oil tank mounted in the tender coal space.
J 556 has been preserved at the Australia Railway Historical Society (ARHS) museum at North Williamstown since 1968. It is preserved with the identity and number plates of sister J 559, which was historically significant as in December 1954 it became the last steam locomotive to enter service with the Victorian Railways. Unfortunately the real J 559 was scrapped in December 1967.
References
a

L. Oberg, 'Locomotives of Australia', published by J. W. Books Pty Ltd, Brookvale NSW. 1982 reprint. (pp.263

b

Banger, C. '50 Years of the J Class Locomotive', Newsrail, published by the Australian Railway Historical Society Victorian Division Inc., Volume 2, Number 3, March 2004.

c

John Royer, "The 2-8-0 Consolidation J-Class; the Last Victorian Railways Steam Locomotive",

an article included in "Model Railways in Australia, Issue 16" magazine.

d

Webmaster's observation or comment.
Page updated: 5 October 2013