J 541

Restored under contract at Menzies Creek Museum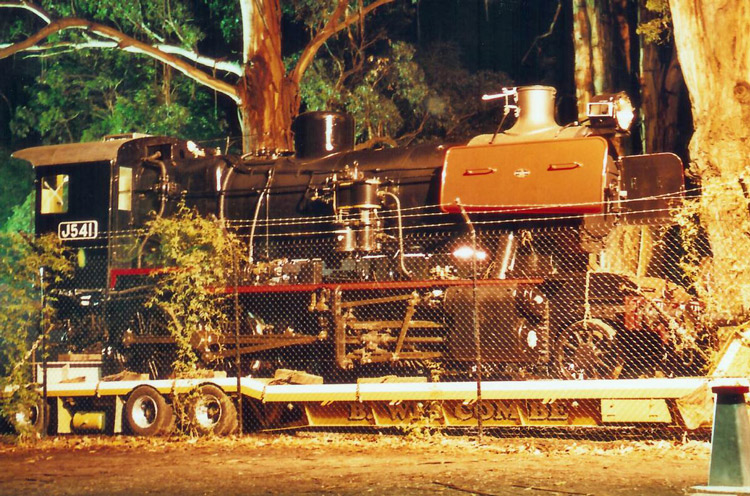 Newly-restored J 541 is loaded at Menzies Creek on 15 June 2007 ready for road transport to the Victorian Goldfields Railway, Maldon.
My thanks to Gordon Ross for contributing this photograph.
J 541 was one of sixty 2-8-0 locomotives built for the Victorian Railways by Vulcan Foundry of Newton-le-Willows, Lancashire, being allocated their builder's number 6087 of 1954. The first 30 J-class locomotives (J 501 - J 529) were built as coal burners and the second 30 (J 530 - J 559) as oil burners. The J-class were a modern and efficient design, however their service careers with the Victorian Railways were cut short by the rapid adoption of diesel locomotives. Accordingly they achieved relatively low mileages before retirement in the late 1960's, with the majority of the class cut up for scrap between 1968 and 1970. A number were retained after this date in storage or for workshop shunting duties, and the majority of those fortunate J-class locomotives subsequently survived into preservation. The final J-class locomotives scrapped were J 558 in August 1976 and J 538 in July 1978 after periods of shunting duties at Bendigo North workshops; J 538 becoming the last steam loco scrapped by the Victorian Railways.
J 541 was introduced to service by the Victorian Railways on 13 September 1954 and withdrawn on 23 May 1973 with a paltry total of 116,914 miles. c
J 541 was privately purchased for preservation in 1977 and subsequently stored at Windsor, followed by Bayswater, Newport and Bendigo. A further period of storage followed at the Yarra Valley Tourist Railway, Healesville from the mid-1980's until December 2003, when it was transferred to the Menzies Creek Museum of the Puffing Billy Railway for contact restoration. Its overhaul and repair was completed in mid-2007 and J 541 was transferred to the Victorian Goldfields Railway, Maldon on 15 June 2007. J 541's first day in service on the Victorian Goldfields Railway came on 5 September 2007.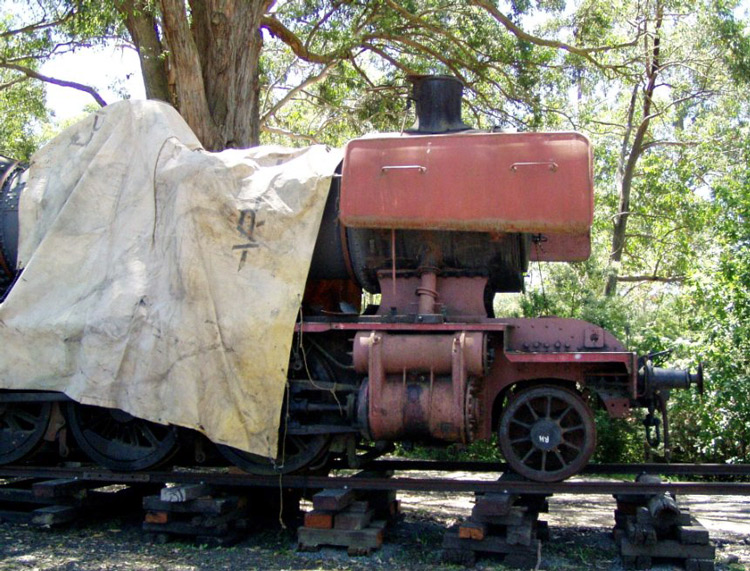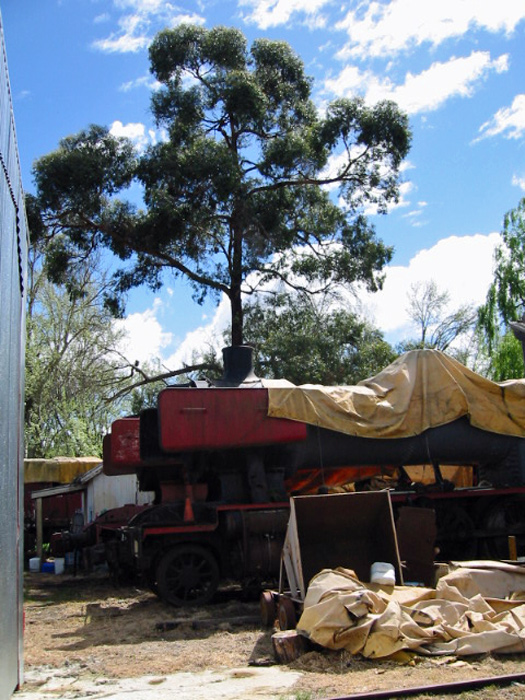 An earlier view of J 541 and J 516 in storage at Healesville on 8 October 2002.
References
a

L. Oberg, 'Locomotives of Australia', published by J. W. Books Pty Ltd, Brookvale NSW. 1982 reprint. (pp.263

b

Banger, C. '50 Years of the J Class Locomotive', Newsrail, published by the Australian Railway Historical Society Victorian Division Inc., Volume 2, Number 3, March 2004.

c

John Royer, "The 2-8-0 Consolidation J-Class; the Last Victorian Railways Steam Locomotive",

an article included in "Model Railways in Australia, Issue 16" magazine.

d

Webmaster's observation or comment.
Page updated: 5 October 2013