J 536

Formerly plinthed at Colac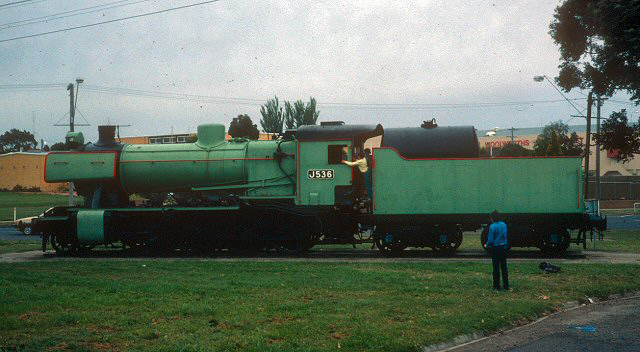 This photo is kindly provided by Trevor Staats and shows J 536 plinthed at Colac during the mid-1980's.
J 536 was one of sixty J-class 2-8-0 locomotives built for the Victorian Railways by Vulcan Foundry of Newton-le-Willows, Lancashire, carrying their builder's number 6082 of 1954. The first 30 J-class locomotives (J 501 - J 529) were built as coal burners, and the second 30 (J 530-J 559)as oil burners with a distinctive circular oil tank mounted in the tender coal space.
J 536 was purchased by Colac City Council for preservation in 1970 and was plinthed at Colac station in 1972.
In 1997 it was acquired by West Coast Railway and moved to their site at the old Ballarat East Depot.
J 536 was acquired by R707 Operations Inc. during 2004 and transferred to Newport. I understand it has since been dismantled for restoration.
References
a

L. Oberg, 'Locomotives of Australia', published by J. W. Books Pty Ltd, Brookvale NSW. 1982 reprint. (pp.263

b

Banger, C. '50 Years of the J Class Locomotive', Newsrail, published by the Australian Railway Historical Society Victorian Division Inc., Volume 2, Number 3, March 2004.

c

John Royer, "The 2-8-0 Consolidation J-Class; the Last Victorian Railways Steam Locomotive",

an article included in "Model Railways in Australia, Issue 16" magazine.

d

Webmaster's observation or comment.
Page updated: 4 October 2013