J 516

Formerly plinthed at Greensborough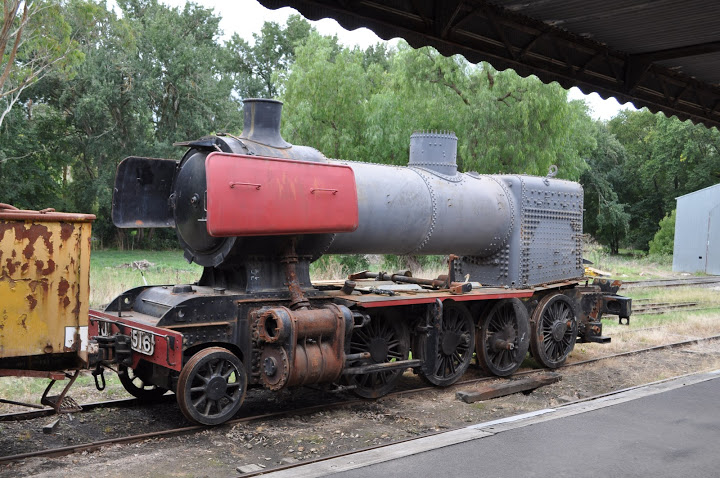 David Bromage has kindly contributed this view of J 516 under overhaul at Healesville on 30 March 2013.
J 516 was one of sixty J-class 2-8-0 locomotives built for the Victorian Railways by Vulcan Foundry of Newton-le-Willows, Lancashire. J 516 was the 17th locomotive in the class and carried Vulcan Foundry builder's number 6062 of 1954. As one of the first 30 locomotives in the class (J 500 - J 529) it was built as a coal burner, while the second 30 (J 530-J 559) were built as oil burners with a distinctive circular oil tank mounted in the tender coal space.
J 516 was withdrawn by the Victorian Railways on 30 November 1970. It was written off on 23 May 1973 with a total mileage of only 196,608 miles. Fortunately it was saved for preservation when purchased by the Shire of Diamond Valley in 1975 and plinthed at Poulter Reserve in the Melbourne suburb of Greensborough. Here it apparently it drew the attention of local vandals and required regular repainting.
In 1988 it was was acquired by Healesville Railway Co-operative, who transferred it in 1990 to their Healesville base. My visit to Healesville in October 2002 found J 516 in storage outside the old Healesville loco depot, keeping company with sister J 541. At that stage J 516 appeared complete but little restoration activity was apparent. Restoration work has now commenced and J 516 is progressively being restored at Healesville for operation on the Yarra Valley Railway.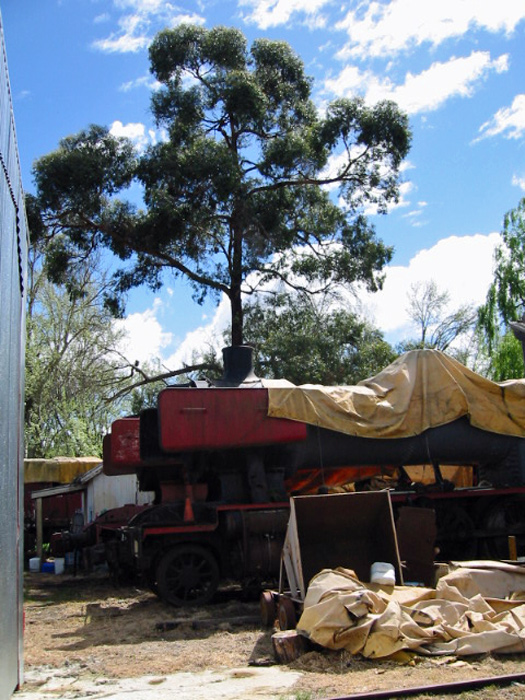 This photo shows J 516 and J 541 in storage at Healesville on 8 October 2002.
J 541 has since been returned to service, while J 516 is now under overhaul at Healesville.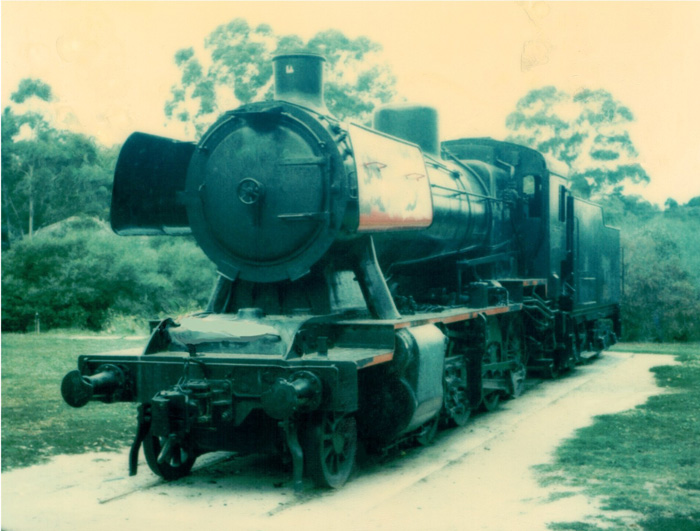 Kevin Leonard has provided this view of J 516 in the Poulter Reserve, Greensborough in approximately 1984.
Kevin advises the original photo was taken on a Polaroid camera and had deteriorated in colour with a few blemishes
(particularly under the smokebox door), looking as if the metal has melted.
Kevin has edited the image to remove some image deterioration and a section of graffiti.
References
a

L. Oberg, 'Locomotives of Australia', published by J. W. Books Pty Ltd, Brookvale NSW. 1982 reprint. (pp.263

b

Banger, C. '50 Years of the J Class Locomotive', Newsrail, published by the Australian Railway Historical Society Victorian Division Inc., Volume 2, Number 3, March 2004.

c

John Royer, "The 2-8-0 Consolidation J-Class; the Last Victorian Railways Steam Locomotive",

an article included in "Model Railways in Australia, Issue 16" magazine.

d

Webmaster's observation or comment.
Page updated: 4 October 2013