J 515

Restored by the Seymour Railway Heritage Centre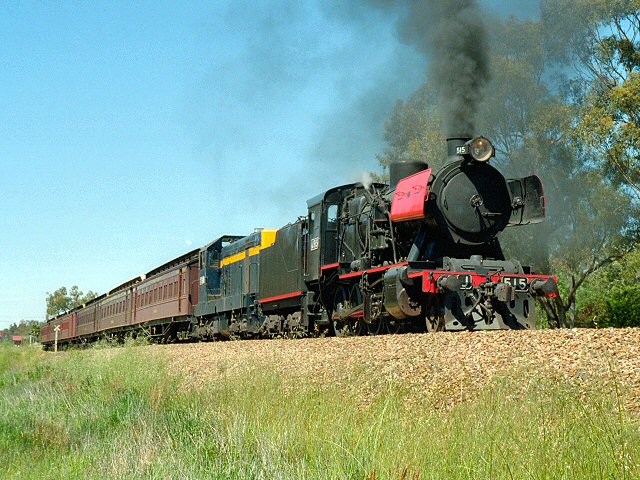 J 515 and T 357 departing Violet Town during a mainline tour on 8 November 2003.
This photo was kindly provided by Trevor Staats.
J 515 was one of sixty 2-8-0 locomotives built for the Victorian Railways by Vulcan Foundry of Newton-le-Willows, Lancashire, carrying their builder's number 6061 of 1954. The first 30 J-class locomotives (J 501 - J 529) were built as coal burners, and the second 30 (J 530 - J 559) as oil burners with a distinctive circular oil tank mounted in the tender coal space.
J 515 became the last J-class used by VR when retained for use as a shunter at Newport workshops until 1978.
J 515 was transferred in 1984 to Seymour for restoration, becoming the founding project of the Seymour Railway Heritage Centre. J 515 was beautifully restored by volunteers at the Seymour Railway Heritage Centre and has since been available for mail line operation. It carries and authentic black livery with red smoke-deflectors and is now named HAROLD P. WARD.
J 515 has been leased to the Victorian Goldfields Railway since 2008 and has regularly operated their tourist trains between Castlemaine and the historic town of Maldon.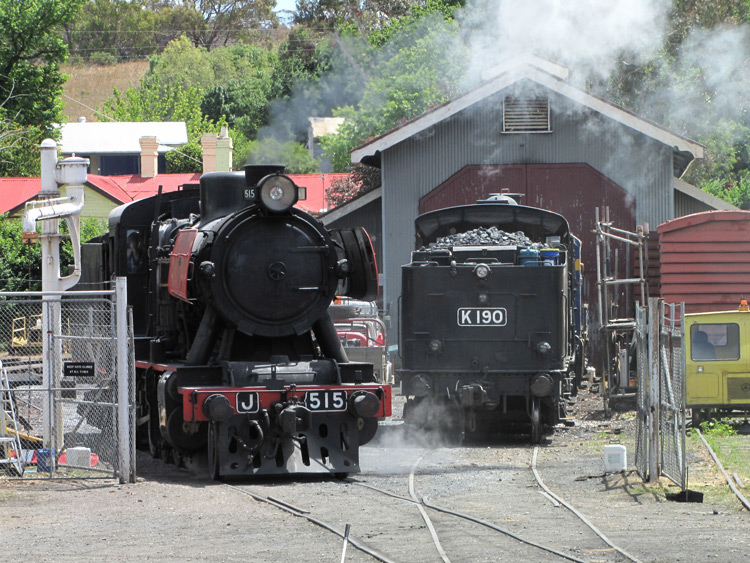 J 515 passes K 160 as it ambles off the turntable road at Maldon on 18 November 2012.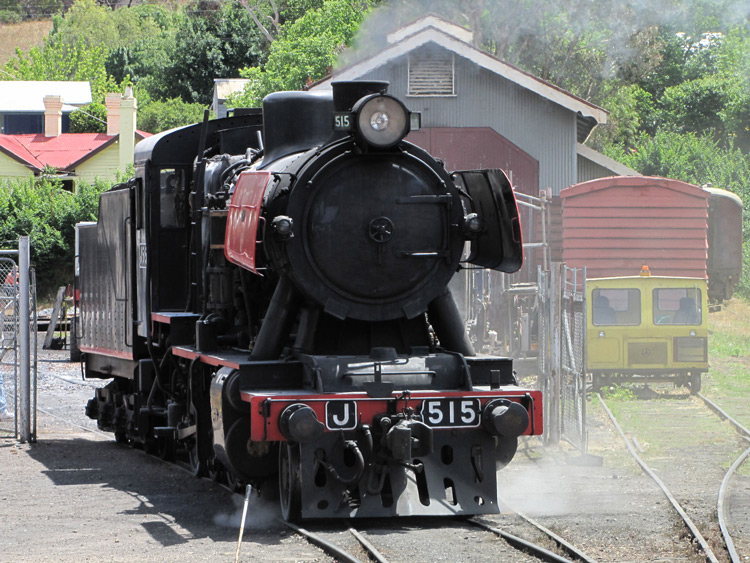 A closer view of J 515 at Maldon on 18 November 2012.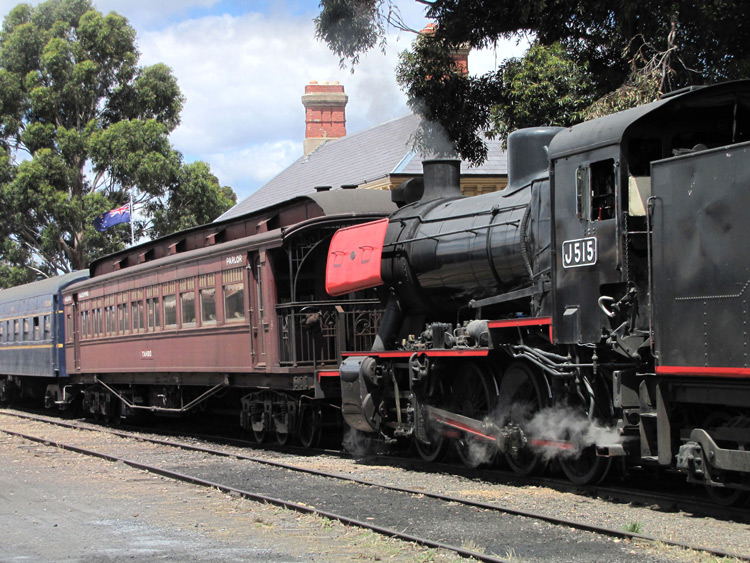 J 515 positioning its train at Maldon Station on 18 November 2012.
This sequence of photos was contributed by Roy Bird.
References
a

L. Oberg, 'Locomotives of Australia', published by J. W. Books Pty Ltd, Brookvale NSW. 1982 reprint. (pp.263

b

Banger, C. '50 Years of the J Class Locomotive', Newsrail, published by the Australian Railway Historical Society Victorian Division Inc., Volume 2, Number 3, March 2004.

c

John Royer, "The 2-8-0 Consolidation J-Class; the Last Victorian Railways Steam Locomotive",

an article included in "Model Railways in Australia, Issue 16" magazine.

d

Webmaster's observation or comment.
Page updated: 5 October 2013