J 512

Being converted to Standard Gauge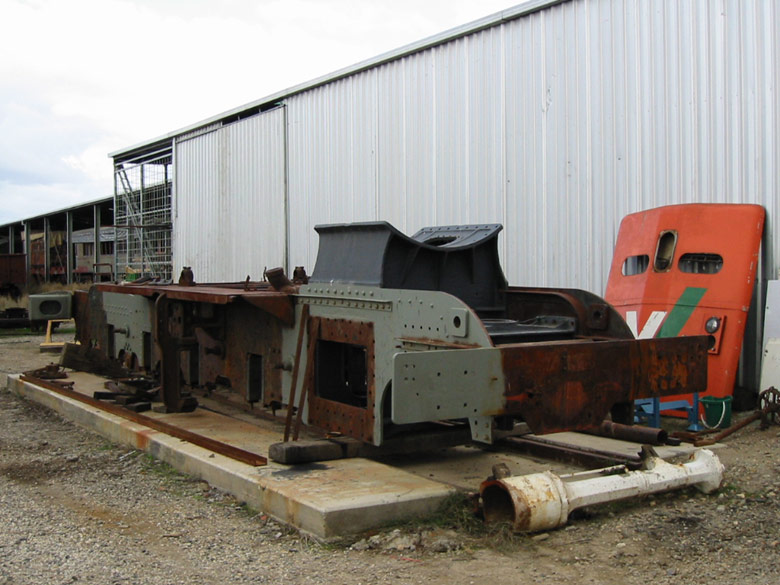 This photo of 16 May 2004 shows the recently narrowed frame for J 512 at the Seymour Rail Heritage Centre.
J 512 was one of sixty 2-8-0 locomotives built for the Victorian Railways by Vulcan Foundry of Newton-le-Willows, Lancashire, receiving their builder's number 6058 of 1954. The first 30 J-class locomotives (J 501 - J 529) were built as coal burners and the second 30 (J 530 - J 559) as oil burners. The J-class were a modern and efficient design, however their service careers with the Victorian Railways were cut short by the rapid adoption of diesel locomotives. Accordingly they achieved relatively low mileages before retirement in the late 1960's, with the majority of the class cut up for scrap between 1968 and 1970. A number were retained after this date in storage or used for workshop shunting duties, and the majority of those fortunate J-class locomotives subsequently survived into preservation. The final J-class locomotives scrapped were J 558 in August 1976 and J 538 in July 1978 after periods of shunting duties at Bendigo North workshops; J 538 becoming the last steam loco scrapped by the Victorian Railways.
J 512 was introduced to service by the Victorian Railways on 2 June 1954 and withdrawn on 23 May 1973 with a total mileage of 208,522. c It had survived a few years longer than most of her sisters after being retained as a shunter at Newport workshops from 1970 to 1972. In 1975 it was sold for preservation to the Alexandra & District Historical Society and towed to Alexandra. b My visit to Alexandra during Easter 1992 found J 512 sitting on overgrown rails in the head shunt of the old station yard, with the Alexandra & District Museum located in the former station and goods shed buildings.
In 1995, J 512 was transferred to the Seymour Rail Heritage Centre for restoration to operation, including conversion to standard gauge for which the J-class locomotives had been designed. This work includes narrowing the frames and adjusting the wheels centres on the axles. Interestingly, J 512 had been fitted since 1969 with spoked wheelsets from N 482 instead of the normal J-class SCOA-P wheels. The restoration team have been able to source J-class SCOA-P wheel as replacements and all wheelsets have been dispatched for gauge conversion. In addition, the Victorian Railways retained the boiler of J 509 when that locomotive was scrapped, and the J 512 restoration project have obtained J 509's boiler for use in this project. (I believe a few spare J-class tenders are also stored by Steamrail at Newport.)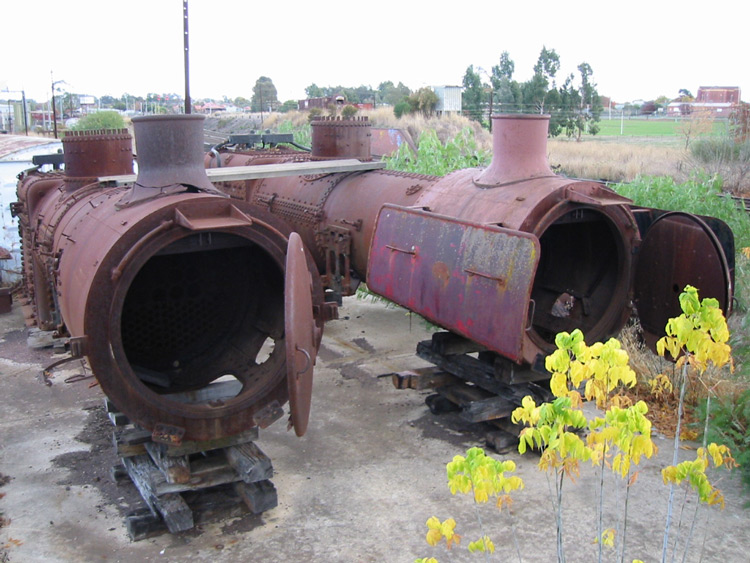 J 509's boiler (left) sits awaiting repair alongside J 512's boiler (right) at the Seymour Rail Heritage Centre on 16 May 2004.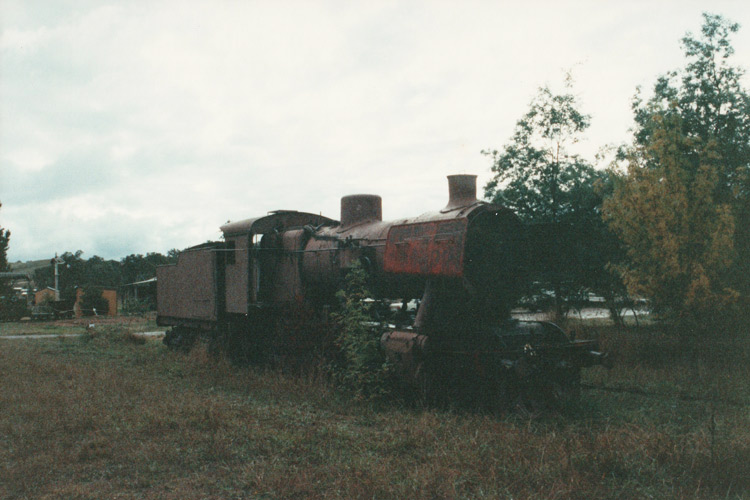 J 512 as I found her at Alexandra during Easter 1992; this photo taken in fading light.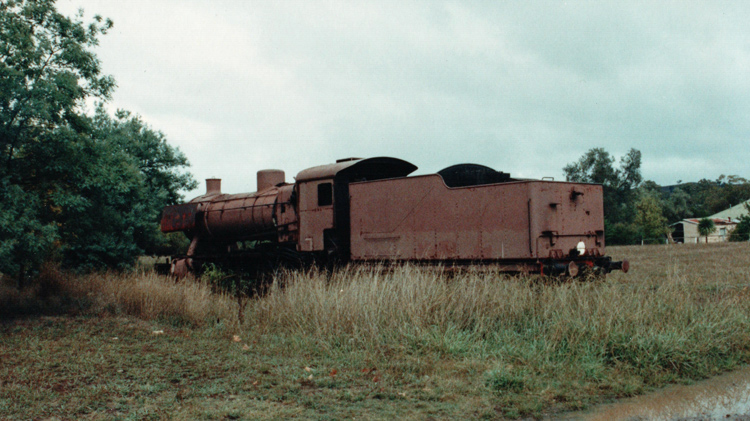 Rear view of J 512 at Alexandra during Easter 1992.
References
a

L. Oberg, 'Locomotives of Australia', published by J. W. Books Pty Ltd, Brookvale NSW. 1982 reprint. (pp.263

b

Banger, C. '50 Years of the J Class Locomotive', Newsrail, published by the Australian Railway Historical Society Victorian Division Inc., Volume 2, Number 3, March 2004.

c

John Royer, "The 2-8-0 Consolidation J-Class; the Last Victorian Railways Steam Locomotive",

an article included in "Model Railways in Australia, Issue 16" magazine.

d

Webmaster's observation or comment.
Page updated: 5 October 2013