J 507

Plinthed at Mulwala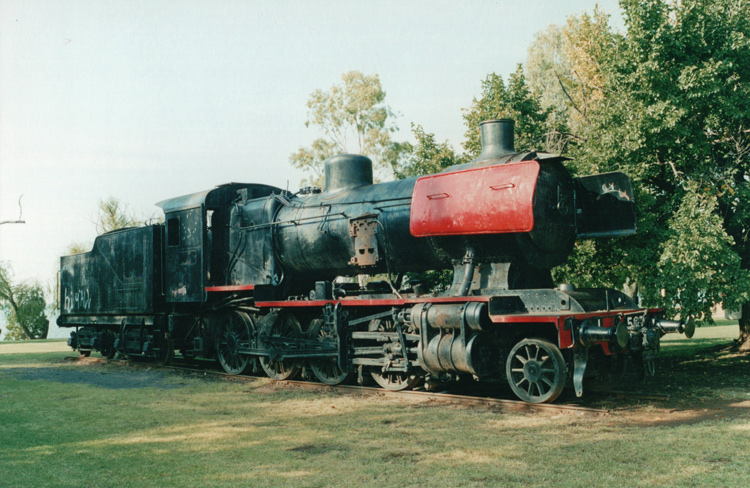 This scanned photograph of 28 March 2002 shows J 507 at Mulwala.
The air compressor appeared to had been recently been removed, presumably to aid another restoration elsewhere.
J 507 was one of an order of sixty 2-8-0 locomotives built for the Victorian Railways by Vulcan Foundry of Newton-le-Willows, Lancashire, as their builder's number 6053 of 1954. The first 30 locomotives (J 501 - J 529) were built as coal burners and the second 30 (J 530-J 559) as oil burners with a distinctive circular oil tank mounted in the tender coal space.
While most J-class locos were scrapped between 1968 and 1970, J 507 survived a few years longer after being retained as a shunter at Newport workshops from 1970 to 1972.
In 1974, J 507 was delivered to Yarrawonga for preservation. In 1981 it was moved across the Murray River to a lakeside park at Mulwala, NSW.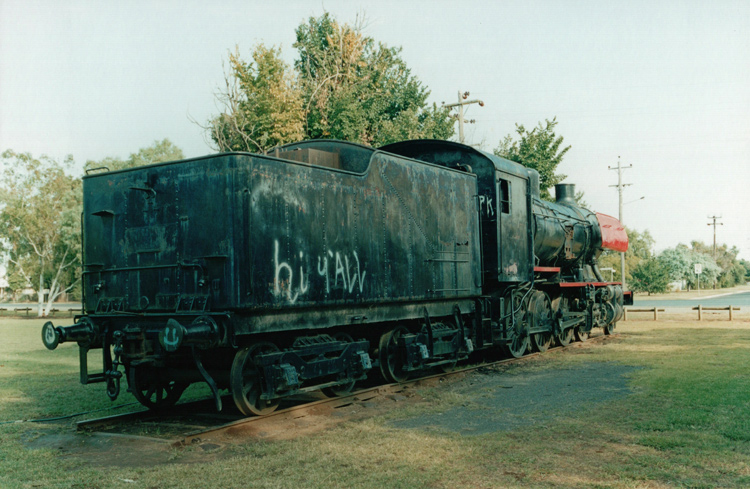 A rear view of J 507 at Mulwala on 28 March 2002.
References
a

L. Oberg, 'Locomotives of Australia', published by J. W. Books Pty Ltd, Brookvale NSW. 1982 reprint. (pp.263)

b

Banger, C. '50 Years of the J Class Locomotive', Newsrail, published by the Australian Railway Historical Society Victorian Division Inc., Volume 2, Number 3, March 2004.

c

John Royer, "The 2-8-0 Consolidation J-Class; the Last Victorian Railways Steam Locomotive",

an article included in "Model Railways in Australia, Issue 16" magazine.

d

Webmaster's observation or comment.
Page updated: 4 October 2013