No.6

Hudswell Clarke b/n 646 of 1903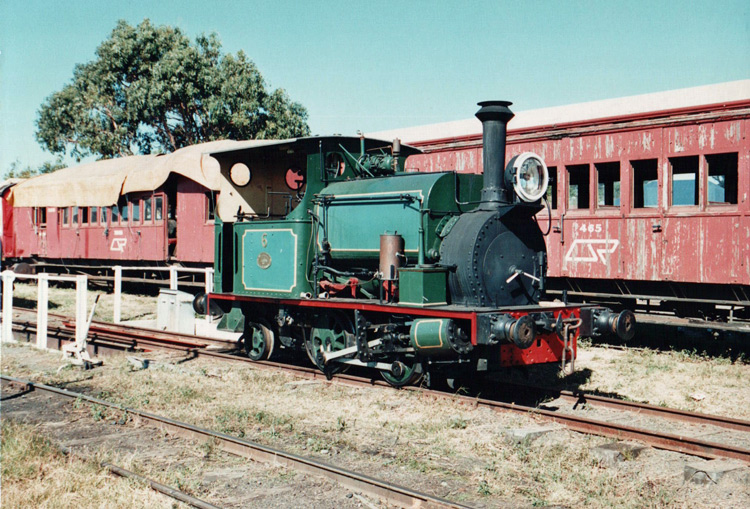 This scanned photo shows No.6 resting at Queenscliff on the Bellarine Railway during Easter 1995.
This locomotive was built by Hudswell, Clarke & Co. Ltd of Leeds, England as their builder's Number 646 of 1903. It is the survivor of a group of at least 4 identical works shunters initially supplied to the Wallaroo & Moonta Mining & Smelting Co. Ltd for use in their copper operations on Yorke's Peninsular.
Following closure of the Wallaroo smelter in 1923 the locomotive fleet was dispersed to a variety of industrial owners. I believe a number even found their way to the tramways used in the initial construction of Canberra, ACT. c
Four of the Wallaroo shunters were purchased in 1924 by Australian Portland Cement for use at the Fyansford Cement Works, near Geelong. Here they shuffled limestone wagons about the quarry floor, while Beyer-Garratt locomotives hauled the limestone trains from the quarry to the cement works. The four ex-Wallaroo locomotives were:
Fyansford

Roster No.

Hudswell Clarke

Builder's No.

6
646 of 1903
7
774 of 1906
8
777 of 1906
9
791 of 1906
Numbers 7, 8 & 9 were scrapped in 1964 however No.6 remained in service until 1966, when the entire Fyansford cement railway was replaced by a conveyor system and closed.
Together with several other Fyansford locomotives, No.6 was preserved by the Geelong Steam Preservation Society and became the first locomotive steamed at their Belmont Common site. This operation later relocated to Queenscliff to become the Bellarine Railway, which was formed by regauging the Queenscliff to Drysdale section of the VR Queenscliff branch from 5' 3" to 3' 6'. No.6 remains the mascot of the Bellarine Railway in recognition of its role in the early years of the Geelong Steam Preservation Society.
As at 27 January 2011, No 6 was in storage undercover at Lakers Siding awaiting some boiler repairs prior to its return to service. b
References
a

'Light Railways - Australia's Magazine of Industrial & Narrow Gauge Railways', Number 222, December 2011.

Published by Light Railway Research Society of Australia Inc.

Article "Fyansford Cement Works Railway - Recalled in photographs" by Richard Horne (page 3 - 10)

b
Information provided by D. Price via email dated 27 January 2011
c
Webmaster's observation or comment.
Page updated: 4 June 2013