H5

Long-time resident at Hillwood Strawberry Farm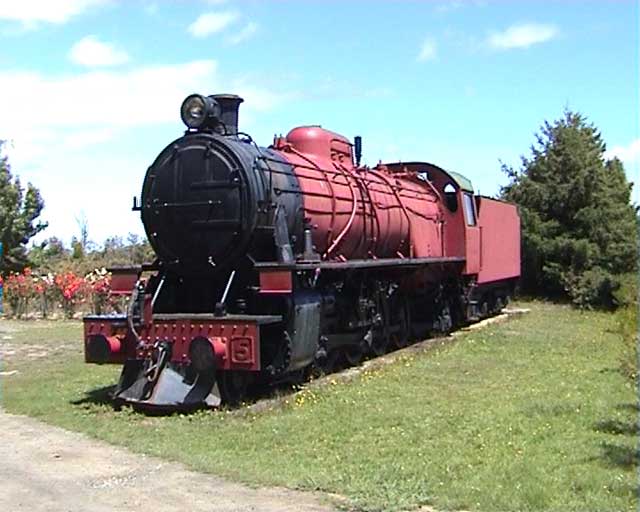 This photo of H5 at Hillwood Strawberry Farm is kindly provided by Stuart Dix.
This 4-8-2 freight locomotive was built by Vulcan Foundry of Lancashire in 1951 as their builder's number 5953, being the fifth of eight locomotives of this type which became the Tasmanian Government Railways' H-class. This design was a repeat of the "248 class" locomotives previously constructed by Vulcan Foundry for the Gold Coast Railway of western Africa. a
Both the Tasmanian Government Railways M & H-class locomotives were of modern design, featuring roller bearings on all axles and throughout the motion, and were the only Australian classes to be completely fitted-out with roller bearings. These locos also had SCOA-P wheels, like the Victorian Railways' R & J classes and the Queensland Railway's BB18-1/4 class. c
The H-class originally wore emerald green livery, but four members (H2, H3, H5 & H6) were later painted in the TGR's striking Post Office Red passenger livery. b
The Tasmanian Government Railways were taken over by Australian National Railways in 1978, which appears to have prompted a cleanup of redundant railway assets. At this time H2, H3, H4, H5 and H8 were in storage at Launceston and quickly came up for acquisition. Whilst H2 and H5 were purchased for preservation, unfortunately H3, H4 and much of H8 were scrapped in early 1979. a
H5 was purchased privately and placed on display at the Hillwood Strawberry Farm, a tourist attraction in the Launceston area. Here it stayed for the next 28 years until 2007, by which stage it was apparently no longer wanted at Hillwood. Fortunately the Derwent Valley Railway stepped in and members quickly raised the funds to purchase H5 and transport it to their New Norfolk base, where it arrived on 15 December 2007 and remains in safe storage.
References
| | |
| --- | --- |
| a | Dix, A., Beck, D., and Dix M. 'Locomotives of the Tasmanian Transport Museum Glenorchy Tasmania', published by the Tasmanian Transport Museum Society, October 1991. |
| b | Cooper, G & Goss, G 'Tasmanian Railways 1871 - 1996, 125 Years - A Pictorial History' published by C G publishing Company. |
| c | Information provided by Melanie Dennis via email dated 14 July 2004. |
| d | Webmaster's observation or comment. |
Page updated: 19 June 2013