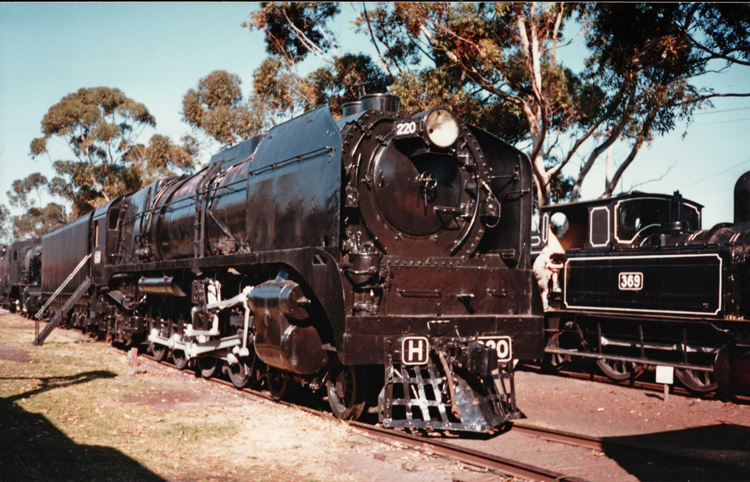 H 220 displayed at the ARHS Museum at North Williamstown. May 1986
H 220 is a 3-cylinder express passenger locomotive designed by the Victorian Railways and built at Newport Workshops in 1941. The Victorian Railways intended to build three H-class 4-8-4 locomotives for use between Melbourne and Ararat on the interstate route to South Australia, where heavy express trains were being hauled by double-headed A2-class 4-6-0's. However wartime constraints prevented the second two locomotives being completed, together with the necessary bridge strengthening on the line to Ararat and weight restrictions dictated that H 220 could only be used on the North-East line to Albury / Wodonga. When built it was the largest and heaviest locomotive in Australia; together with the severe route restrictions caused by its weight, it understandably earned the nickname "Heavy Harry".
H 220 was withdrawn in 1958 but fortunately was set aside and later placed on display at the Australian Railway Historical Society (Victoria Division) Railway Museum at North Williamstown.
References
| | |
| --- | --- |
| a | ARHS (Victorian Division) 'North Williamstown Railway Museum', Third Edition 1968, revised 1977, reprinted 1980. |
| | |
| | |
Page updated: 24 November 2013