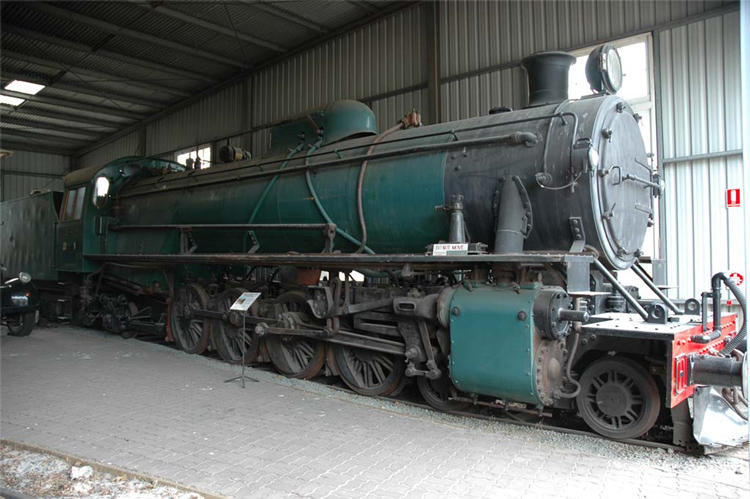 T

his view

of

27

November 200

4

shows H1 at the Tasmanian Transport Museum and was contributed by Stuart Dix.

H1 is wearing authentic emerald green livery.

This 4-8-2 freight locomotive was built by Vulcan Foundry of Lancashire in 1951 as their builder's number 5949, being the first of 8 locomotives of this type which became the Tasmanian Government Railways' H-class. This design was a repeat of the "248 class" locomotives previously constructed by Vulcan Foundry for the Gold Coast Railway of western Africa. a

Both the Tasmanian Government Railways M & H-class locomotives were of modern design, featuring roller bearings on all axles and throughout the motion, and were the only Australian classes to be completely fitted-out with roller bearings. These locos also had SCOA-P wheels, like the Victorian Railways' R & J classes, and the Queensland Railway's BB18-1/4 class. c

The H-class originally wore emerald green livery, but four members were later painted in post office red. b

H1 is now statically displayed at the Tasmanian Transport Museum at Glenorchy, Hobart in emerald green livery. A history of the TGR H-class and this locomotive is provided in the exhibit guide book "Locomotives of the Tasmanian Transport Museum". Your webmaster considers the TTM a fine museum with a variety of well restored railway, tramway and road exhibits, and thoroughly recommends a visit! d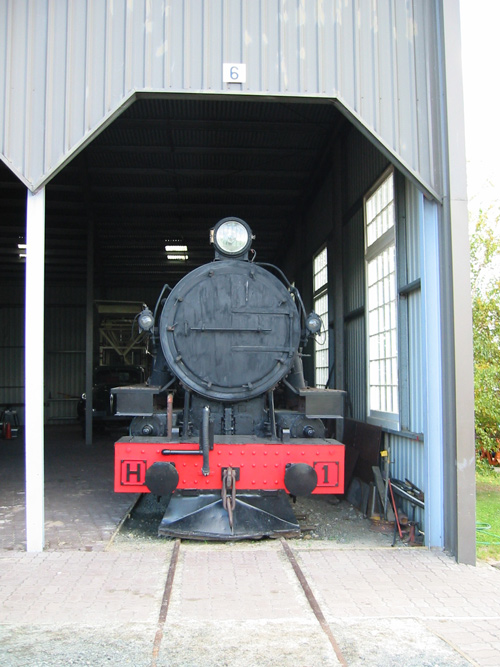 H1 slumbers in a roundhouse bay at the Tasmanian Transport Museum on 30 April 2003.
References
| | |
| --- | --- |
| a | Dix, A., Beck, D., and Dix M. 'Locomotives of the Tasmanian Transport Museum Glenorchy Tasmania', published by the Tasmanian Transport Museum Society, October 1991. |
| b | Cooper, G & Goss, G 'Tasmanian Railways 1871 - 1996, 125 Years - A Pictorial History' published by C G publishing Company. |
| c | Information provided by Melanie Dennis via email dated 14 July 2004. |
| d | Webmaster's observation or comment. |
Page updated: 18 June 2013