G 53

Plinthed at Pemberton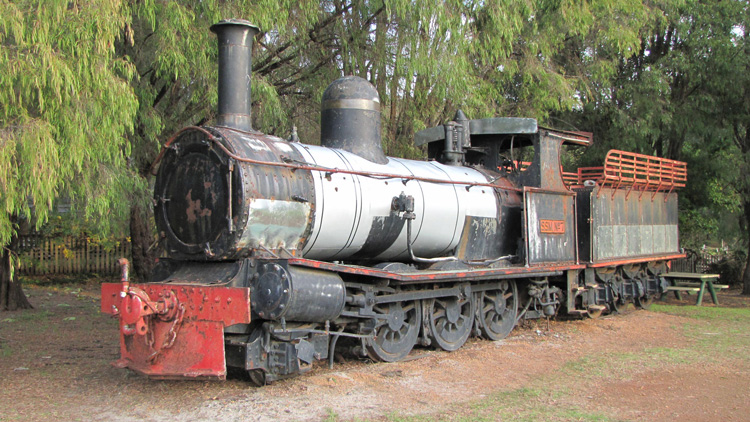 This photo was provided by Ian Douglas and shows SSM No.7 plinthed at Pemberton on 26 May 2009.
The tender hungry boards suggest this locomotive was last fired as a wood-burner, presumably with sawmill off-cuts.
At the time of this photo G 53 was receiving a cosmetic upgrade, with new boiler clothing and a smokebox patch.
This locomotive was built by James Martin of Gawler, South Australia (builder's number 117 of 1895) for the West Australian Government Railways (WAGR), receiving the road number G 53. The WAGR G-class comprised both 2-6-0 and 4-6-0 versions of this classic Beyer Peacock & Co locomotive design, G 53 being one of the 2-6-0 version.
G 53 went to the Commonwealth Railways in 1942 for war-time duty on the North Australia Railway at Darwin, becoming Nfc 53 and renumbered to Nfc 69 in 1943. After the war the North Australia Railway had excess locomotives and Nfc 69 was sold to the W. A. State Saw Mills where it was numbered SSM No.7
SSM No.7 was sold to Hawker Siddeley Building Supplies in 1961 and was last used at Pemberton in about 1970. Following retirement, SSM No.7 was plinthed at Pemberton where it remains to this day.
References
a

A. Gunzburg 'A history of WAGR steam locomotives',

published by ARHS (Western Australian Division), 1984. pp32
Page updated: 10 May 2014