No. 71 "Menzies"

Originally WAGR loco G 111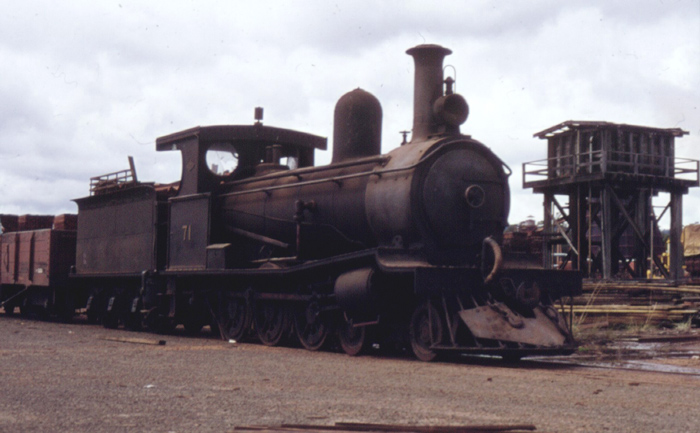 This photograph is kindly provided by Lindsay Watson and shows No.71 "Menzies" at Yarloop prior to preservation.
This locomotive was built by Dubs & Co. of Glasgow, Scotland (builder's number 3495 of 1897) for the Western Australia Government Railways (WAGR), receiving the road number G 111. The WAGR G-class comprised both 2-6-0 and 4-6-0 versions of this classic Beyer Peacock & Company design, G 111 being one of the 4-6-0 version.
G 111 and G 112 were sold in 1897 - virtually brand new - to railway contractors Smith & Timms for construction duties on the Kalgoorlie to Menzies & Kanowna lines, with G 111 receiving the name "Menzies" and G 112 "Kanowna". Both passed into the ownership of Millars' Karri & Jarrah Forests Ltd before 1900 and were transferred to the mill and forest railway operations at Yarloop, where Menzies became No. 71 and Kanowna became No.70. No.71 had a long working life at Yarloop before finally being retired in 1973.
No. 71 "Menzies" was donated by Millars to the Hotham Valley Railway Society in 1977 and is now based at their Pinjarra locomotive depot. No.71 has yet to operate in preservation; my visit to Pinjarra on 12 May 2002 found No.71 fully dismantled for restoration for use on the Etmilyn Forest Explorer, which operates from Dwellingup into the nearby forests.
Further contributions of news or photo updates on No.71's restoration progress are welcome.
References
a

A. Gunzburg 'A history of WAGR steam locomotives',

published by ARHS (Western Australian Division) 1984.

b

A Gunzburg & J Austin,

'Rails Through The Bush', 2nd Ed

published by Rail Heritage WA., 2008

c

Information provided by Brent Luscombe via email, 18 August 2009.
Page updated: 16 February 2015