D3 688

Formerly plinthed at Rosebud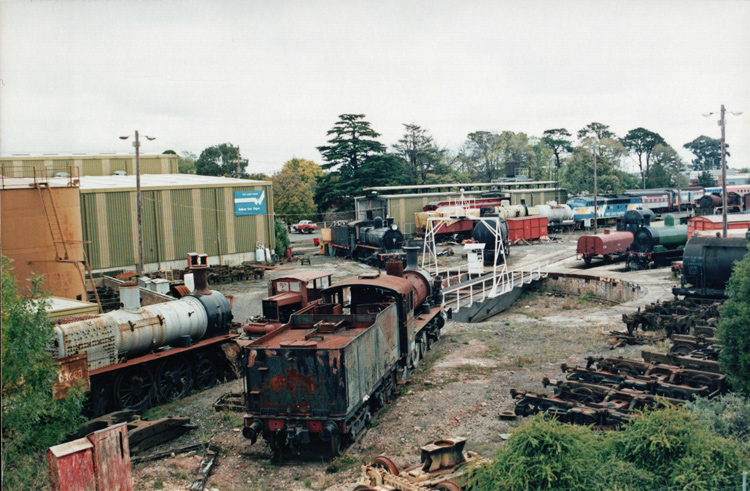 This scanned 1998 photo shows D3 688, D3 641 and D3 638 around the turntable at Ballarat East Loco Depot.
D3 688 is the locomotive on the left (with the boiler barrel painted in silver); the number D3 688 can be seen on the cabside.
Steam locomotives Y 112, J 536 and R 700 can also be seen in the background.
This locomotive was constructed by the Victorian Railways Newport Workshops in 1914 and originally numbered DD 893, becoming one of the 261 members of the Victorian Railways DD-class. It was renumbered DD 520 in 1923 and DD 779 in 1925. Modification and superheating to D2 configuration came in 1929, becoming D2 779. It was later further rebuilt with the larger D3 boiler in 1937, becoming D3 688. (For more information about the Victorian Railways DD-class locomotives, refer to the entry for D2 604.)
D3 688 was plinthed in a park at Rosebud in 1964 and remained there for many years. (Sister D3 638 was also plinthed at Rosebud.) D3 688 was later acquired by the West Coast Railway and transferred to their Ballarat East Locomotive Depot site for storage, together with sisters D3 608, D3 638 and D3 641.
D3 638, D3 641 and D3 688 were purchased from West Coast Railway by Steamrail Victoria in late 2004 and remain stored at Ballarat East Locomotive Depot.
References
a

"A brief history of Preserved Rolling Stock of Victoria" by Norm Bray, Peter J Vincent and Daryl M Gregory.

Published by Brief History Books, PO Box 437, Sunbury, Vic 3429.

b

Webmaster's observation or comment
Page updated: 19 December 2014