D3 639

Maintained by Steamrail Victoria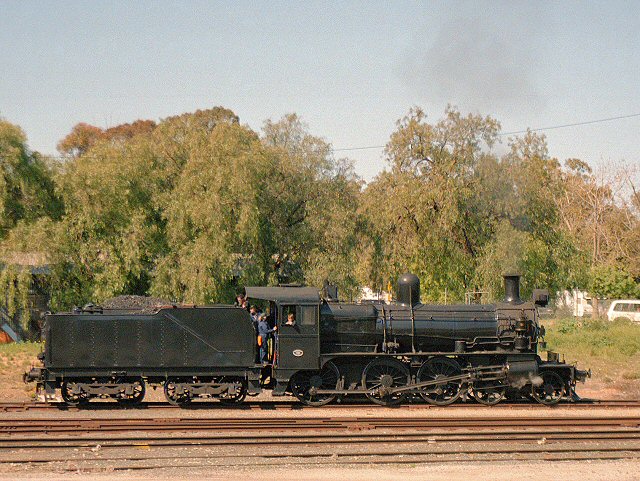 This photo is kindly provided by Trevor Staats and shows D3 639 in the Swan Hill yard on 20 September 2003.
D3 639 was constructed by the Victorian Railways Newport Workshops in 1903 and originally numbered DD 586, being one of early examples of the DD-class which ultimately grew to 261 locomotives. It was renumbered DD 799 in 1927 and later rebuilt with a superheated boiler to D2 configuration in 1931, becoming D2 799. It was further rebuilt with the larger D3 boiler in 1934, becoming D3 658. (For more information about the Victorian Railways DD-class locomotives, refer to the entry for D2 604.)

Sister locomotive D3 639 had been the favoured locomotive for the Victorian Railways Commissioner's inspection & special trains for many years. Upon its withdrawal in 1956, locomotive D3 658 was renumbered to D3 639 to take its place.

D3 639 passed into preservation as a regular tour locomotive for Steamrail Victoria, often wearing the lined carnation red livery associated with its days as the Commissioners engine. It is normally housed at Newport Workshops. From time to time it has also carried unlined black livery, and occasionally its original number D3 658.
My visit to the Steamrail depot at Newport Workshops in 1996 found D3 639 and K 153 shuffling around the sidings.
Two further views of D3 639 and K 153 shunting at Newport Workshops in 1996.
References
| | |
| --- | --- |
| a | "A brief history of Preserved Rolling Stock of Victoria" by Norm Bray, Peter J Vincent and Daryl M Gregory. Published by Brief History Books, PO Box 437, Sunbury, Vic 3429. |
| b | Webmaster's observation or comment |
| | |
Page updated: 19 December 2013