Climax 1694

Operational at the Puffing Billy Railway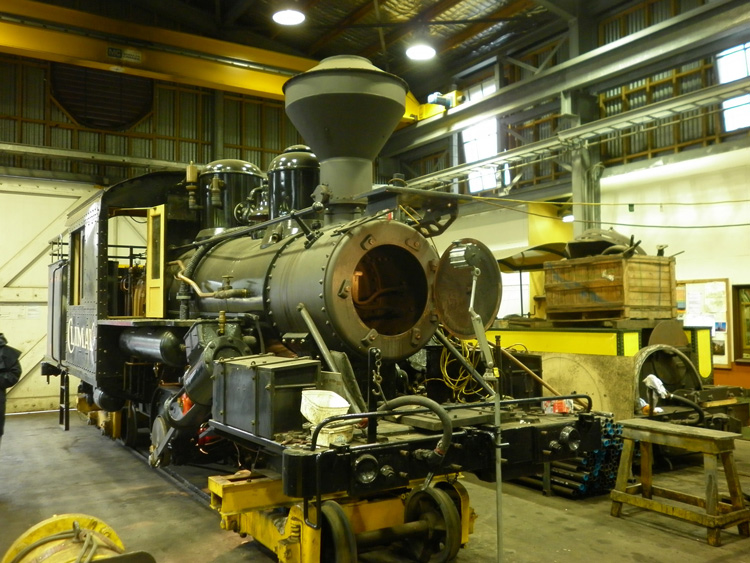 My thanks to Max Bracher for this view of Climax 1694 under overhaul on 28 July 2012.
(It is resting on workshop accommodation bogies.)
This interesting Climax "B-type" geared locomotive was built by the Climax Manufacturing Co. of Pennsylvania in 1928 as their builder's number 1694 for the Tyers Valley Tramway, a lengthy timber mill line which connected with the Victorian Railways 2' 6" gauge route from Moe to Walhalla. The Tyers Valley Tramway closed in 1949 and in 1950 Climax 1694 moved to the nearby Forestry Commission of Victoria sawmill at Erica.
The Forestry Commission of Victoria donated Climax 1694 to the Puffing Billy Preservation Society at the end of its timber industry career. It was initially displayed as a static exhibit at Menzies Creek Museum, however was returned to operation at Puffing Billy Railway in 1988 after 6 years of effort. It was maintained serviceable for the next 13 years and ventured out of the locomotive shed for various special events. Unfortunately age caught up with it and Climax 1694 was again withdrawn from service in April 2001 when stopped for major boiler repairs.
The Puffing Billy Railway then embarked upon a further overhaul for Climax 1694, with boiler repairs contracted to a restoration firm in the USA. The reward for more than 10 years or effort, fund raising and $700,000 expenditure came on 8 September 2013 when Climax 1694 hauled its first revenue train since overhaul.
Climax 1694 is not a regular service locomotive at the Puffing Billy Railway, instead being reserved for special operating days and railway enthusiast events. Accordingly anyone wishing to see this locomotive in operation would do well to contact the Puffing Billy Railway to ascertain its next planned operating day. (Alas my own visits to Puffing Billy over the years have not coincided with an operating day for Climax 1694, so contributions of photos of this interesting & unusual locomotive in operation would be much appreciated!)
For further information about Climax and other geared locomotives, visit the excellent sites www.climaxlocomotives.com and www.gearedsteam.com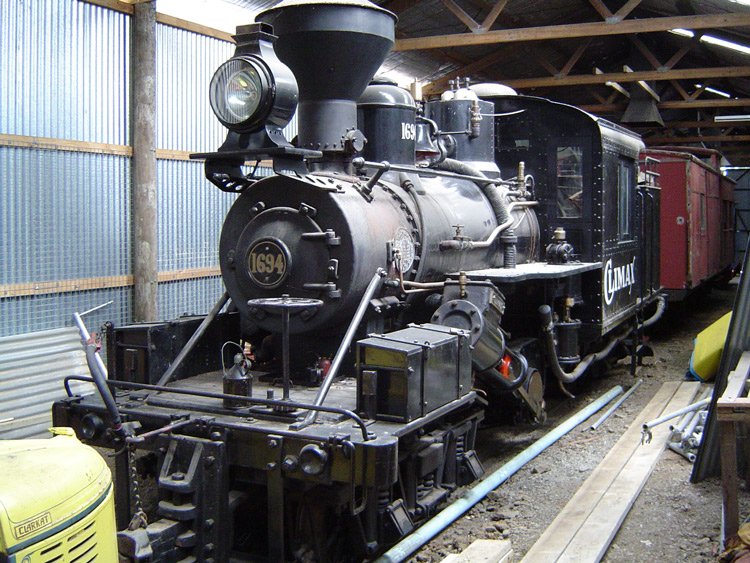 Paul Pavlinovich has contributed this view of Climax 1694 which is dated 16 October 2004.

Climax 1694 was dismantled for repair a few weeks after this date

.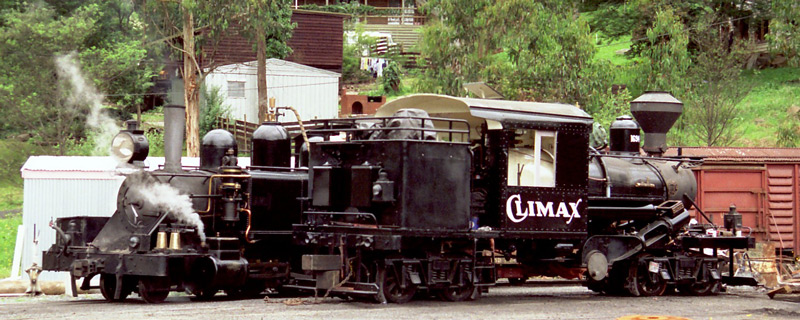 Climax 1694 at Belgrave; photo courtesy of Gordon Ross.
References
a
www.climaxlocomotives.com website, viewed 20 October 2013.
b
L. Oberg, 'Locomotives of Australia, 1850s -2010' (Fifth Edition), published by Rosenberg Publishing Pty Ltd. 2011 reprint
c

'Light Railways - Australia's Magazine of Industrial & Narrow Gauge Railways', Number 233, October 2013.

Published by Light Railway Research Society of Australia Inc.

d
Webmaster's observation or comment.
Page updated: 9 February 2014