Climax 1653

Statically restored from dereliction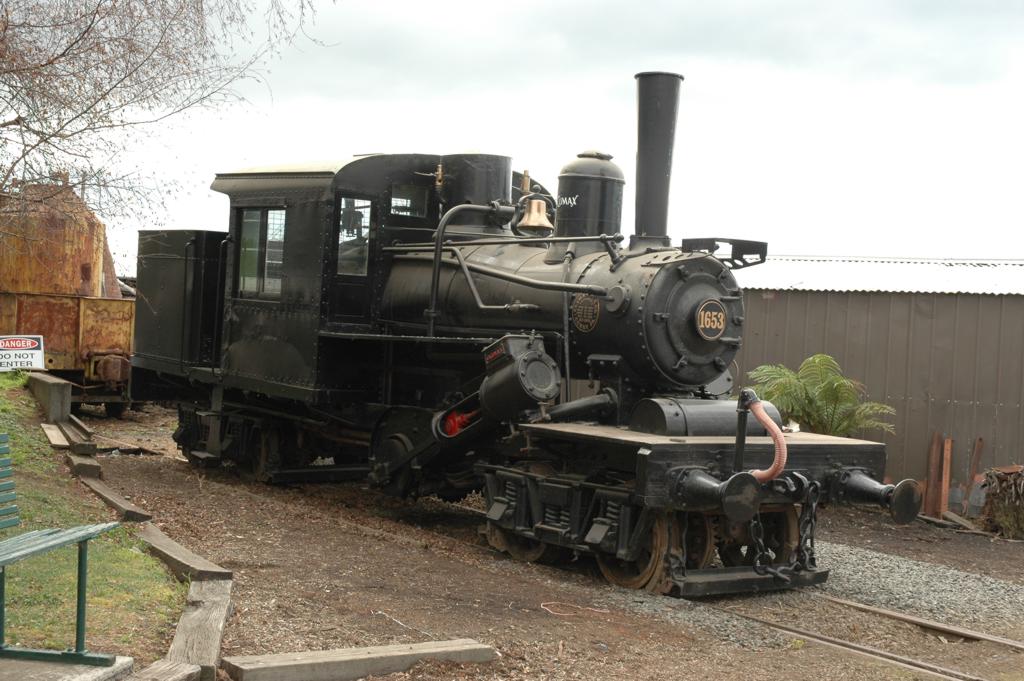 Climax 1653 is seen displayed outside the TTM roundhouse on 1 September 2007 in this photo kindly provided by Stuart Dix.
The inclined cylinders and central drive shaft can be seen, together with some of the various joints and gears.
This interesting Climax "B-type" geared locomotive was built by the Climax Manufacturing Co. of Pennsylvania in 1923 as their builder's number 1653. It was originally ordered by a New Zealand firm, but by 1925 was working for Pines and Hardwoods Ltd near Simmsville on the NSW North Coast. Here it worked with other Climax locomotives and carried the name "Soward". a
Climax 1653 was sold in 1939 to Australian Newsprint Mills Ltd for logging operations in Tasmania's Derwent Valley. It was abandoned near Maydena around 1949 and became derelict over the subsequent years of neglect. Fortunately it was donated in 1977 by Australian Newsprint Mills to the Tasmanian Transport Museum at Glenorchy, Hobart. a
My first visit to the Tasmanian Transport Museum in May 1993 found Climax 1653 still in "as received" condition and in storage at the rear of the museum. However it has since received a thorough static restoration and a subsequent visit in April 2003 found Climax 1653 displayed as a prime exhibit in the replica roundhouse. (I understand it is now displayed outside the roundhouse.) b
A complete history of this interesting locomotive is provided in the exhibit guide book "Locomotives of the Tasmanian Transport Museum". Your webmaster considers the TTM a fine museum with a variety of well restored railway, tramway and road exhibits, and thoroughly recommends a visit!
Anyone interested in Climax locomotives should also visit the excellent sites www.climaxlocomotives.com and www.gearedsteam.com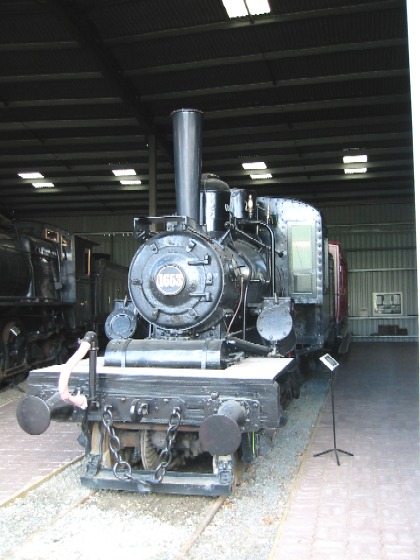 This view shows Climax 1653 displayed in the TTM roundhouse on 30 April 2003.
The camera flash has highlighted the large universal joint and drive shaft on the font bogie.
References
| | |
| --- | --- |
| a | Dix, A., Beck, D., and Dix M. 'Locomotives of the Tasmanian Transport Museum Glenorchy Tasmania', published by the Tasmanian Transport Museum Society, October 1991. |
| b | Webmaster's observation or comment. |
| | |
| | |
Page updated: 3 October 2013