C17 No.980

Displayed at Blackwater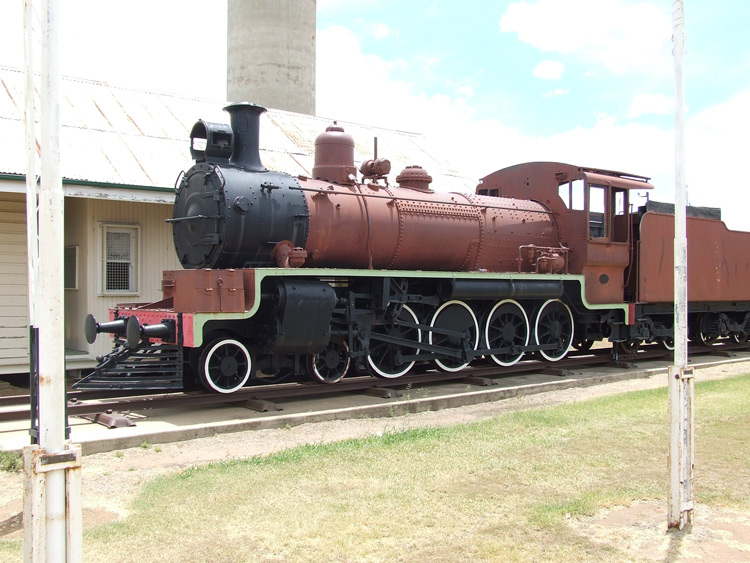 No.980 at Blackwater on 17 November 2011.
The boiler clothing has been removed to slow deterioration, but most major fittings appear to be intact.
Builder

Walkers Limited, Maryborough

Builder's Number & Year

517 of 1951

Wheel Arrangement

4-8-0

No. in class

227

No.980 is one of Queensland Railways' highly successful C17 class 4-8-0 locomotives of which 227 units were constructed by a variety of builders between 1920 and 1953.  The C17's were a "maid of all work" type that were powerful enough for main line freight duties, yet with a low axle load which permitted wide deployment and accordingly they could be found on everything from suburban and express passenger trains to main, secondary and branch line freight and mixed traffic work, although the type are perhaps best associated with the long rural routes through Queensland Railways' (QR) Northern and Central Divisions.  The final C17 class members were retired at the very end of QR revenue steam operations in August 1970.

No 980 represents the final "1950 design" of C17 which featured Timken roller bearings on all axles, together with the "1938 design" improvements of piston valves, Laird crossheads, a wider & taller sedan cab with sliding windows, a slender stovepipe chimney with capuchion lip, and a higher-capacity tender.  At some stage No.980 received an older cast-iron chimney.  It is one of the final 40 C17's known as "Brown Bombers" due to their handsome livery of brown with green lining.

No.980 was placed in Queensland Government Railways service during August 1951 and written off in April 1970 after a working life of only 18 years.  Today C17 No.980 is displayed at Blackwater, together with a short train.  Ownership of the locomotive now rests with the Blackwater Lions Club.

My thanks go to Chris Thompson for providing the photos of No.980 on this page, following his visit to Blackwater on 17 November 2011.

For further general information about Queensland Railways' C17 class locomotives, refer to the page for C17 No.2

<![if !supportMisalignedColumns]>
<![endif]>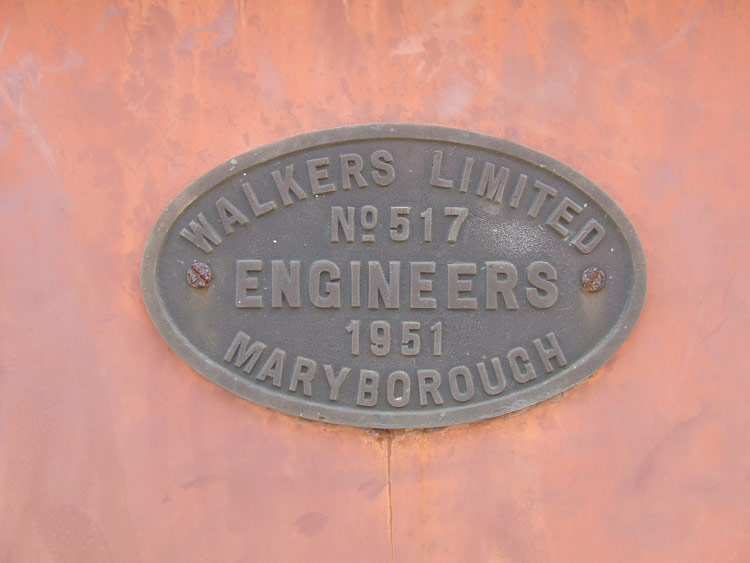 Detail of the Builder's plate.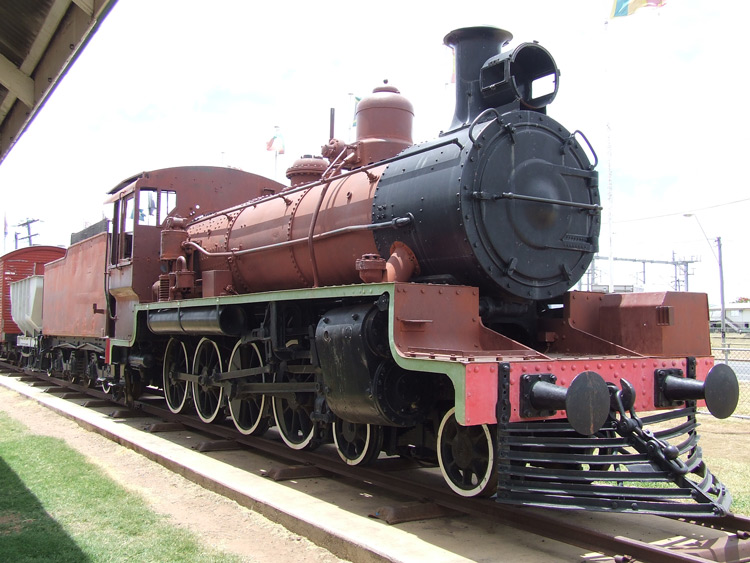 A fine view of C17 No.980 at Blackwater.    17 November 2011.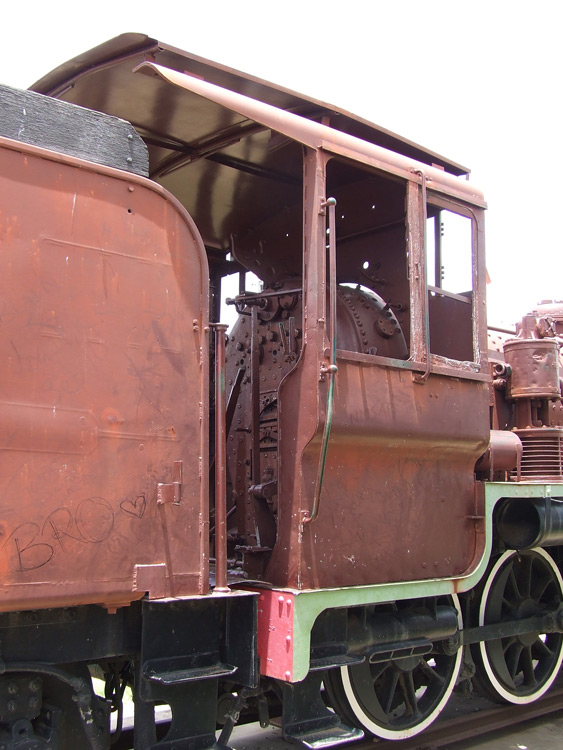 Cab detail of No.980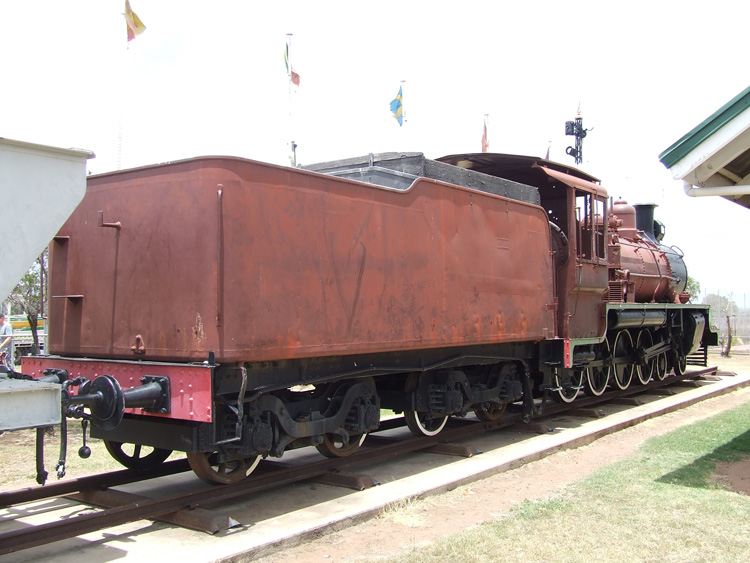 A rear view of No.980, clearly showing the welded tender tank.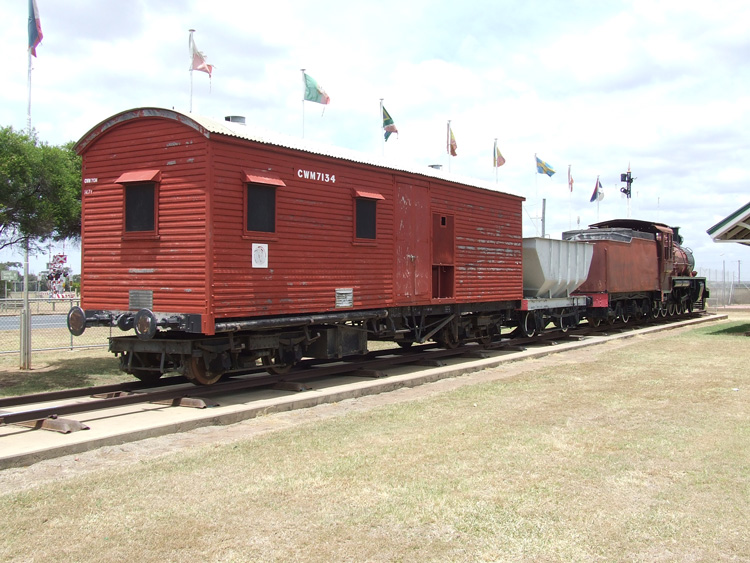 A rear view of No.980's train.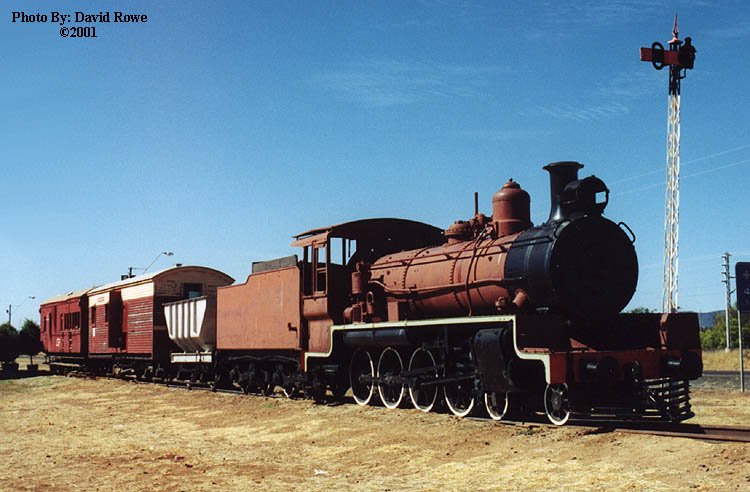 This earlier view of No.980 at Blackwater on 29 May 2001 was kindly contributed by David Rowe.
The combination brake / passenger van at the rear of the train appears to have gone by 2011.
References
a

"Locomotives of Australia" by Leon Oberg,

published by J. W. Books Pty Ltd

b

Armstrong, J. 'Locomotives in the Tropics - Volume 2

(Queensland Railways 1910 – 1958 and beyond)',

published by the ARHS Queensland Division, 1994.

c

Information table provided by Graham Wilson

(Operations Manager, Heritage Rollingstock & Component Services, QR)

at our meeting of 8 October 2004.

d

Webmaster's observation or comment
Page updated: 22 November 2015
| | | | | | | | | | | |
| --- | --- | --- | --- | --- | --- | --- | --- | --- | --- | --- |
| Government Railways: | | | | | | | | | | |
| Private & Industrial Railways: | | | | | | | | | | |