No.965 is one of Queensland Railways' highly successful C17 class 4-8-0 locomotives of which 227 units were constructed by a variety of builders between 1920 and 1953.  The C17's were a 'maid of all work' type that were powerful enough for main line freight duties, yet with a low axle load which permitted wide deployment and accordingly they could be found on everything from suburban and express passenger trains to main, secondary and branch line freight and mixed traffic work, although the type are perhaps best associated with the long rural routes through Queensland Railways' (QR) Northern and Central Divisions.  The final C17 class members were retired at the very end of QR revenue steam operations in August 1970.
No 965 is one of the final '1950 design' of C17 which featured Timken roller bearings on all axles, together with the '1938 design' improvements of piston valves, Laird crossheads, a wider & taller sedan cab with sliding windows, a slender stovepipe chimney with capuchion lip, and a higher-capacity tender.  These final 40 C17's were known as 'Brown Bombers' due to their handsome livery of mid-brown with green lining.
No.965 was placed in Queensland Government Railways service during July 1950 and written off in November 1969 after a working life of 19 years.  Following withdrawal it was placed in a Gladstone park (as per the photograph above) for the Gladstone Rotary Club.
No. 965 was later acquired by the Mary Valley Heritage Railway, based at Gympie.  It was swapped in 2003 for sister No.253, which had been displayed at Mundubbera, and No.965 is now plinthed at Mundubbera in replacement, albeit in a different park to that which had been No's 253's home.
For further general information about the Queensland Railways' C17 class locomotives, refer to the page for C17 No.2.
<![if !vml]>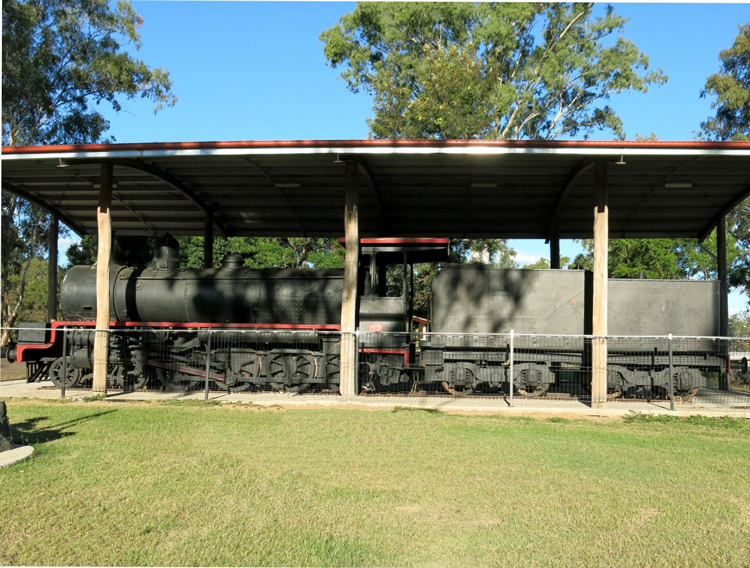 <![endif]>
This more recent view (18 May 2013) shows No.965 in her new location at Mundubbera; photo courtesy of Andrew Wilson.
Here No.965 is protected from the elements via a generous weather-roof.
The boiler clothing and some pipework are now removed but No.965 otherwise appears to be generally complete and in good presentation.