C17 No. 944

Miles Historical Village & Museum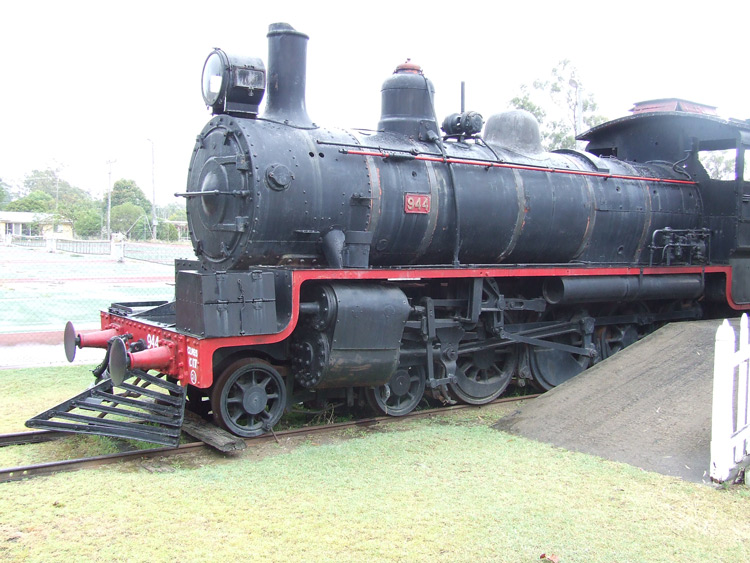 C17 No. 944 displayed at Miles Historical Village on 24 November 2011.
Builder

Granville NSW

Builder's Number & Year

509 of 1950

Wheel Arrangement

4-8-0

No. in class

227

No.944 was one of Queensland Railways' highly successful C17 class 4-8-0 locomotives, of which 227 units were constructed by a variety of builders between 1920 and 1953.  The C17 class were a "maid of all work" type that were powerful enough for main line duties, yet with a low axle load which permitted wide deployment and accordingly the type could be found on everything from suburban and express passenger duties to main, secondary and branch line work, although the type are perhaps best associated with the long routes through Queensland Railways' (QR) Northern and Central Divisions.  The final C17 class members were retired from service at the very end of QR revenue steam operations in August 1970.

No 944 is one of the "1938" C17 variants which were improved over the original 1920 design by use of piston valves, Laird crossheads, a wider & taller "Sedan" cab sporting sliding windows, and a slender stovepipe chimney with a capuchion lip.  It was one of an order for 20 C17's supplied by Clyde Engineering, Sydney between 1948 & 1950 in response to post-war motive power demands.

No.944 was written off by Queensland Railways in June 1969 but saved from the scrap heap, instead being made available to the Miles Historical Village & Museum in 1971.  No.944 remained on a siding at Miles Station until 1979, that year being the centenary of the railway reaching Miles.  In recognition of this milestone, a group of 25 railway employees arranged for No.944 to be towed on temporary rails across the Warrego Highway into the Miles Historical Village & Museum for display.  Here No.944 is nicely presented among contemporary railway exhibits including the relocated Dalwogan railway station.

My thanks go to Chris Thompson for providing the photos of No. 944 on this page, following his visit to the Miles Historical Village & Museum on 24 November 2011.

For further information about the Queensland Railways' C17 class locomotives, refer to the page for C17 No.2.

<![if !supportMisalignedColumns]>
<![endif]>
Front view of No.944 at Miles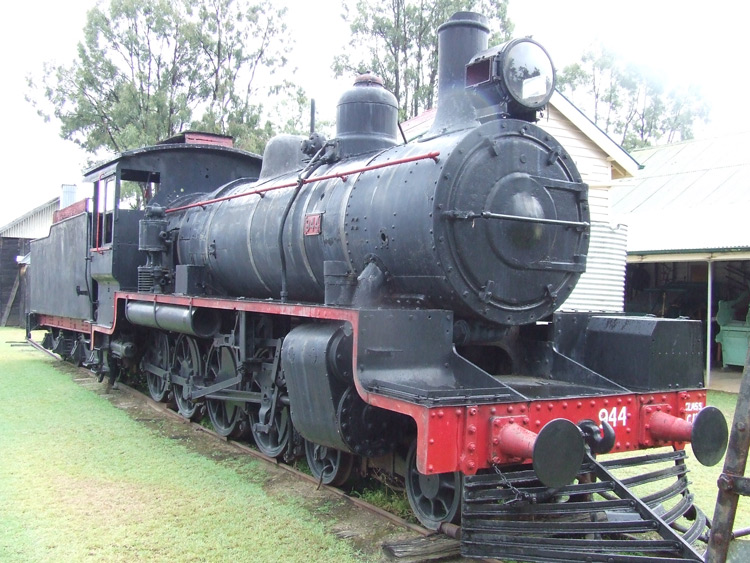 A fine 3/4 front view of No.944 at Miles.
The widened cab of the post-war C17 class is clearly visible.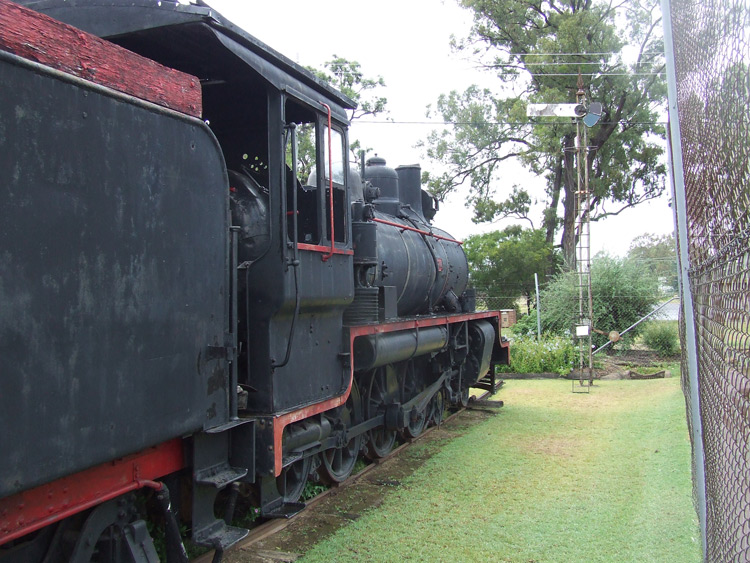 No.944 patiently waiting on the platform road for the signal to indicate "proceed".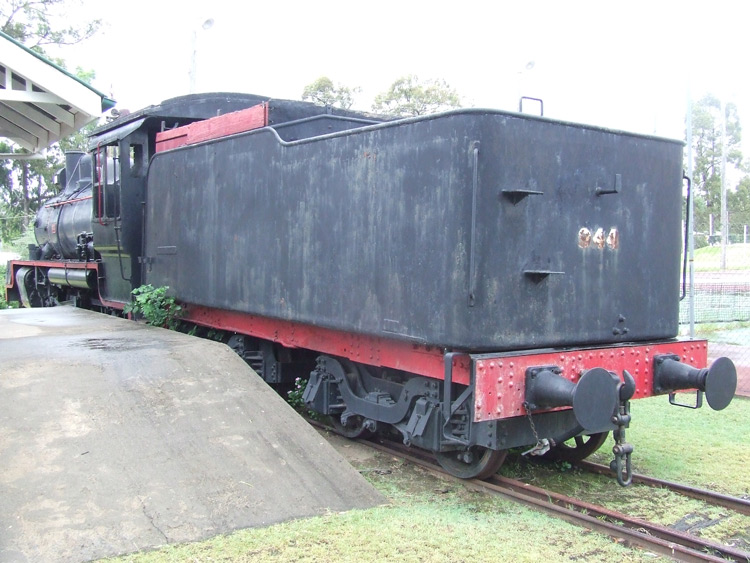 Rear view of No.944 at Miles; the welded tender tank (no rivets) is evident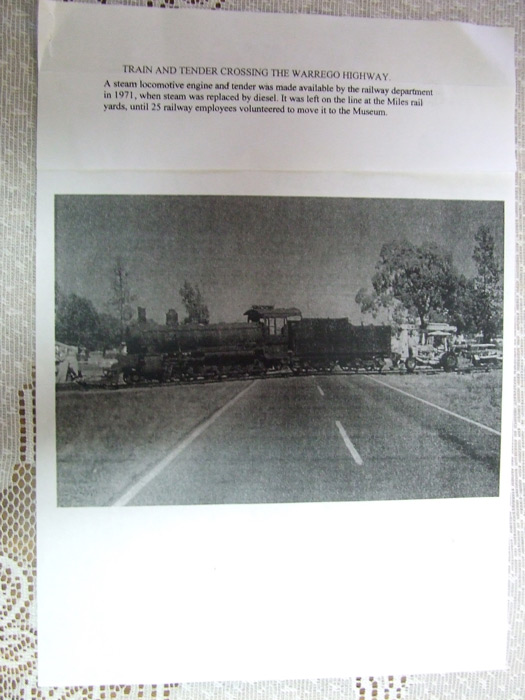 No.944 being pushed across the Warrego Highway at Miles in 1979.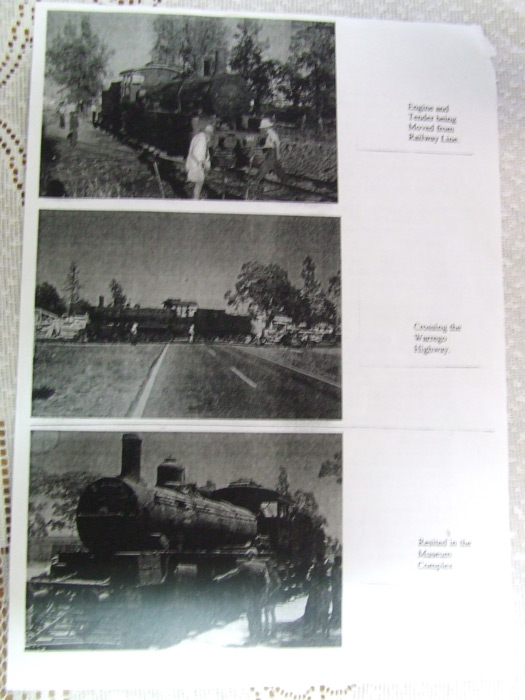 Reproduction of further photos showing No.944 on the move in 1979.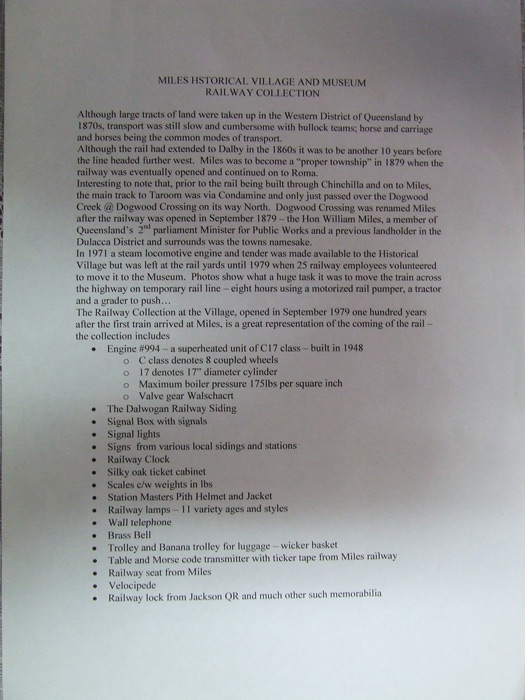 This information sheet at the Miles Historical Village provides a brief history of the coming of the railway,
the preservation of C17 No.944 and other railway-related exhibits.
References
a

"Locomotives of Australia" by Leon Oberg,

published by J. W. Books Pty Ltd

b

Armstrong, J. 'Locomotives in the Tropics - Volume 2

(Queensland Railways 1910 – 1958 and beyond)',

published by the ARHS Queensland Division, 1994.

c

Information sheets displayed with No.944

at the Miles Historical Village & Museum.

d

Webmaster's observation or comment
Page updated: 2 November 2015
| | | | | | | | | | | |
| --- | --- | --- | --- | --- | --- | --- | --- | --- | --- | --- |
| Government Railways: | | | | | | | | | | |
| Private & Industrial Railways: | | | | | | | | | | |