C17 No. 819

Mary Valley Heritage Railway
<![if !vml]>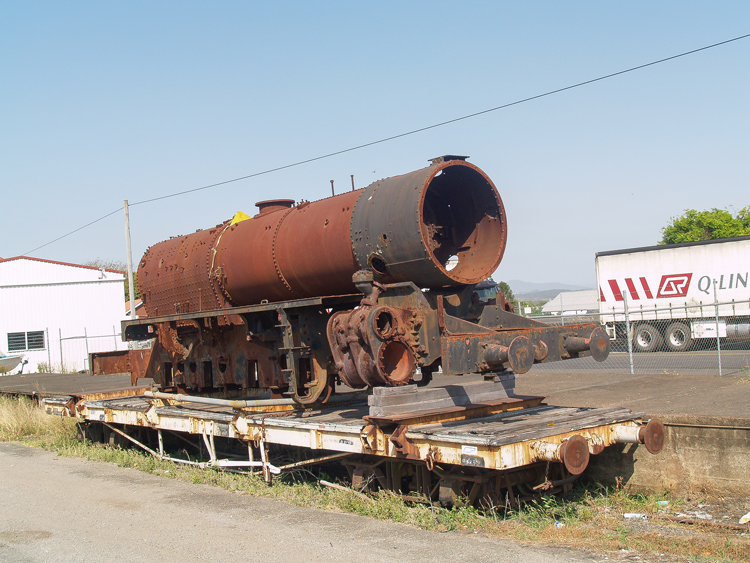 <![endif]>
My visit to Gympie on 26 September 2009 found this dismantled C17 stored near the MVHR's Gympie workshops.
I have subsequently been informed this is No.819.
Builder

Sir W G Armstrong Whitworth & Co Ltd,

Newcastle upon Tyne

Builder's Number & Year

867 of 1927

Wheel Arrangement

4-8-0

No. in class

227

No.819 is one of Queensland Railways' highly successful C17 class 'maid of all work' 4-8-0 locomotives, with 227 units constructed by a variety of builders between 1920 and 1953. The 'C17' classification follows Queensland Railways nomenclature whereby 'C' denotes an 8-coupled locomotive and '17' references the cylinder diameter (in inches). The C17 design featured a superheated boiler and was developed from the earlier saturated steam C16 type. The final C17 class members were retired from service at the very end of Queensland Railways revenue steam operations in August 1970.

According to 'Locomotives in the Tropics', No.819 was written off the Queensland Railways books in December 1968 and transferred to Cloncurry for the Cloncurry Historical Society. Here it was plinthed in Mary Kathleen Park and Museum, together with an antique rail-mounted crane and some rollingstock. (A second C17 No.779 was also plinthed at a different location in Cloncurry; there is some conjecture that it was actually No.819 wearing No.779's plates and later moved to Mary Kathleen Park where it assumed the correct identity of No.819; further information on this point is welcome.)

In the mid-1990's, No.819 was acquired by the Mary Valley Heritage Railway, Gympie for intended restoration as a second locomotive for their Mary Valley Rattler operation on the branch line to Imbil. No.819 was road-hauled to Gympie, arriving on 11 September 1996. It was intended that No.819 would follow the Mary Valley Heritage Railway custom of being named after the town in which it had been plinthed, and accordingly it was to be named 'Cloncurry' upon return to service.

The webmaster enjoyed a ride on the Mary Valley Rattler on 28 January 2004 and during this visit I found No.819 stripped down for assessment; in conversation with depot staff it was understood that in the short term its boiler was planned to be swapped into sister C17 No. 45. (Many components were found to be stamped with the number '819' during dismantling, confirming that it is not actually No.779.) I understand No.819 has since remained dismantled; indeed my later visit to Gympie on 26 September 2009 found the boiler placed back in the frames, but the loco otherwise remaining completely stripped.

For further information about the Queensland Railways' C17 class locomotives, refer to the page for C17 No.2.

<![if !supportMisalignedColumns]>
<![endif]>
<![if !vml]>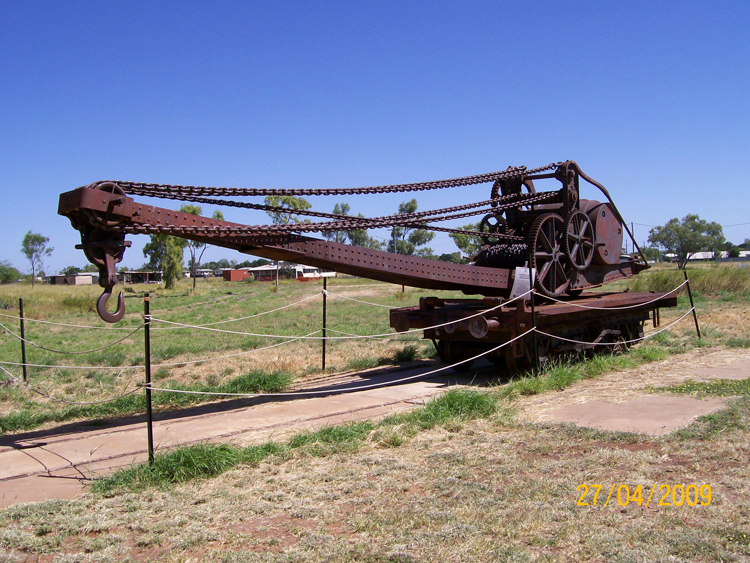 <![endif]>
This magnificent old rail-mounted crane remains plinthed at Mary Kathleen Park & Museum, Cloncurry.
<![if !vml]>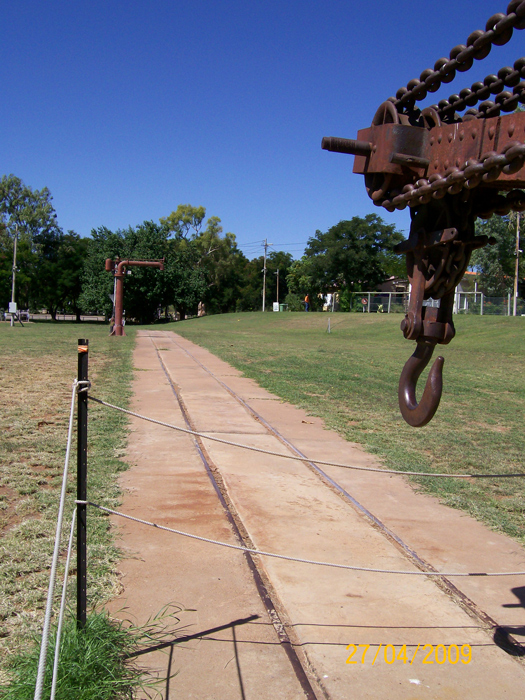 <![endif]>
Looking forward from the crane, No.819's former location at Cloncurry is clearly visible.
My thanks to Ken McHugh for contributing these two views dated 27 April 2009.
<![if !vml]>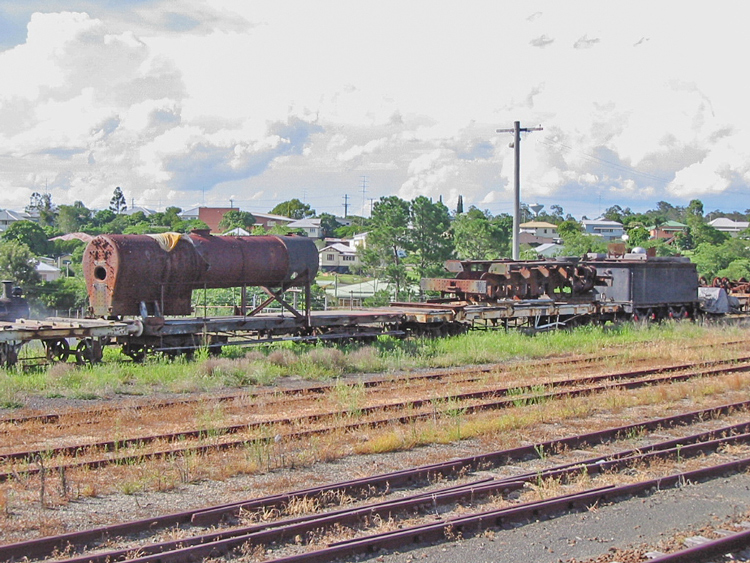 <![endif]>
C17 No.819's various components at the Mary Valley Heritage Railway workshop, Gympie on 28 January 2004.
<![if !vml]>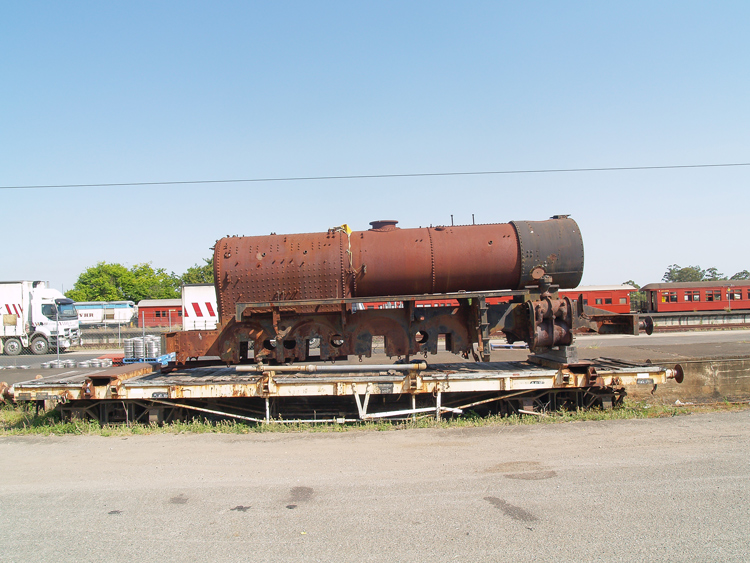 <![endif]>
A second view of No.819 stored near the MVHR's Gympie workshops on 26 September 2009.
<![if !vml]>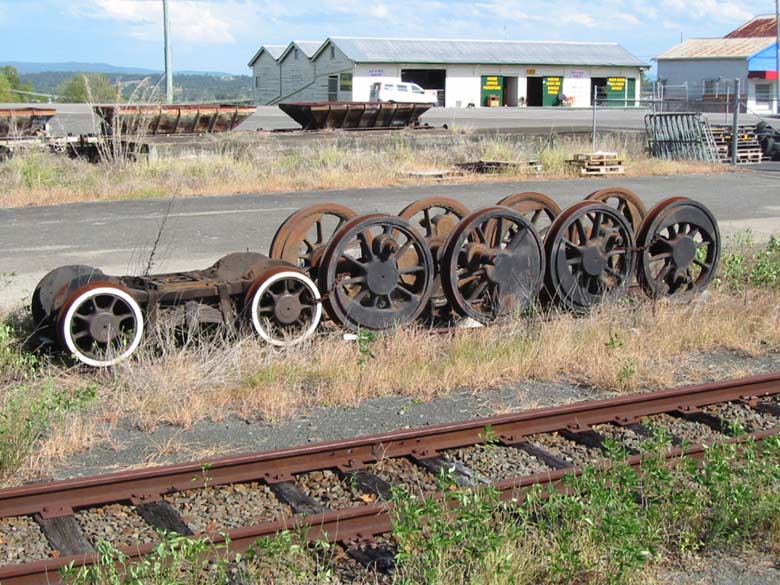 <![endif]>
No.819's wheels stored near the MVHR's Gympie workshops. 26 September 2009.
References
a

'Locomotives of Australia' by Leon Oberg,

published by J. W. Books Pty Ltd

b

Stark, R. J., 'The Return of Steam Locomotive C17, No. 45',

published 2000 by The Degener Timms Publications, Gympie, Queensland.

c

Armstrong, J. 'Locomotives in the Tropics - Volume 2

(Queensland Railways 1910 – 1958 and beyond)',

published by the ARHS Queensland Division, 1994.

d

Information provided by Declan Coggan via email,

20 January 2021
Page updated: 11 April 2021
| | | | | | | | | | | |
| --- | --- | --- | --- | --- | --- | --- | --- | --- | --- | --- |
| Government Railways: | | | | | | | | | | |
| Private & Industrial Railways: | | | | | | | | | | |