C17 No. 802

Mary Valley Heritage Railway
<![if !vml]>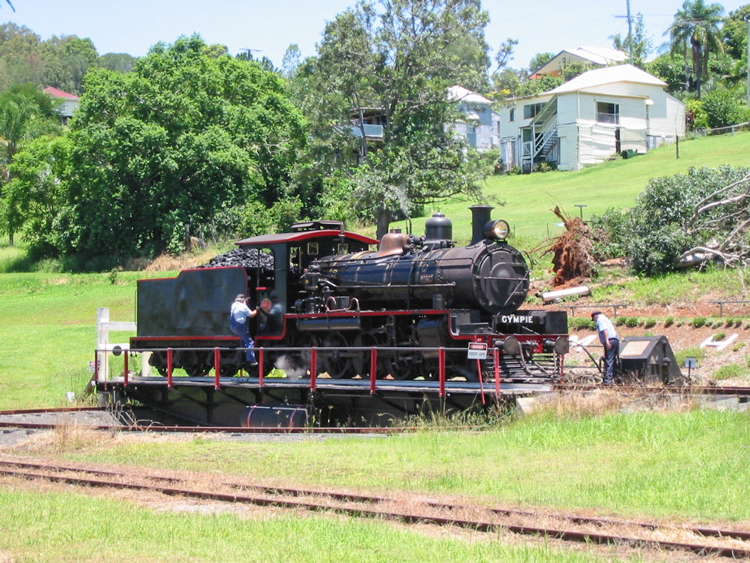 <![endif]>
No.802 'Roma' riding the turntable at Imbil in preparation for its return journey to Gympie on 28 January 2004.
A thunderstorm had blown over the large tree in the background only the day before.
Builder

Sir W G Armstrong Whitworth & Co Ltd,

Newcastle upon Tyne

Builder's Number & Year

850 of 1927

Wheel Arrangement

4-8-0

No. in class

227

No.802 is one of Queensland Government Railways' highly successful C17 class 4-8-0 locomotives of which 227 units were constructed by a variety of builders between 1920 and 1953. No 802 represents the original '1920 design' of C17 which are identifiable by a straight-sided cutaway cab, cast iron chimney and a low-sided bogie tender, however it has been fitted with the later '1938 design' boiler with a low steam dome. No.802 was the first of a batch of 25 additional C17-class engines imported from the UK manufacturer Armstrong Whitworth & Co in 1927 and unloaded at the Pinkenba wharf in Brisbane.       (I have provided some further information about the Queensland Railways' C17 class locomotives on the page for C17 No.2.)

No.802 was placed in Queensland Government Railways service in July 1927 and written off 42 years later in June 1969.  Upon retirement it was plinthed in a park at Roma for the Roma and District Tourist Development Association.

After 30 years plinthed at Roma, fate turned for the better for No.802 in March 2000 when it was acquired by the Mary Valley Heritage Railway (MVHR) for their popular 'Valley Rattler' operation on the branch line from Gympie to Imbil. No.802 was overhauled in their Gympie workshop and released to MVHR service in 2003, becoming the second service engine to sister No.45. The restored loco No.802 'Roma' follows the MVHR tradition of being named after the town in which it was once plinthed. Following restoration and overhaul it now sports a B18 1/4 class tender and a suburban D17 whistle.

The photos on this page date from the webmaster's ride to Imbil on the Mary Valley Rattler on 28 January 2004; a most enjoyable day declared by my wife to be "the best steam train trip yet" (high praise indeed!) The train crew were particularly welcoming and friendly, and an unexpected treat arose when the train paused at Dagun on the return journey, where a local community stall sold fresh frozen mango ice-blocks, which provided welcome refreshment to the heat and humidity of a Queensland January.

Update: No.802 was withdrawn from service at the Mary Valley Rattler around 2011 / 2012. It has since been purchased by the Southern Downs Steam Railway and was transported to Warwick by truck, arriving on 12th June 2019. It is intended that No.802 will be completely overhauled to provide a second locomotive and ease the workload for operational sister No.971.

<![if !supportMisalignedColumns]>
<![endif]>
<![if !vml]>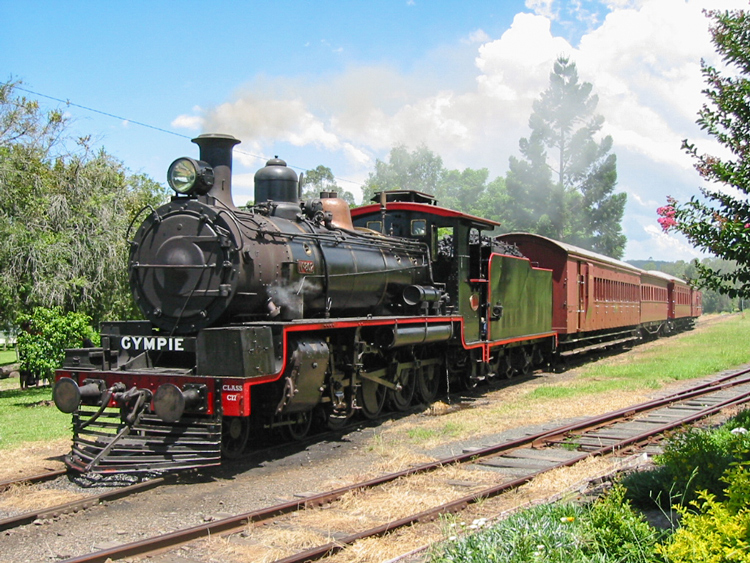 <![endif]>
No.802 and her nicely-presented train departing Imbil on the return run to Gympie.  28 January 2004.
<![if !vml]>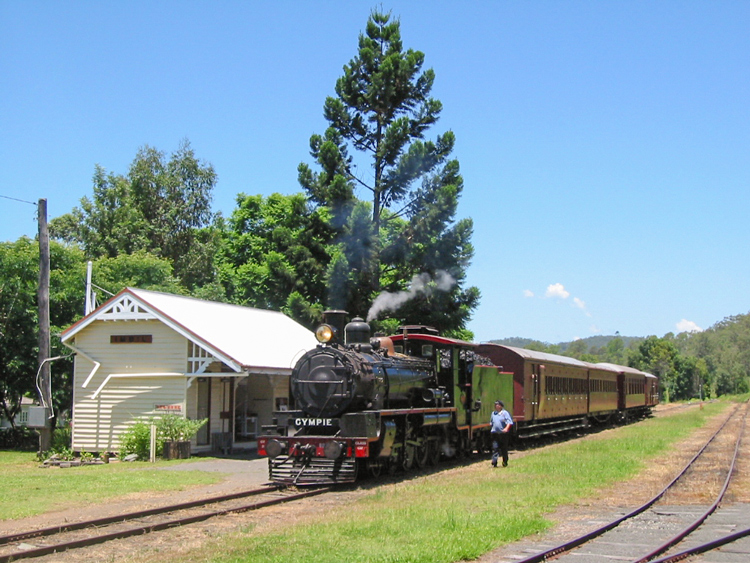 <![endif]>
No.802 awaiting deaprture time at the delightful Imbil station.  28 January 2004.
<![if !vml]>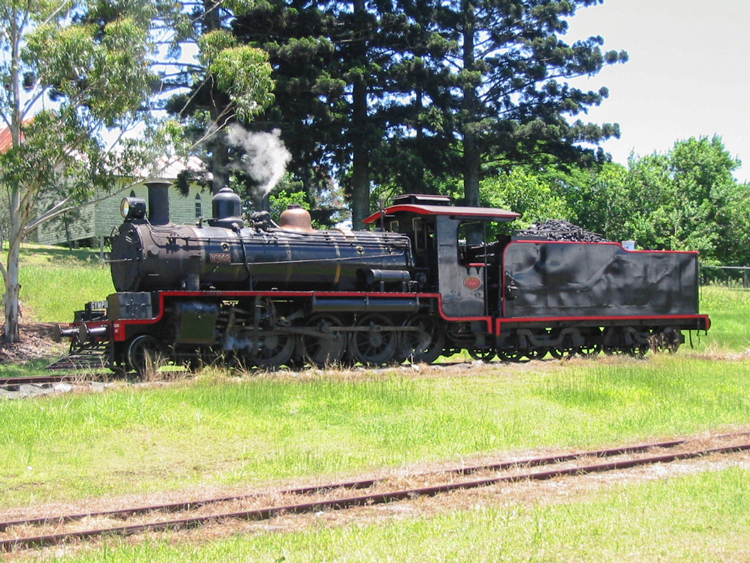 <![endif]>
No.802 ambling up the turntable road at Imbil.  28 January 2004.
<![if !vml]>
<![endif]>
No.802's builder's plate, attached to the cabside.
Armstrong Whitworth & Co builder's plates seem to be missing some decoration or text in the centre!
<![if !vml]>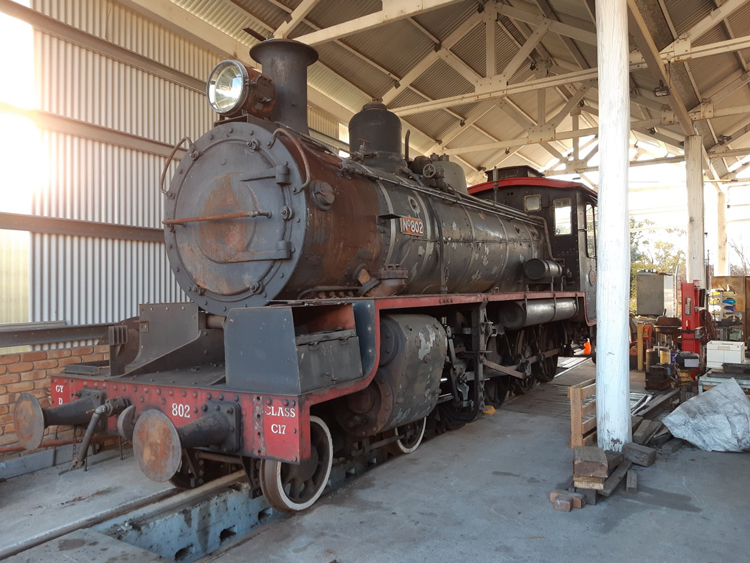 <![endif]>
No.802 in storage at the Southern Downs Steam Railway in their restoration base at Warwick locomotive depot.
This photo was kindly contributed by Stephen Shepherd and is dated 15 June 2019.
References
a

'Locomotives of Australia' by Leon Oberg,

published by J. W. Books Pty Ltd

b

Armstrong, J. 'Locomotives in the Tropics - Volume 2

(Queensland Railways 1910 – 1958 and beyond)',

published by the ARHS Queensland Division, 1994.

c

Locomotive information sheet provided by the

Mary Valley Heritage Railway, 28 January 2004.
Page updated: 19 October 2019
| | | | | | | | | | | |
| --- | --- | --- | --- | --- | --- | --- | --- | --- | --- | --- |
| Government Railways: | | | | | | | | | | |
| Private & Industrial Railways: | | | | | | | | | | |