C17 No.705

Mary Valley Heritage Railway
<![if !vml]>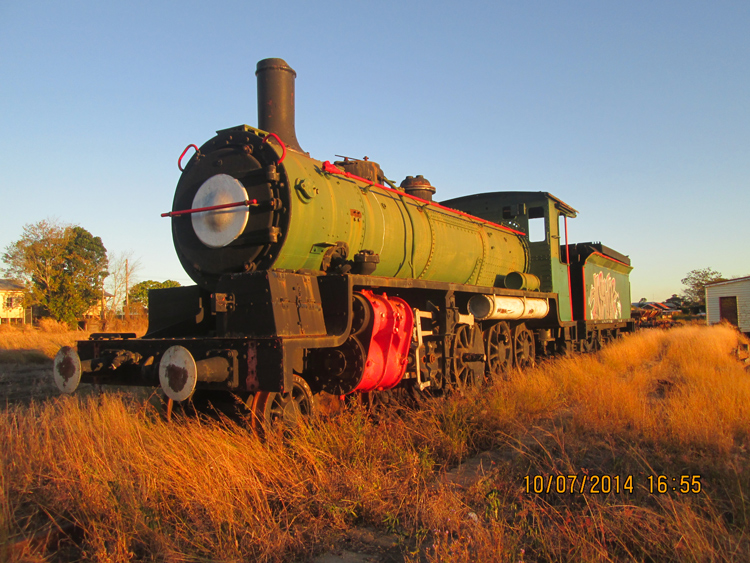 <![endif]>
The late afternoon sun casts a golden light across C17 No.705 resting at the MVHR's Gympie depot on 10 July 2014.
Some items have been removed from the locomotive, such as the tall sand dome, motion and safety valve bonnet.
My thanks to David McCulloch for contributing this photograph.
Builder

Evans, Anderson, Phelan & Co,

Kangaroo Point, Brisbane

Builder's Number & Year

176 of 1926

Wheel Arrangement

4-8-0

No. in class

227

No.705 was one of Queensland Railways' highly successful C17 class 'maid of all work' 4-8-0 locomotives, with 227 units constructed by a variety of builders between 1920 and 1953. The 'C17' classification follows Queensland Railways' nomenclature whereby 'C' denotes an 8-coupled locomotive and '17' references the cylinder diameter (in inches). The C17 design featured a superheated boiler and was developed from the earlier saturated steam C16 type. The final C17 class members were retired from service at the very end of Queensland Railways revenue steam operations in August 1970.

According to 'Locomotives in the Tropics', No.705 is one of the older C17's, having been placed in service by the Queensland Government Railways in February 1926 and written off 44 years later in July 1970. No.705 was built to the original C17 '1920 design' with a straight-sided cutaway cab, tall steam dome, cast iron chimney and a low-sided bogie tender, however at some stage it received the more modern '1938 design' boiler with low steam dome and stovepipe chimney.

Following withdrawal from service No.705 was saved for posterity, being presented to the Playground & Recreation Association and placed in a kindergarten in Brisbane's inner suburb of Spring Hill. Here it carried the plates and identity of sister C17 No.752 (Evans Anderson Phelan & Co 180 of 1927). When I first encountered this locomotive in December 2002 it wore an attractive but non-authentic livery of green with red trimmings and was displayed under a well-constructed weather roof which provided good protection from the elements (as seen in the photo below).

No.705 was subsequently acquired by the Mary Valley Heritage Railway and relocated to their Gympie base during April 2009, joining the fleet of C17 locomotives stabled there. No.705 was ostensibly placed in storage at the Gympie depot and workshop, with contemporary photographs showing the running gear and other components had been removed, presumably for assessment or further use on the MVHR's operable C17 locomotives.

No.705 was relocated to Imbil on 21 January 2021 and placed on display in the platform road in the station yard, where it is being cosmetically restored by the Imbil Progress Association. (Imbil was the destination of Mary Valley Heritage Railway operations until more recent times, with the trip shortened to Dagun. The Mary Valley branch originally continued from Imbil to the terminus at Brooloo, but that section of line was out of use before formation of the Mary Valley Heritage Railway and has since been lifted, becoming a bicycle trail.) I understand that No.705 is on loan for static display for a period of 5 years and will provide a promotion for Imbil township and the bike trail to Brooloo. Photographs (below) show good progress is being made with cosmetic restoration and repainting, with No.705 now wearing an historically accurate livery of black with red running boards. Hopefully the compressor, cowcatcher, rods & motion will also be refitted to make a more complete display piece.

For further general information about the Queensland Railways' C17 class locomotives, refer to the page for C17 No.2.

<![if !supportMisalignedColumns]>
<![endif]>
<![if !vml]>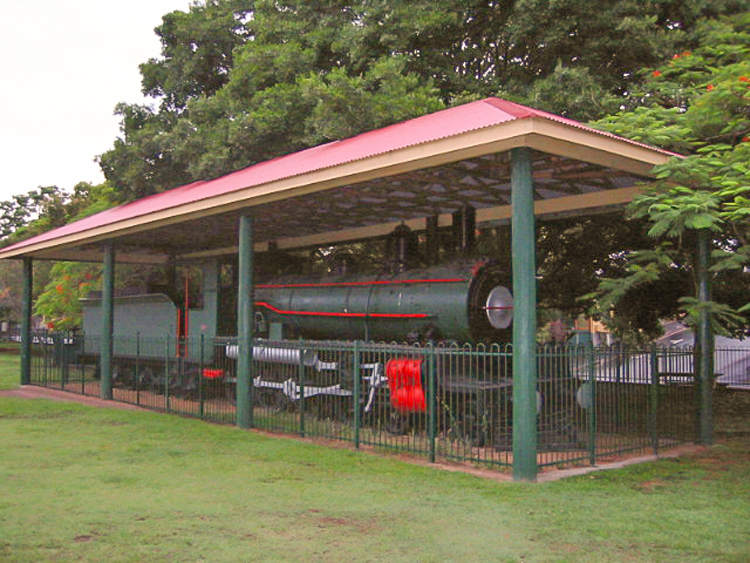 <![endif]>
C17 No.705 plinthed in Spring Hill, Brisbane as the webmaster found her on 26 December 2002.
At this stage the boiler clothing had been removed and green livery applied directly to the boiler barrel.
A well-constructed weather roof provided good protection from the elements.
<![if !vml]>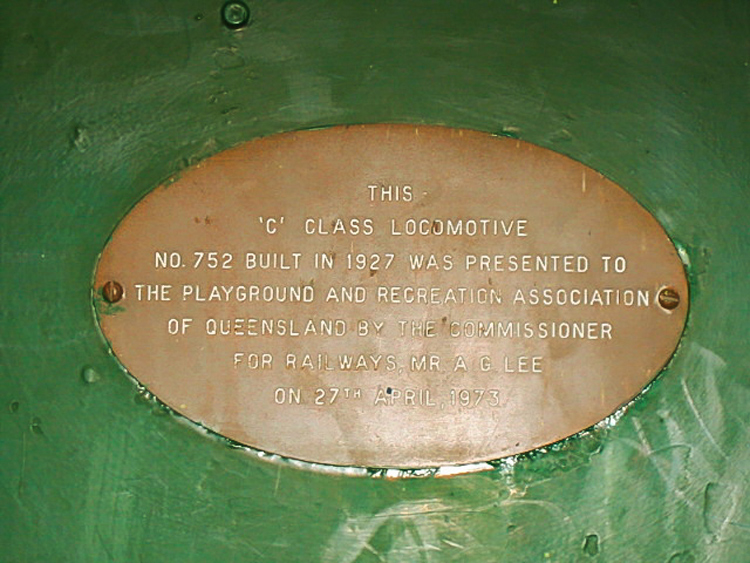 <![endif]>
This commemorative plaque was fitted to No.705 (referencing No.752) during the years the loco was plinthed in
a playground in the inner-city Brisbane suburb of Spring Hill. Photographed 26 December 2002.
<![if !vml]>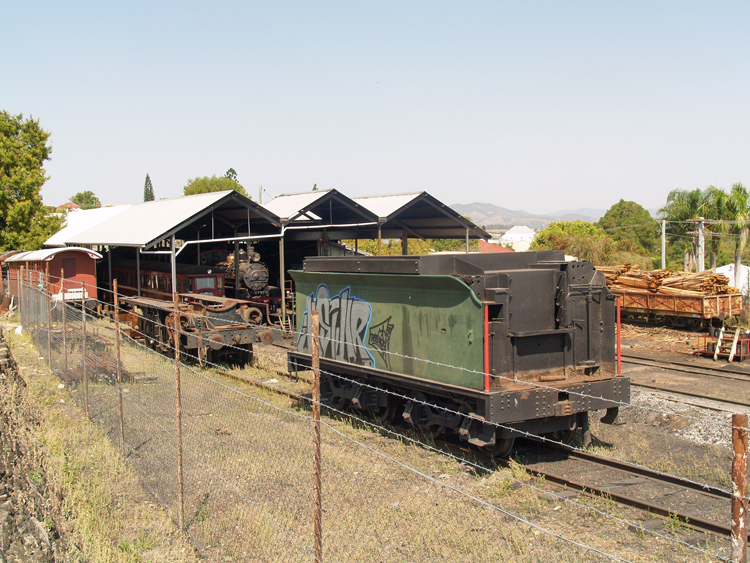 <![endif]>
A view over the fence into the Mary Valley Heritage Railway workshop and depot on 26 September 2009.
In the foreground is the tender of No.705, followed by the chassis of an unidentified C17,
while trafficable sister No.967 and an historic railmotor watch from adjacent shed roads.
The MVHR depot is based in Queensland Rail's former steam loco depot at Gympie.
<![if !vml]>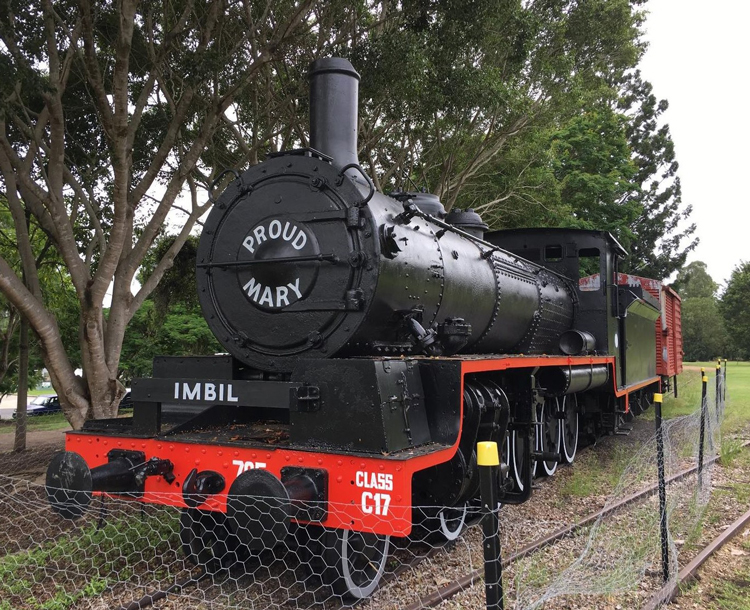 <![endif]>
No.705 has now been placed in the platform road at Imbil Station, as seen in this view contributed by Michael Gitsham and dated 21 March 2021.
The loco sports an "Imbil" destination board and "Proud Mary" on the smokebox - and is a credit to the efforts of the Imbil Progress Association.
Items such as the cowcatcher, air compressor, rods & motion are yet to be replaced; hopefully these can be refitted to make a more complete display.
<![if !vml]>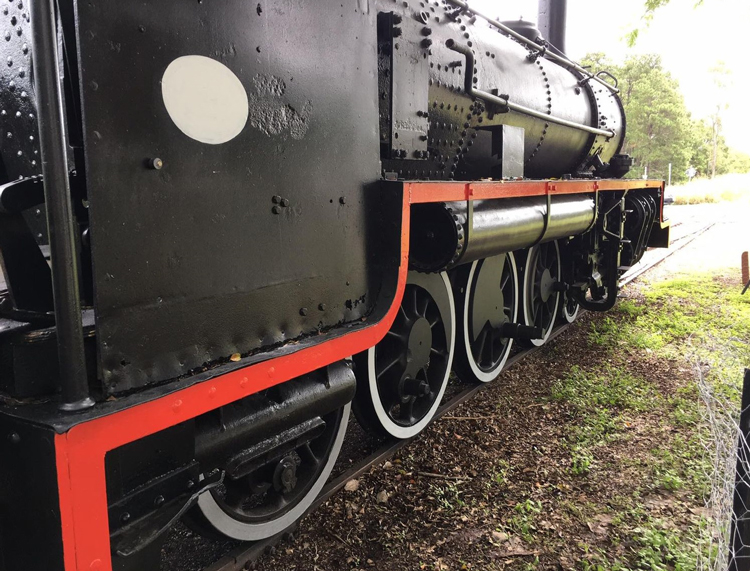 <![endif]>
A second view of No.705 displayed at Imbil on 21 March 2021, courtesy of Michael Gitsham.
References
a

Oberg, L. 'Locomotives of Australia',

published by J. W. Books Pty Ltd

b

Armstrong, J. 'Locomotives in the Tropics - Volume 2

(Queensland Railways 1910 – 1958 and beyond)',

published by the ARHS Queensland Division, 1994.

c

Information provided by Michael Gitsham,

Railway Preservation Society of Queensland Inc.

via email dated 25 January 2022.
Page updated: 2 February 2022
| | | | | | | | | | | |
| --- | --- | --- | --- | --- | --- | --- | --- | --- | --- | --- |
| Government Railways: | | | | | | | | | | |
| Private & Industrial Railways: | | | | | | | | | | |