C17 No.251

Plinthed in Townsville
<![if !vml]>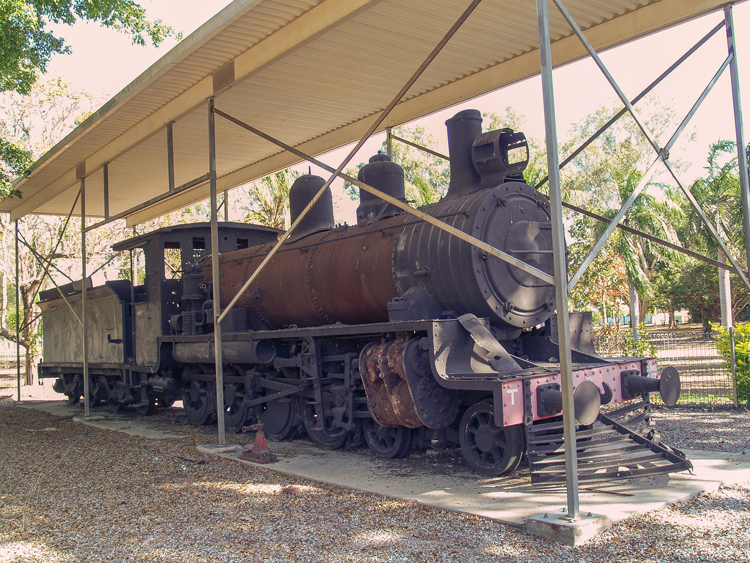 <![endif]>
No.251 displayed at Townsville near the live steam association park on 15 November 2007.
The boiler & cylinder clothing had been removed and a loco jack sits on the concrete beside the loco.
Some removed piping was also lying amongst the leaf litter.
Builder

Walkers Limited, Maryborough

Builder's Number & Year

327 of 1920

Wheel Arrangement

4-8-0

No. in class

227

No.251 is one of Queensland Government Railways' (QGR) highly successful C17 class 4-8-0 locomotives of which 227 units were constructed by a variety of builders between 1920 and 1953. The C17's were a 'maid of all work' type that were powerful enough for main line freight duties, yet with a low axle load which permitted wide deployment and accordingly they could be found on everything from suburban and express passenger trains to main, secondary and branch line freight and mixed traffic work. The final C17 class locos were retired at the very end of QGR revenue steam operations in August 1970.

No 251 is of the original C17 '1920 design' which are identifiable by a straight-sided cutaway cab, tall steam dome, cast iron chimney and a low-sided bogie tender. It retains the original 1920 boiler design with a tall steam dome, but it is fitted with a stovepipe chimney with capuchion lip as per the improved 1938 design.

No.251 is the oldest of the surviving C17 class locomotives, having been constructed in 1920 and placed in Queensland Government Railways service during April 1921. It was written off in June 1969 after a working life of 48 years. Following withdrawal, No.251 was plinthed on The Strand on the Townsville beachfront. In 1990 it was relocated to Lou Lister Park in central Townsville, corresponding with redevelopment of The Strand to provide an improved pedestrian boulevard. (Lou Lister Park is also the home of the local live steam association.) I understand that ownership of this locomotive now rests with the Charters Towers & District Historical Society.

The webmaster had the good fortune to enjoy a week of holiday on Magnetic Island near Townsville during late 2007. I had a few hours to spare prior to my flight home, allowing a tour around Townsville and the opportunity to photograph No.251 on a hot and sunny Far North Queensland afternoon, as seen in the photos shown here dated 15 November 2007. I found No.251 displayed under a weather roof but showing the signs of many years of static display. Some recent repainting was evident but the boiler clothing had been stripped (presumably to prevent further boiler corrosion) and various items such as the turbo-generator and jacks were sitting around the locomotive, as if awaiting re-fitting. Sand pipes and miscellaneous fittings were lying nearby in the leaf-litter. Hopefully this was just a temporary state of affairs during repainting and renovation and these items have since been refitted to No.251.

Update: Recent photographs show that No.251 received cosmetic refurbishment during 2021, with various components re-fitted and the locomotive presented in authentic black livery with red running boards. This much improved situation is a credit to those involved in No.251's refurbishment and befits its historical value!

For further information about the Queensland Railways' C17 class locomotives, refer to the page for C17 No.2.

<![if !supportMisalignedColumns]>
<![endif]>
<![if !vml]>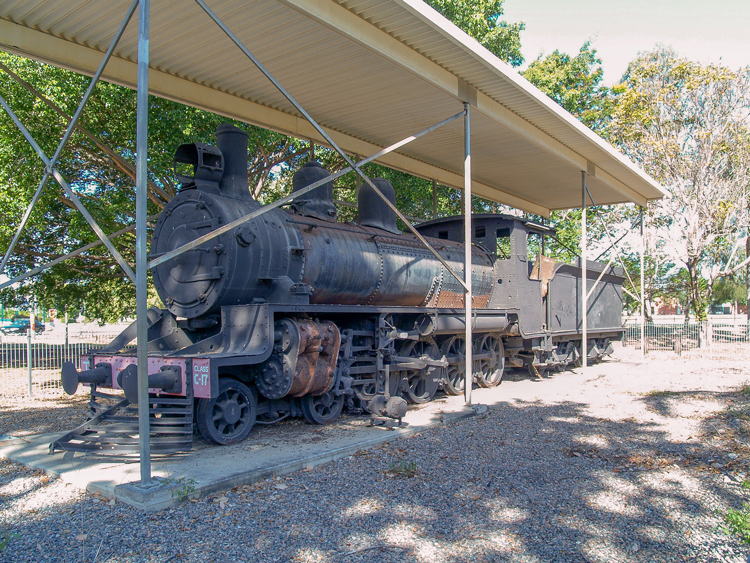 <![endif]>
No.251 displayed at Townsville on 15 November 2007.
The Stones turbo-generator can be seen sitting on the concrete plinth, next to the crosshead.
<![if !vml]>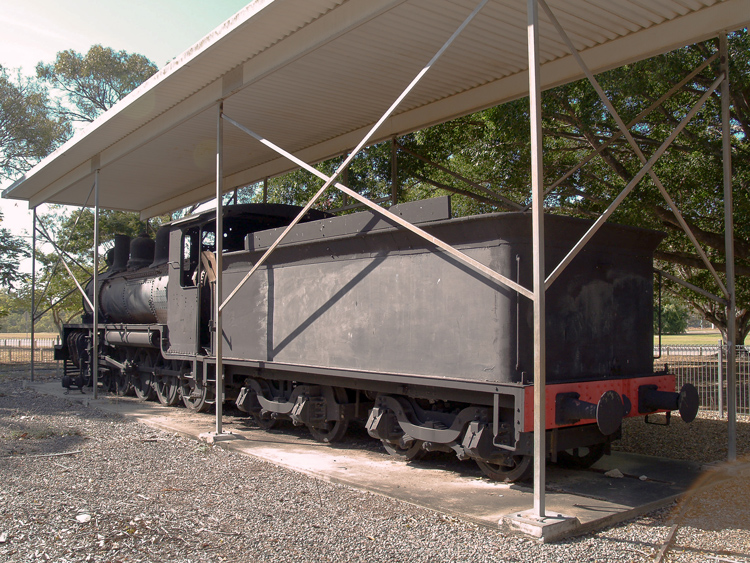 <![endif]>
A rear view of No.251 at Townsville.  15 November 2007
<![if !vml]>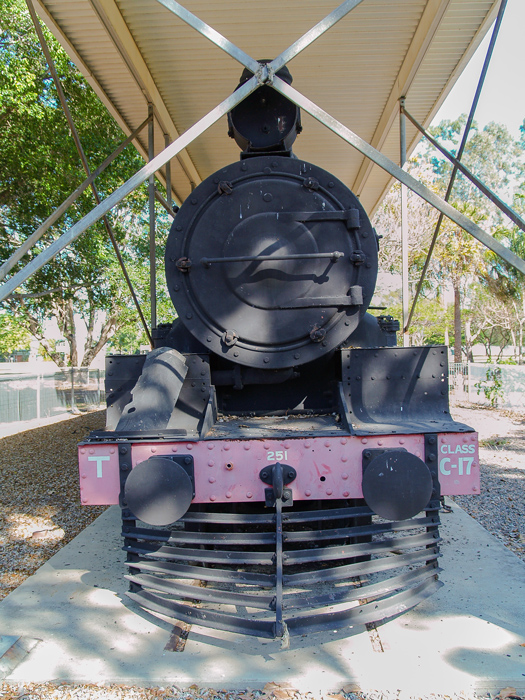 <![endif]>
Front view of No.251 at Townsville on 15 November 2007.
I believe the "T" on the left of the buffer beam refers to allocation to Townsville depot.
<![if !vml]>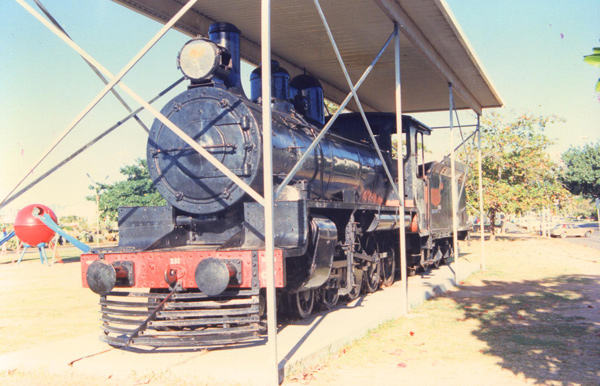 <![endif]>
Murray Lawrence kindly contributed this 1989 photo of No.251 plinthed at the Strand on the Townsville beachfront.
At that stage the boiler clothing, generator and piping etc was still in place.
<![if !vml]>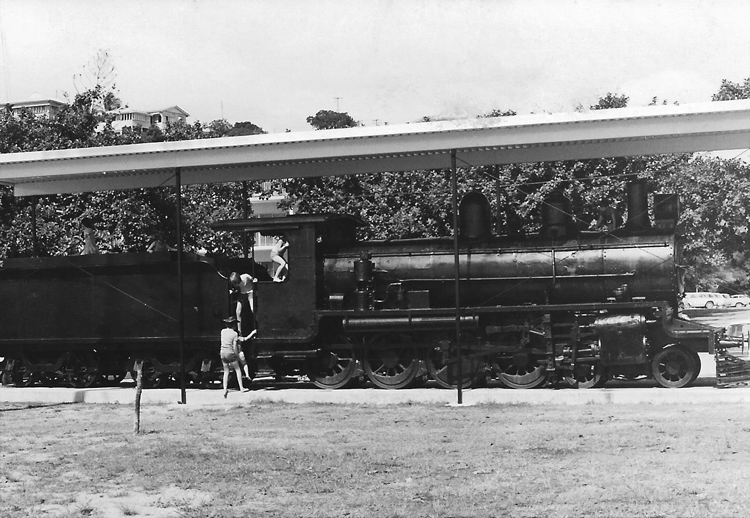 <![endif]>
C17 No. 251 plinthed at the Strand in Townsville in May 1974, overlooked by Queenslander houses.
This photo was kindly contributed by Judy Phillips and taken by her father John Phillips.
<![if !vml]>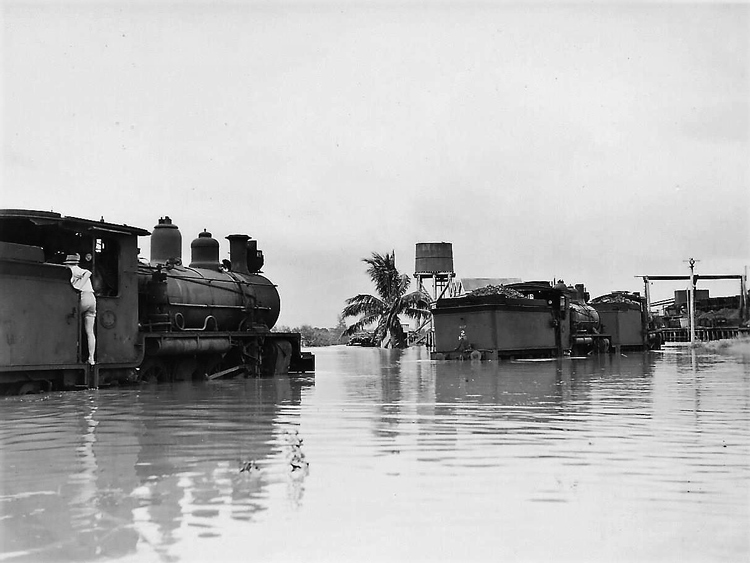 <![endif]>
This photo was taken during the 1946 flood in Townsville and shows the Railway Yards in South Townsville.
The only identifiable loco is C17 No.2, which is today preserved at The Workshops museum, Ipswich.
Photo contributed by Judy Phillips.
References
a

"Locomotives of Australia" by Leon Oberg,

published by J. W. Books Pty Ltd.

b

Armstrong, J. 'Locomotives in the Tropics - Volume 2

(Queensland Railways 1910 – 1958 and beyond)',

published by the ARHS Queensland Division, 1994.

c

Information table provided by Graham Wilson

(Operations Manager, Heritage Rollingstock & Component
Services, QR) at our meeting of 8 October 2004.

d

Information provided by C. Malone
via email dated 11 December 2001.

e

Webmaster's observation or comment
Page updated: 30 January 2022
| | | | | | | | | | | |
| --- | --- | --- | --- | --- | --- | --- | --- | --- | --- | --- |
| Government Railways: | | | | | | | | | | |
| Private & Industrial Railways: | | | | | | | | | | |