C 10

Last of the C-class Heavy Freight locomotives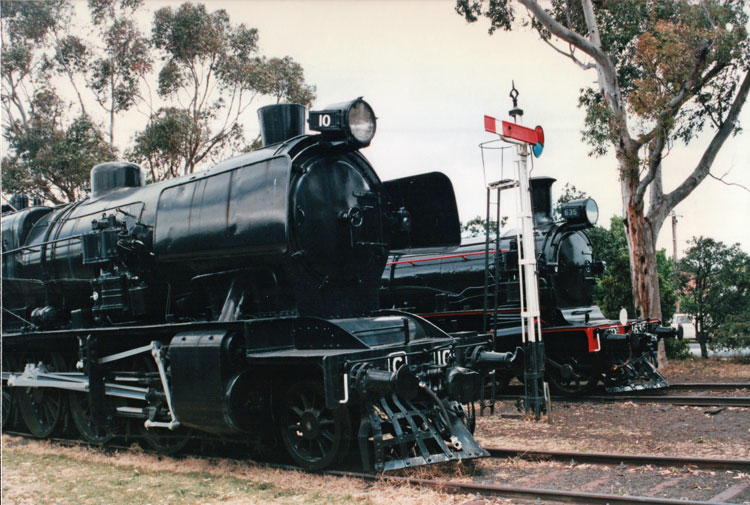 C 10 displayed at the ARHS Museum at North Williamstown on 10 May 2003.
(D3 635 can be seen behind C 10.)
The C-class 2-8-0 locomotives were designed as a modern freight engine for main-line service, with the first example completed at Newport Workshops in 1918. A total of 26 were completed by 1926, bearing running numbers C 1 to C 26. Modern features on these locomotives included electric lighting, automatic staff exchangers, Walschaerts valve gear and the standard Victorian Railways smokebox / front end design, which can also be seen on the A2-class and other VR locomotives of similar vintage.
Preserved locomotive C 10 was built in 1922 and withdrawn from Victorian Railways service in 1962. Fortunately it was saved to represent the class among the exhibits at the Australian Railway Historical Society (ARHS) Museum at North Williamstown.
Wikipedia provides a useful page detailing design and operation of the Victorian Railways C-class locomotives.
Interestingly, several spare C-class boilers also survive in storage at Steamrail's Newport depot.
References
| | |
| --- | --- |
| a | ARHS (Victorian Division) 'North Williamstown Railway Museum', Third Edition 1968, revised 1977, reprinted 1980. |
| b | Webmaster's observation or comment. |
| | |
Page updated: 25 March 2014