Blue Circle Southern Cement No. 5

Stored for Dorrigo Steam Railway & Museum
<![if !vml]>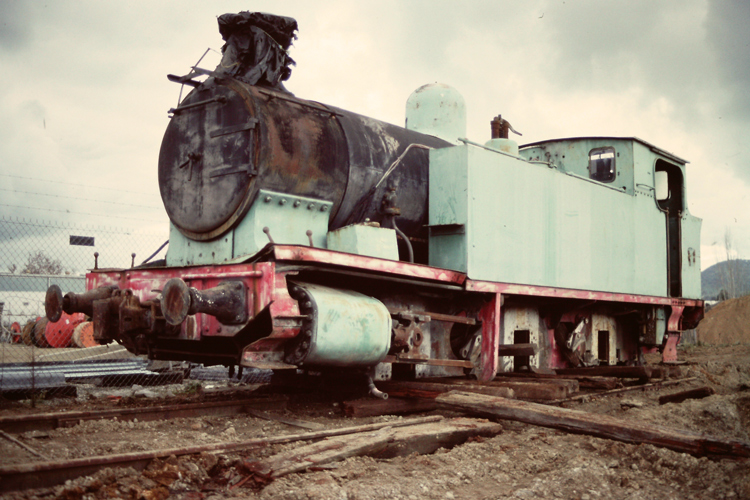 <![endif]>
Blue Circle Southern Cement No.5 (sans wheels) in storage at Wodonga during the late 1980's.
The wheelsets, motion & brake rigging were removed during No.5's final, aborted overhaul at the Portland Cement Works.
The running plates above the cylinders show damage typical of a poor lift by a crane operator unfamiliar with the right way to lift a steam locomotive.
The shunter steps at the front are significantly buckled upwards; it looks like No.5 was damaged by a poor crane lift; hopefully the frame is not bent!
My thanks to Graeme Nitz for contributing this digitized photo of No.5.
Builder

Kilmarnock, Scotland

Builder's Number & Year

1470 of 1916

Wheel Arrangement

0-6-0T

This sturdy 0-6-0T locomotive was No.5 in the fleet of Blue Circle Southern Cement at their works at Portland, NSW. It was built by Andrew Barclay, Sons & Co. at Kilmarnock, Scotland and appears to be one of that company's standard designs for industrial shunting work. At Portland it shuttled over a short but steep branch line connecting the cement works to the New South Wales Government Railways at Portland station. Unfortunately, I never saw this operation however enthusiasts have told me that No.5 wore an attractive green livery and worked quite hard to climb the grade to the cement works.

The steam locomotive fleet at Portland was retired as late as 1983 and No.5 (together with locos No.3 and 2605) became available to preservation groups. I understand that No.5 had previously been stopped for overhaul and was sitting outside the engine shed at Portland, raised off its wheels for repair of the axle boxes, motion etc but this work had later been cancelled, leaving No.5 in a partially dismantled state. (No.5 may also have received a new boiler around this time.)

No.5 was acquired (still partially dismantled) in approximately 1986 by the Tallangatta Railway Society for their proposed tourist railway at Tallangatta, Victoria, where it was planned to be regauged to 5' 3" for operation on a restored portion of the Victorian Railways' Cudgewa branch. Unfortunately, these plans did not come to fruition and the rails of this scenic branch line were subsequently lifted. I believe No.5 was taken to an industrial site in Wodonga in connection with its planned overhaul for use by the Tallangatta Railway Society, where it remained stored during the late 1980's.

Newsgroup posts stated that No.5 remained stored at Wodonga in late 1990's, still sitting on its frame & without wheels, however it subsequently moved to a private site nearby and its location had not been reported for many years. I finally found evidence of this locomotive in Wodonga on 7 August 2010 when two wheelsets were spotted in an industrial storage compound; while photographing the wheels I was approached by son of the locomotive's owner, who advised No.5 was now stored on a rural property south of Wodonga (together with the third wheelset, motion & brake rigging). I was advised the locomotive was likely to be auctioned in coming months.

Railway Digest magazine of October 2010 included a notice that this locomotive would be auctioned on 16 October 2010. Newsgroup reports after the auction suggest that No.5 was purchased by the Dorrigo Steam Railway & Museum; presumably it will be transported to Dorrigo to join the collection there. Interestingly, I have recently received a photo of No.5 taken in the late 1980's (above) which show the locomotive has sustained considerable damage consistent with a 'bad lift' by an inexperienced crane operator. Further information about this damage is welcome.

As of July 2020, No.5's three wheelsets have been reunited and delivered to Dorrigo (as evidenced in this Flickr photo), but the locomotive itself remains in its rural setting south of Wodonga while awaiting transport to Dorrigo.

UPDATE: Newsgroup photos showed No.5 loaded behind a semi-trailer and being transported to Dorrigo on 31 August 2021.

For interest, here is a 1930's view of No.5 at Portland.

<![if !supportMisalignedColumns]>
<![endif]>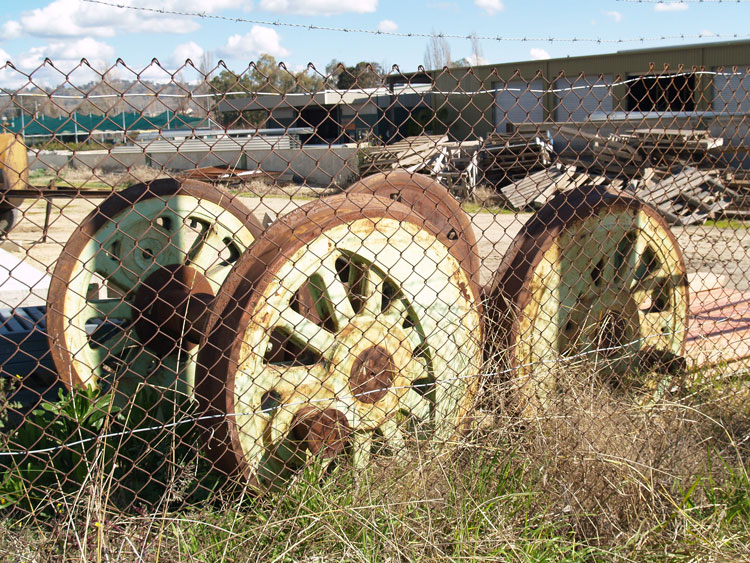 The webmaster spied two of No.5's three wheelsets in storage at a Wodonga industrial premises on 7 August 2010.
These wheels retain the light green livery which was apparently a feature of this locomotive during its working days at the Portland Cement Works.
I couldn't see any evidence of the third wheelset, motion, brake rigging etc but I understand they are all held in storage.
<![if !vml]>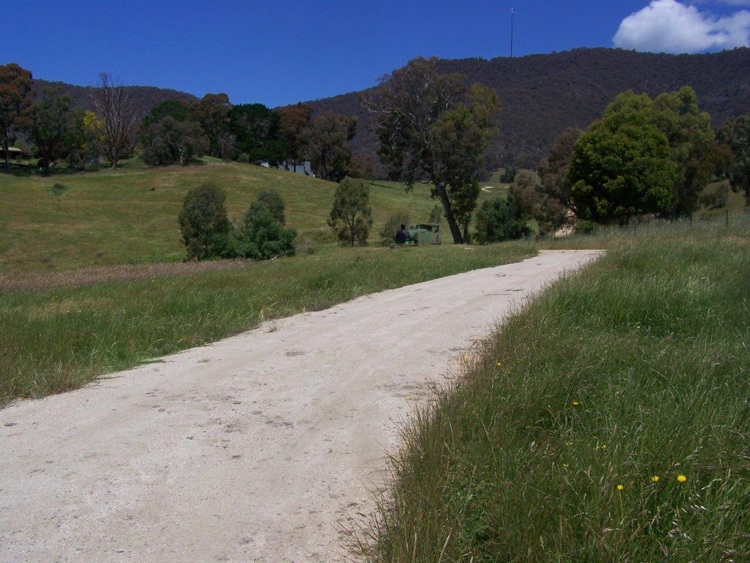 <![endif]>
No.5 is currently located on private land near Wodonga and isn't available for public inspection.
Martin Fraser kindly contributed this 'over the fence' shot from the farm gate, showing No.5 resting in its tranquil rural surrounds in July 2020.
<![if !vml]>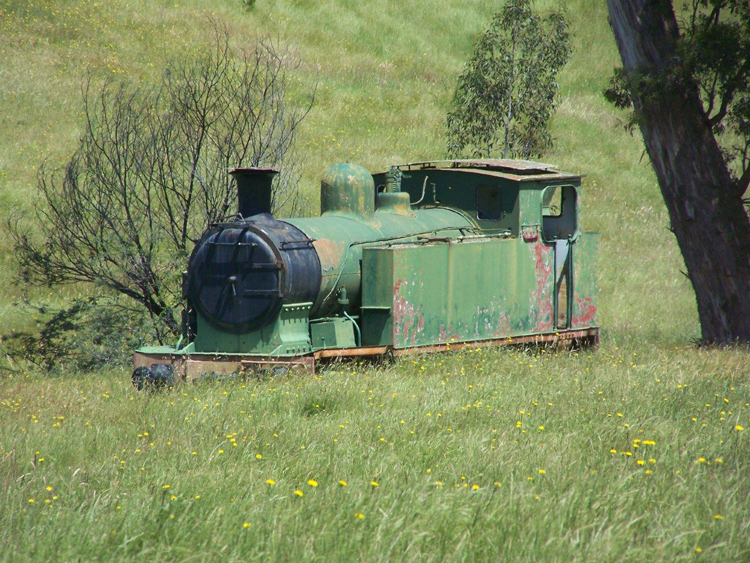 <![endif]>
Using a zoom lens, Martin has provided this closer view of No.5 seemingly camouflaged in the verdant pasture.
The long grass obscures the fact that this loco is minus its wheels!
Comparison with the photo at top of this page shows No.5 has been repainted at least once during its preservation years.
<![if !vml]>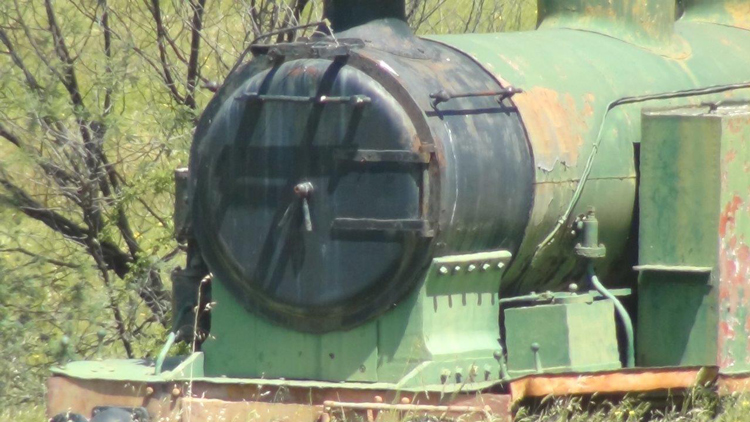 <![endif]>
An even closer zoom to the front shows the buckled front running boards and peeling paint.
The loco seems otherwise to be faring well, despite its many years of storage.
References
a

Griffiths, D. 'BHP Locomotives',

Published by Railmac Publications, 1982.

b

Railway Digest, October 2010 (Volume 48, Number 10),

published by the Australian Railway Historical Society NSW Division.

Page 18.

c

Information provided by Martin Fraser via email,

12 July 2020 & 8 November 2020.
Page updated: 8 September 2021
| | | | | | | | | | | |
| --- | --- | --- | --- | --- | --- | --- | --- | --- | --- | --- |
| Government Railways: | | | | | | | | | | |
| Private & Industrial Railways: | | | | | | | | | | |