Margaret

ex - Long Tunnel Extended Gold Mine, Walhalla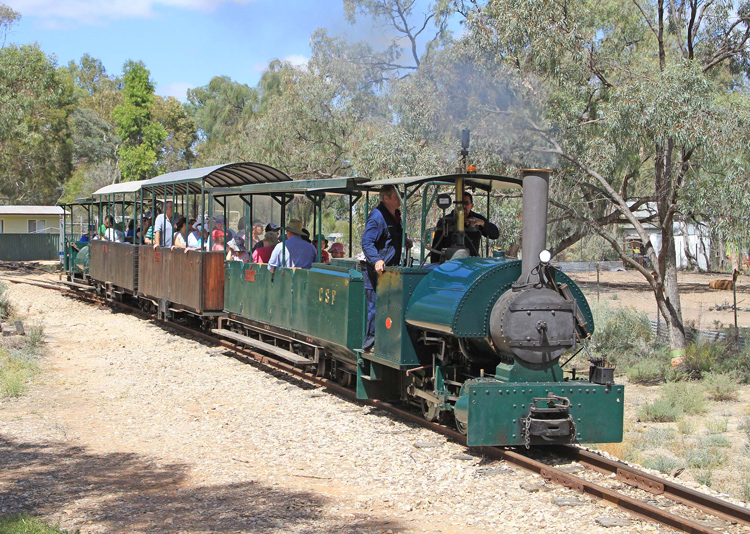 Margaret in operation at the Cobdogla Irrigation & Steam Museum on 8 March 2015.
My thanks to Kelvin Russell for contributing this photo.
This well-proportioned little 0-4-0ST industrial locomotive was built by W. G. Bagnall Ltd of Stafford, England as their builder's number 1801 of 1906. I believe it was one of two identical units delivered to the Long Tunnel Extended Gold Mines and associated firewood tramway at Walhalla, Vic. It displays an interesting feature of narrow-gauge W. G. Bagnall locomotives; the boiler design uses a "marine" style circular firebox which was cheap, robust and presumably low maintenance.
Originally built to the gauge of 2ft 6in, Bagnall 1801 was converted to 2ft gauge for operation on the Cobdogla to Loveday Light Railway in South Australia. It was out of use by 1959 at which stage it was placed in a park at Barmera, apparently receiving the number "59".
Bagnall 1801 was later retrieved from Barmera and restored to operation by the Cobdogla Irrigation & Steam Museum, where it is now named "Margaret". This interesting museum showcases technology associated with the Murray River irrigation schemes, including an interesting Humphrey Pump engine. The railway operations at this museum have extended from the original demonstration loop line to now cover several kilometers of track through the local irrigated fields and vineyards.
Here is a link to a YouTube video showing Margaret in action during 2014.
References
a

McNichol, S. "South Australian Preserved Locomotives"

published 1981 by Railmac Publications.
Page updated: 25 May 2015